Some of the links in this post are affiliate links. This means if you click on the link and purchase the item, we will receive an affiliate commission at no extra cost to you. All opions remain our own.
Dogs are the best. They protect, they retrieve, they bark, and they snore. And if there's one thing we also know, it's that they hate to miss out on the fun. Have you ever played a family outing on the lake or river and struggled to find someone to watch your dog or leave him or her at home? 
Wouldn't it be great if there were a safe, reliable, and great way to bring your dog along on the kayak? Well, it turns out there are a number of kayaks out there that offer just that. To get started, you need to understand why this has become possible, and it's all thanks to the rise of the inflatable kayak.
What is an Inflatable Kayak?
An inflatable kayak is just what the name says: a kayak that can be inflated and deflated before and after use. They are made with drop-stitch technology, which enables small fibers in the fabric to bind together to create an extremely strong and durable kayak. 
There are many benefits of an inflatable kayak as compared to a traditional hardshell kayak. They are obviously easier to transport and easier to store as they can be reduced to such a small size. Moreover, they are much cheaper than traditional alternatives and can be used for kayakers of any skill level, including dogs.
What to Look for When Buying an Inflatable Kayak for a Dog?
Material of the Kayak
Let's be honest. You'd be asking a lot of your dog to sit still and quietly in the kayak. Therefore, you'll want to look for one that can handle the sharp claws and abundance of hair you'll amass on the kayak. Most inflatable kayaks are made with drop-stitch technology, which helps with this immensely. 
Stability of the Kayak
One of the drawbacks of many inflatable kayaks is a lack of stability, so you'll want to be sure that you find a kayak that will keep from tipping as the dogs moves around, as well during the process of getting on and off the kayak.
Space in the Kayak
Inflatable kayaks often come with removable seats, an important dimension to consider when choosing a kayak in order to accommodate your dog as well as your other gear. 
Weight Limits
Be sure to consider the weight limit of your kayak. Most inflatable kayaks advertise limits of around 200-250 pounds.
Tips for Kayaking with your Dog?
Always Wear a Dog Life Jacket
Don't Tie Your Dog to the Kayak
The last thing you want is to have your dog tied to a capsized kayak in the event that it does. You and your dog are much better off practicing commands and getting comfortable on the kayak instead. 
Practice in Short and Shallow Trips
It is a best practice to acclimate your dog to the new experience of riding on a kayak. That is why I recommend starting on flat, shallow water that is near land. If your dog is uncomfortable at first, which is likely, the danger is minimal. 
Practice Getting In and Out in Deep Water 
While in still water, I recommend practicing with your dog how to get in and out of deep water. It's worth mentioning again the importance of finding a kayak strong enough to support this activity in particular. 
Bring Dog Treats
Just like any kind of dog training, dog treats can be a useful tool on the kayak. They can be especially effective in teaching your dog how and where to sit on the kayak.
Use SPF
Yes, even your dog can get sunburnt. Be sure to bring along dog-friendly SPF protection, and don't forget to get the areas that aren't covered by fur.
How to Kayak with Your Dog
The Best Inflatable Kayak to Bring Your Dog on the Water
Intex Explorer K2 Inflatable Kayak for Dogs
Summary: The Intex kayak is perfect for easy, recreational paddling and comes with 2 seats. Its bright yellow colorway makes it extremely visible in the water. 
Pros: has a maximum weight capacity of 400 pounds, so there is plenty of space for a dog
Cons: users complained of lackluster customer service
Intex Dakota Inflatable Kayak
Summary:  The Intex Kayak is also great for shallow water kayaking and is made with puncture-resistant vinyl, which will thwart the effort of your dog's sharp claws from puncturing the kayak. 
Pros: has 2 removable seats as well as 3 separate air chambers (most kayaks only have 2)
Cons: some users complained of difficulty inflating and deflating
Sevylor Coleman Colorado Kayak
Summary: With an 18-gauge PVC, a thick tarpaulin bottom and a tough nylon cover, this is a great kayak on the river, specifically if you want to take your pup fishing. 
Pros: includes fishing rod holders and a trolling motor
Cons: users complained that the air chambers deteriorated after light use
Aquaglide Chinook XP Tandem
Summary: The Aquaglide offers unprecedented value as it includes 3 seats and can withstand up to 550 pounds of weight. You could more than one dog aboard if you'd like!
Pros: Aquaglide boats a proprietary drop-stitch floor technology, further bolstering the strength of the kayak.
Cons: one user complained that the backrests of the seats did not provide adequate support
Sea Eagle Inflatable Portable Sport Kayak
Summary: Like the Aquaglide the Sea Eagle inflatable kayak is among the largest in the market, weighing only 32 pounds but capable of withstanding as much as 650 pounds of weight.
Pros: unlike other kayaks, the Sea Eagle includes 2 skegs underneath the kayak for added control and maneuverability
Cons: some users complained that the paddles were too short
FAQ for Kayaking With Dogs
Will a Dogs Nails Puncture an Inflatable kayak?
No, you're dogs nails won't puncture the sides of an inflatable kayak. While it is possible, the heavy duty construction and PVC material on modern kayaks are built to be puncture resistant.
How do You Get a Dog Back Into a Kayak if They Jump Out?
This is one of the best reasons to have your dog wear a life jacket beyond helping them float. Most dog life jackets have a handle that you can  help lift them back into the kayak if they decide to cool off with a dip.
Can you White Water Kayak with a Dog?
While it is possible, it's not recommended. If you're dog wear to go overboard in rapids it could cause serious harm or damage. Be sure to educate yourself on the class of river before taking your dog.
Does My Dog Need Special Equipment to Kayak?
The most important piece of equipment to kayak with a dog is of course the life jacket. Other than that we also like to recommend using doggy sun goggles to protect their eyes from intense sun glare off the water, especially if you do it regularly. These are relatively inexpensive and will save your pups eyes.
Other Great Paddle Board Related Articles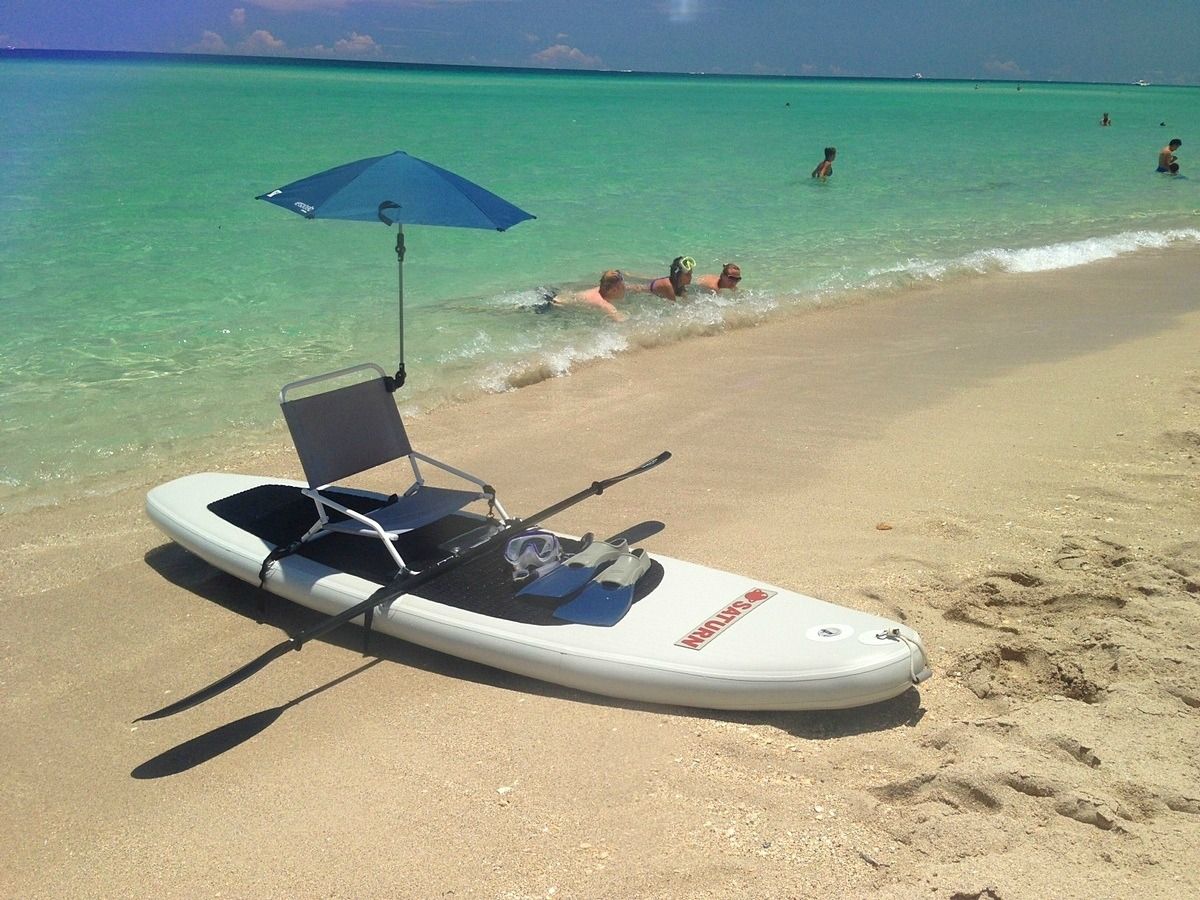 Some of the links in this post are affiliate links. This means if you click on the link and purchase the item, we will receive …