Some of the links in this post are affiliate links. This means if you click on the link and purchase the item, we will receive an affiliate commission at no extra cost to you. All opions remain our own.
So, you've tried paddle boarding and now you're hooked! With paddleboarding gaining popularity around the country, places are getting ever more crowded with all those new paddleboarders. If you're looking for that peaceful time on the water away from the hustle and bustle, hiking to a new and secluded spot might be just the thing you're looking for. With an inflatable paddleboard, you can reach just about any destination your heart desires!
What is an Inflatable Paddleboard?
An inflatable stand up paddleboard is a compact board that deflates into a manageable size for convenient hiking. Because a standard paddleboard is large and difficult to carry, it requires short travel to your water destination. An inflatable paddleboard can offer more freedom to explore different locations off the beaten path. An inflatable board, along with its necessary accessories, travel along with you as you discover new and secluded places to be at peace out on the water.
Benefits of Hiking with a Paddleboard?
As most people use only standard paddleboards, they are restricted to areas only obtainable by car. With the convenience of an inflatable paddleboard, you can pack it up and take it anywhere you want! Sometimes all that is needed is a short hike away from the hustle and bustle to reach a quieter place in nature. The seclusion that comes with hiking can be enjoyed in the middle of the lake on your inflatable board. Get that awesome shot with your camera from the water that no one else has! Bring along your fishing gear and set up in the water, away from the other fishers! Or perhaps enjoy meditation and contemplation in complete solitude on a peaceful lake!
What to Look for in a Lightweight Paddle Board?
Carrying Case – Look for a sturdy carrying case that can be worn as a backpack for easy hiking.
Weight – Most weights are between 17-22 lbs. While lighter weights will allow for higher mobility, the sturdier boards will weigh a bit more.
Standing pad – Is the board for solo or double use? Make sure to keep in mind the usage of the board, whether it be limited or varied depending on the activities you plan to be doing on the water.
Durability – Look for PVC lined outer shells for your board, as these will be the sturdiest and most resistant to puncture. Also, keep in mind the warranty for the board you purchase!
Additional Accessories – Be sure that you have everything you need to get out on the water, and that they can fit inside your carrying case. Things like a pump, fins, and a paddle will be necessary when you arrive at your destination.
The Best Lightweight Inflatable Paddle Board
Peak Expedition Lightweight Inflatable Stand Up Paddle Board
Summary: If you're looking for short hikes with a sturdy board, this is your choice! While it is a full backpack in size, it can carry two people and is made with a PVC outer shell. The board also comes with a variety of accessories- everything you'll need to be out on the water.
Pros: PVC outer shell, one year warranty, includes waterproof phone case, large enough for two people, only 18 lbs!
Cons: Pack size is large
Atoll Lightweight Inflatable Stand Up Paddle Board
Summary: This 19 lb board includes an air pump, inflatable fin, and a three-piece paddle. At a bit of a higher price point, this board offers 2 years of warranty as opposed to the more common one year warranty of other boards.
Pros: 2-year warranty, includes an air pump and paddle
Cons: Included inflatable fin not sturdy enough for rough water, high price point
FunWater Lightweight Inflatable Stand Up Paddle Board
Summary: A great bang for your buck, this board comes with a variety of accessories. However, you get what you pay for here, as some of the accessories are not of the highest quality.
Pros: Super light at only 17.6 lbs, low price point, 3 removable fins
Cons: Some reported problems with the pump gauge
Soopotay Lightweight Inflatable Stand Up Paddle Board
Summary: If you're looking for a multifunctional board, this is it! It includes multiple accessories and is great for both stand up and kayak. However, this board is most suitable for calmer water conditions.
Pros: Dual-use, non-slip standing pad, good price point
Cons: 21 lb carry weight, not as stable as other iSUPs
GILI Lightweight Inflatable Stand Up Paddle Board Package
Conclusion:
All in all, it's important to note what type of paddleboarding you'll be doing when choosing an iSUP. The heavier and sturdier boards will be required for rougher waters and more rigorous water activities, while the lighter boards will allow you farther travel to calmer water destinations.
Other Great Paddle Board Related Articles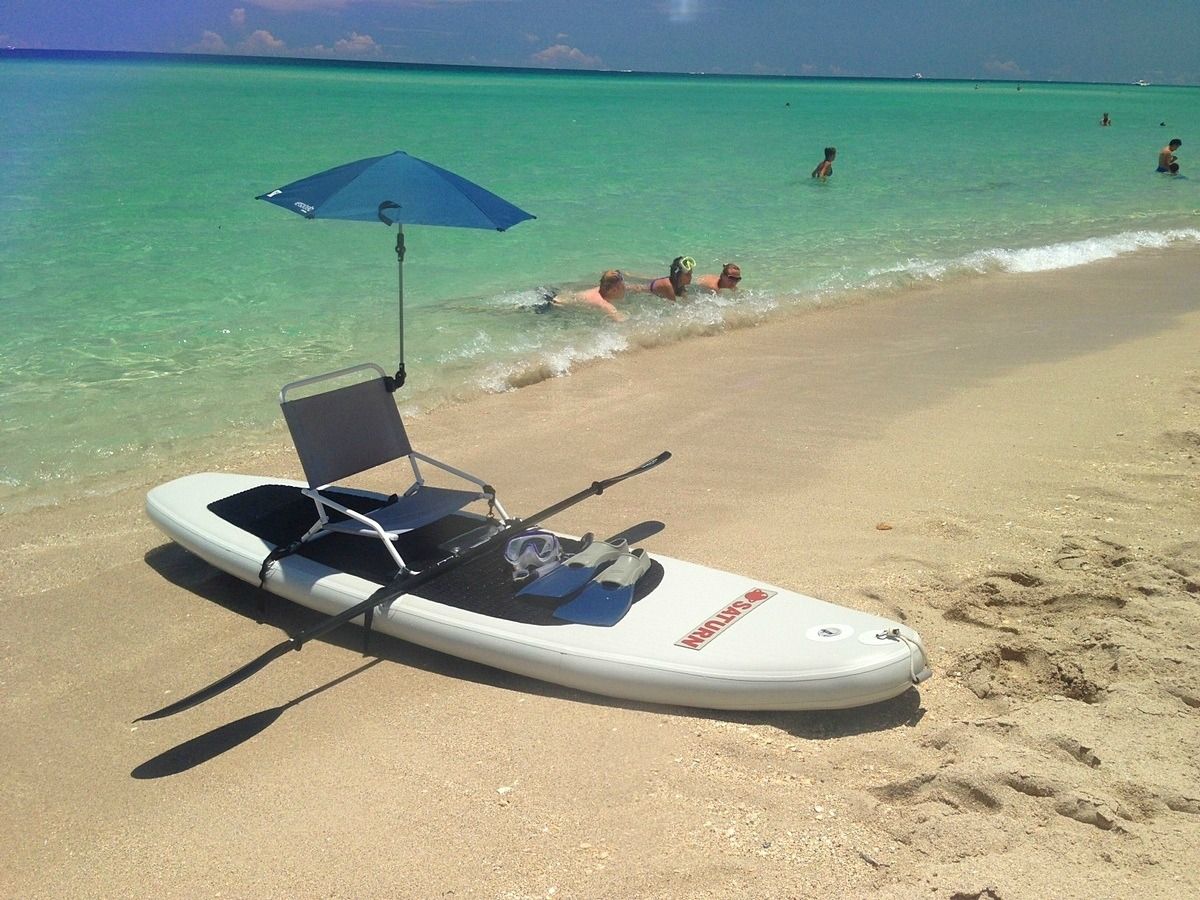 Some of the links in this post are affiliate links. This means if you click on the link and purchase the item, we will receive …