Some of the links in this post are affiliate links. This means if you click on the link and purchase the item, we will receive an affiliate commission at no extra cost to you. All opions remain our own.
Over the last several years, stand-up paddle boarding (SUP) has seen rapid growth in popularity, both recreationally and as a competitive sport. As the name suggests, the sport involves paddling through water while standing on a board that is slightly wider and longer than a traditional surfboard. SUP originated as a means to photograph tourists learning to surf in Hawaii, but became increasingly more popular as a recreational activity in the late 2000s. Though many turn to SUP as a pleasurable way to enjoy time on the water, it is also utilized by surfers as a training tool during periods of small surf. To this day, SUP remains a global sport for all with participation worldwide.
Although SUP is a relatively easy skill to learn, it does require endurance and postural control. This is why users often choose to attach a SUP chair to their board. A SUP chair comes in many different shapes, sizes, and designs, but all share the same purpose – to provide seating and open up new opportunities to enjoy paddle boarding. 
What are the Benefits of using an SUP Chair?
Even though SUP was designed for standing, adding a chair to your board can quickly boost its adaptability and allow you to enjoy your board in new ways. Below are some benefits of investing in a SUP chair:
Rest your legs

– standing and maintaining your balance for long periods of time can get tiring. Using a SUP chair gives you the option to take quick, seated breaks to stretch out and relax your legs while still paddling (if you so choose). 

Versatility

– while there are already numerous ways that you can choose to use your paddle board, adding a seat gives you even more options for enjoying the sport. Oftentimes users are torn between investing in a kayak or a paddle board – simply adding a SUP chair can convert your paddle board into a kayak in minutes!

Photographing your surroundings

– it's not always easy to get clear photos of the natural beauty around you while standing on a board and balancing with your camera. In this case, a chair provides a means to ensure clear shots.

Fishing

– SUP fishing has become an increasingly popular way for people to utilize their paddle boards. Having a place to sit down while casting your fishing line is incredibly helpful.
Riding with others: SUP is an exciting sport for individuals, but it can be even more pleasurable in the company of others. If you are considering SUP with children, friends, family, pets, etc., a SUP chair helps to maintain balance while having another body on the board.
What to Look for in a SUP Chair?
We know there are many benefits to having a SUP chair, but before you rush to invest in one, here are some considerations to help you choose the best option for yourself:
Material

– from polyester to aluminum to water-resistant neoprene shells, you want to make sure the chair is made of a high-quality material that can withstand the harshest of weather out on the water

Comfort

– a SUP chair may be made with the most durable material, but if it isn't comfortable, is it even worth it? Correct sizing and extra cushioning can make all the difference when it comes to comfort

How it is Anchored

–  most SUP chairs require that your paddle board have D-rings attached, which are small, metal, D-shaped rings that can be used to securely anchor the chair to the board. Take note if your SUP already has these D rings attached, otherwise you will need to purchase a set

Washable

– Not only is your chair sure to get wet, but it is likely that sand and dirt (and maybe even food/drinks) will make their way onto your chair. Being able to detach the product and give it a thorough wash by hand or in the washing machine is an important factor to consider
iROCKER Inflatable Paddle Board Chair
Summary: The iRocker inflatable paddle board chair is sleek SUP seat is designed for maximum comfort while still keeping the product light and portable. Seat comes with 4 straps and clips that will be compatible for any SUP that has D-rings attached. 
Pros:
Easy to assemble

Extremely compact for easy storage
Cons:
Back of chair may be too short for those who are tall or have a long torso

Does not come with instructions
Freein Paddle Board Chair
Summary: The Freein Paddle Board Chair does exactly what you would expect, without any unnecessary additions. Perfect option for those who want a durable seat that won't weigh your board down.
Pros:
Very lightweight product makes it extremely portable

Provides 
Cons:
Must already have D-rings attached to your board in order to attach the chair
MantaGlider Seat for Inflatable SUP
Summary: The MantaGlider SUP chair boasts both comfortability and practicality. Extra foam thickness provides maximum support, while the seat's grooves are designed to circulate air and channel water for optimal drainage. 
Pros:
Neoprene shell and EVA core make the seat water resistant

Three straps on each side ensure that seat will always stay in place
Cons:
Bottom cushion may be too small for users with a larger frame
SereneLife Paddle Board Chair
Summary: This form-sitting seat is designed to accommodate all body types. Not only is it compatible with a SUP, but also with kayaks, fishing boats, and rowboats. The polyester cushions promise durability while maintaining user comfort.
Pros:
Sturdy material and overall design
Cons:
The shorter straps are hard to adjust if different people are using the same seat

Users have reported issues with copper hooks corroding after riding in salt water
ISUP Kayak Seat Conversion Kit
Summary: This high-quality SUP chair has an extra large back cushion with strong stitching to ensure weather resistance. This product is especially useful for SUPs without D-rings attached, as the chair comes with its own D-ring kit to install on your board.
Pros:
Zipper pocket on the back of seat provides great place for storage

Product includes D-ring set to attach to any SUP
Cons:
Seat is not as cushioned as other SUP chairs
Conclusion:
If you're looking to make the most out of your paddle board, a SUP chair is a must! Not only can you use the chair to add versatility to your water activities, but more importantly, it gives you a way to sit back, relax, and enjoy riding the waters. 
Works Referenced:
Other Great Paddle Board Related Articles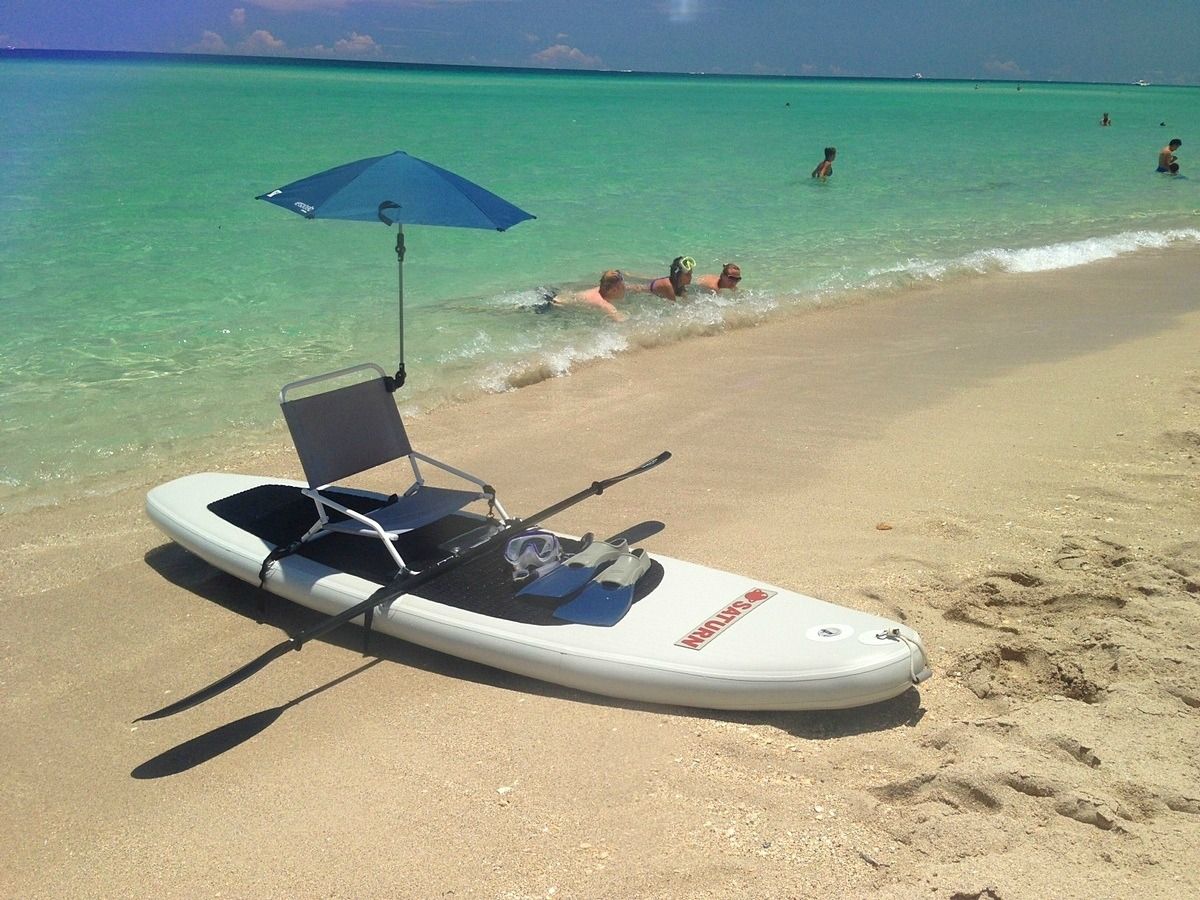 Some of the links in this post are affiliate links. This means if you click on the link and purchase the item, we will receive …