Some of the links in this post are affiliate links. This means if you click on the link and purchase the item, we will receive an affiliate commission at no extra cost to you. All opions remain our own.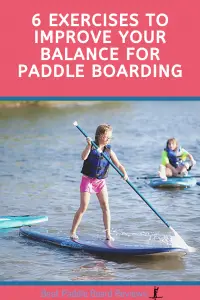 Paddle Boarding can be scary. When you first start out, the hardest and most intimidating part of SUP is finding your balance. Even after going a few times you might find that you're falling into the water more than you are paddling. 
Take your time, don't be afraid to fall, and keep practicing. Practice makes perfect!
If you have always wanted to try paddle boarding check out the best paddle boards under $500. By repeating these 6 exercises below, you'll be a pro paddleboarder in no time.
Practice Balancing on One Foot with Your Eyes Closed
Before getting out on the water, practice your balance by simply standing and closing your eyes. It's way harder than you may think!
By closing your eyes, your allowing your other senses to take control, and you'll learn to find strength, and trust, in your core. Once you feel comfortable, try to stand on one foot with your eyes closed.
Switch from side to side and find your balance by engaging your core. Shoot for holding your single leg balance with your eyes closed for 60 seconds.
Practice Balance on an Unstable Surface
Since the water isn't smooth and flat, it's really important to get used to balancing on an unstable surface. To do this, use a balance trainer to get a few exercises in that will knock you off your balance. This will improve your stability by forcing you to learn how to constantly shift your balance and tighten your core while building leg muscle strength.
We recommend using the Bosu Pro Balance Trainer. It's durable, simple to inflate and assemble, and is lightweight, making it easy to transport for a workout that you can do anywhere.
Using the Bosu Pro Balance Trainer, watch this video to find great workouts that will improve your balance
Stand on Your Paddle Board and Makes Waves
Okay, so it's finally time to start practicing on the water. Once you are able to find your balance and stand on your board, fix your feet so that you're standing in a wider stance (a little wider than hips-width distance). 
Next, start to rock the board side to side, slowly increasing in pace until you almost fall off, and adjust your stance to help you balance better. now try this while board moving forward after a few powerful paddle strokes. 
This will help to create a better sense of stability on your board for when the water gets choppy.
Stand on your Paddle Board with Your Eyes Closed
Start with your legs in a wide stance on your board. Look around to make sure you are in a safe area, free of other people or things just in case you fall. 
Next, close your eyes and try to balance. Make sure to keep your back straight, engaging your core.
If this is too easy, then keep your eyes closed while you turn your head from side to side. 
* Make sure you are in a safe area before attempting! 
Paddle Board Lunges for Balance
Start by finding your balance on the board while standing with your back straight. Then for 3 sets of 10 repetitions, lunge to the top of your board, using your paddle as a third point of contact. Make sure to keep your core tight as you lunge. 
On top of having a strong core, leg and hip control are important in finding your balance on your paddle board.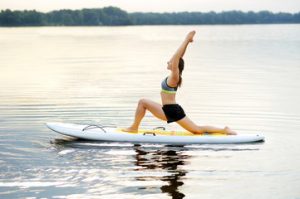 Improve Your Core Strength for Balance
You might've seen V-Ups and Russian Trunk Twists from SUP Yoga and SUP Fitness classes. That's because they are an extremely effective way of building a strong core! In SUP, core strength is important for balancing. Having strong core muscles will make it easier to find stability on your board.
To build up your core strength, perform 3 sets of 10 V-Ups: Start by lying on your board. Then, bring both legs straight up, then have your upper body come up to meet your legs. Touch your toes, then let your torso and legs come down, making sure to target and engage your core the whole time.
After, perform 3 sets of 10 Russian Trunk Twists: Start in a seated position with your knees bent on your board. Keeping your core engaged, lean your upper body back slightly. While your feet are lifted just above the board, slowly and with control, twist your torso from side to side.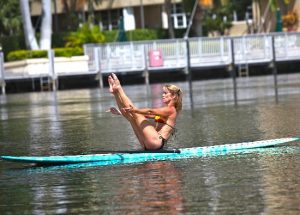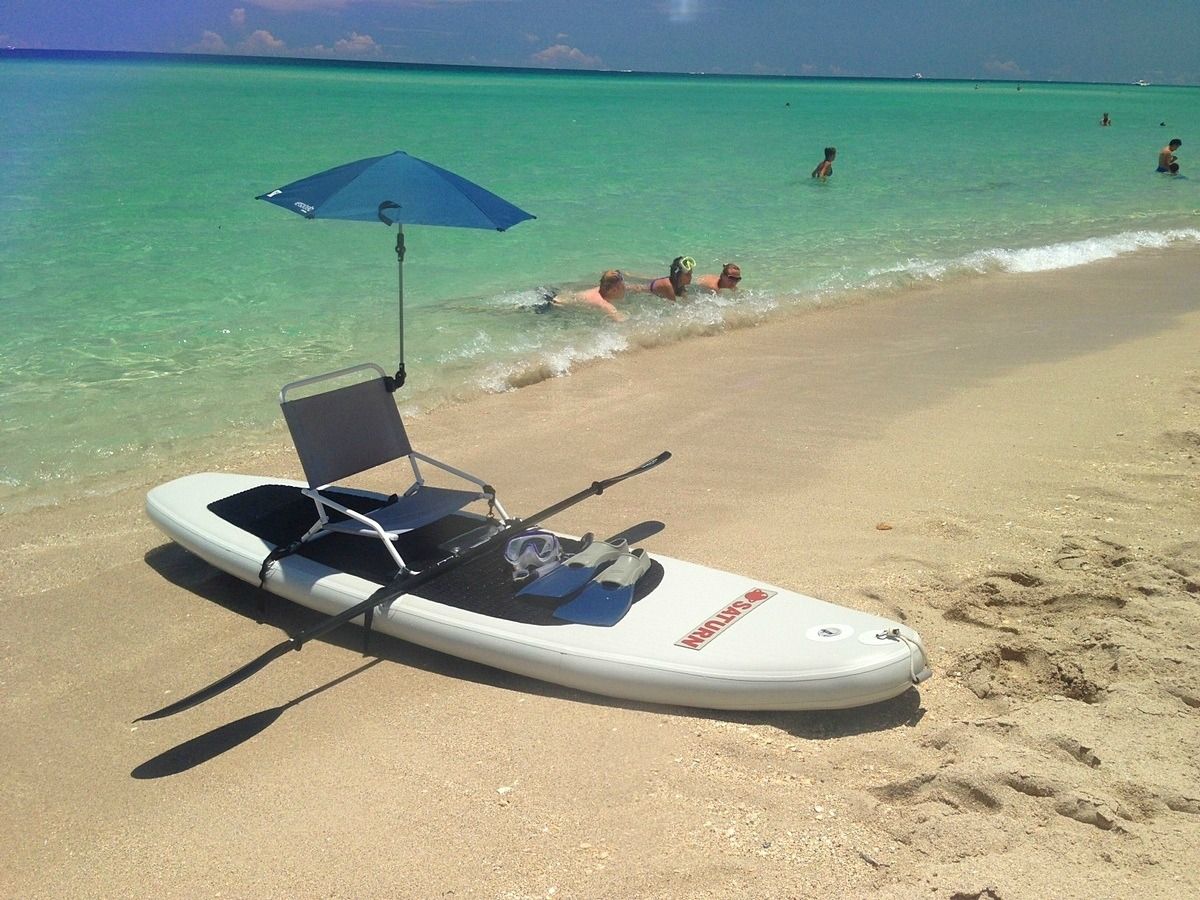 Some of the links in this post are affiliate links. This means if you click on the link and purchase the item, we will receive …