Some of the links in this post are affiliate links. This means if you click on the link and purchase the item, we will receive an affiliate commission at no extra cost to you. All opions remain our own.
Stand Up Paddleboarding or SUP can be fun. However, one of the biggest problems, if you don't have access to a calm body of water, is to get past those damn waves. You tried to get past them, but you would stay in the exact place. Sometimes the wave even pushed you off your board.
Getting over that initial hump is a challenge, but it's worth it.
Paddle Boarding Out Through High Waves
Learning how to get over those waves could be the difference between a good day and a bad day. There is nothing worse than going to the beach when it was supposed to be calm, yet when you arrive, it is anything but. Luckily, after you learn the right technique, you can have a great time whenever you want.
The Technique to Get through High Surf
There are several techniques you can learn. One of the most popular is to swim alongside your paddle board. Once you see a wave approaching you, push the tail up and forward above the wave, while you swim underneath it. This works well with smaller waves, and it's relatively simple. You just need to have enough strength to send the board past the wave.
The best technique, however, is to stay on your board and attack the wave head-on. The wave might push you out of your board if you do it wrong, but you can tackle bigger waves easier.
To start, put one foot in front of the other. If your legs are parallel, it will push you off your board. When you see the wave coming towards you, transfer your weight to your back leg to lift the nose of your board. Once you are past that initial hump you shift your weight to the front leg to push your board down, and that's it. Don't forget to paddle seconds before the wave approaches, and once you are over it. Otherwise, the tide will push you back.
What Size of Paddle Board is Best
The best board is the one that works for you. If you are looking to surf, a smaller board is right for you. However, if you are a beginner and stability is a necessity for you, a wider board will work best.
The most popular boards for general use are 10-11 feet long by 32-34 wide. If you want speed, consider a longer than an average board like 12 feet long and 26-28 wide. The lack of width makes them less stable, but you will go fast.
Our favorite surfing stand up paddle board is the Peak Expedition Paddle Board, an SUP that can do it all. 
Tips for Paddle Boarding in High Surf
The best thing you can do before hitting the water is to look for waves that you can manage. Sometimes the water would be too high in one section of the beach, but perfect in others.
Have forward momentum when facing the wave since you are less stable without it. The most speed you can maintain the better your balance.

Also, standing further back than usual helps you get the nose up past the white water.

You may want to wear a protective helmet the first few times until you get comfortable
Watch out for rocks and areas that have high consequences if you should fall off your board
Start with a life jacket just in case. We like the small waist PFD so that no one can see it and you have freedom to move.
Most important of all is to paddle with confidence. If you hesitate, the wave will wash you away
Stand Up Paddle Boarding through high surf is the ultimate adrenaline rush and one of the most fun ways to be on a board. There are a few tips that make it easier to get out through high waves so you can enjoy the surfing all afternoon.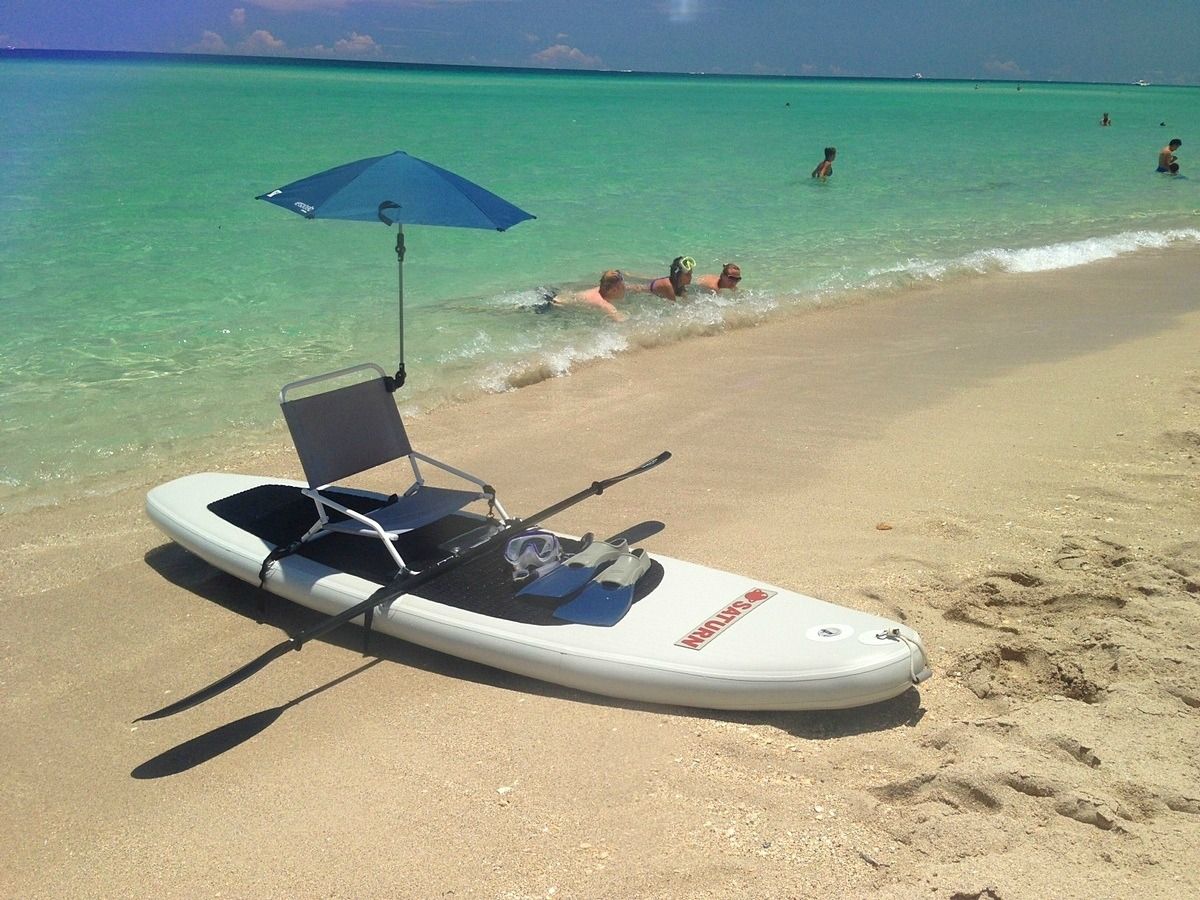 Some of the links in this post are affiliate links. This means if you click on the link and purchase the item, we will receive …