Some of the links in this post are affiliate links. This means if you click on the link and purchase the item, we will receive an affiliate commission at no extra cost to you. All opions remain our own.
Stand up paddle boarding has become a very popular activity for a day on the water. It's a fun activity for the family, and inexpensive once you have the appropriate gear. Whether by the lake, river, or ocean, there's a lot of ways to try stand up paddle boarding. If you're planning to try it for yourself, there are some important things you need to consider when picking the best stand up paddle boards for beginners.
Inflatable vs Solid Paddle Boards
Basically, there are two types of stand up paddle boards, or SUPs: inflatable and solid. Solid, rigid paddle boards are more traditional and made of fiberglass with a foam core. Some paddle boarders find that these are smoother on the water, and easily carry a lot of weight. These turn easily on the water as well. They're very stable and are good for high performance. For those traveling long distances to the water, you may find that a solid board is difficult to transport.
Inflatable paddle boards travel easily and are up to 90% as stable as a solid stand up paddle board. They are also easily repaired, in case of any holes that occur. These paddle boards will come with a patch kit, but the material is also heavy-duty enough that it can handle a lot of wear. During the winter, the inflatable paddle boards are easily stowed away.
There are benefits to both types of SUPs, but which is best for you depends on your specific needs. Consider transportation, storage, and how much you'll use it.
Sizes of Stand up Paddle Boards
Short Paddle Board
The shortboard maneuvers more easily than other boards, so it can be easier to use for children.
Medium Paddle Board
A medium board is great for all stand up paddle boarders. It's easy to use, moves well, and is appropriate for the lake, river, ocean, or wherever you paddle board.
Long Paddle Board
These boards are built for speed and distance. They're more difficult to maneuver than a shorter board but can help you move very quickly.
Thickness of Paddle Board
Beginner stand up paddle boards tend to be 6" thick, making them very stable.
Different Shapes of Stand up Paddle Boards
Touring: These boards are long with a displacement hull, or pointed front, that easily navigate the water and perform well over long journeys on the water.
Racing: These tend to be long and narrow to increase speed and efficiency, and have a displacement hull.
Yoga: If you want to use your SUP for yoga, a wider board is typically used. Some use an inflatable board or one with a rounded front, or planing hull.
All-around Board: These boards are wide enough that they're very stable and glide easily on the water, as well as a planing hull.
Fins are helpful for keeping your stand up paddle board stable. You can have larger fins for more stability, or smaller fins for more maneuverability. There are a few different ways to configure your SUP fins on a solid board. Here are some popular ways:
One Paddle Board Fin
Your SUP probably comes with at least one fin. A single fin will track straight and glides easily in flatwater.
Thruster Paddle Board Fins
This is three equally-sized fins offering good control and traveling straight lines.
2+1 Paddle Board Fins
Two smaller fins and one larger fin are used if your SUP is doubling as a surfboard.
If you find that you want to change how you're using your board, you can change the configuration of your fins.
If you have an inflatable board, it may come with rubber fins already attached, or semi-rigid fins that you can detach.
Things to Consider for Purchasing a SUP for Beginners
Does it come with accessories? – For beginners, you want a stand up paddle board that comes with the gear you're going to need. This means a board with a paddle, backpack, and pump for inflatable boards. This way, you know you're going to have everything you need to get started, and won't have to go finding things that work together.
What's the warranty and return policy – As a beginner, you want to make sure the SUP you buy has a good warranty and money-back policy. This way, if the one you buy isn't suited to your needs, or is defective, you can easily trade it in for something that works for you.
How easy is it to store and carry – This is a commonly overlooked aspect of buying a board. Consider how much you're going to be using it, and where you will have space to keep it when you're not out on the water. Think about how you plan to transport it, and if the kids will be able to handle it on the way to the water.
The Best Stand Up Paddle Board for Beginners
Roc Inflatable Stand Up Paddle Board Kit
The Roc Inflatable Stand Up Paddle Board is an inflatable board from ROC that comes with everything you need to get started– the board, paddle (that floats!), pump, backpack, leash, and key bag. It's 10' long,  32" wide, and 6" thick.
Pros: This paddle board is lightweight at only 17.5 pounds, so it is easy to transport for the whole family. It's extra-wide which makes it stable and easy to use for beginners. The material is highly durable, so it can be used again and again in a variety of settings. It's great for both kids and adults.
Cons: Some users feel that the board needs extra weight on it to stay steady for smaller riders. The air pump can be a challenge for beginners.
ISLE Explorer Inflatable Stand Up Paddle Board
The Isle Explorer Inflatable board can be used for fishing, touring, or as an all-around board. It is a stable board with a capacity of 275 pounds. It measures 11' long by 32" wide by 6" thick.
Pros: It is longer than some other medium-sized boards, making it very stable and easy to use in a variety of different settings. It comes with a leash, manual, paddle, detachable fin, pump, and a backpack. The surface is soft but has a good grip, whether you're practicing yoga or choose to ride with pets on board.
Cons: This board's aluminum paddle is heavier than some other SUP paddles. This board is more expensive than some other iSUPs.
Peak Expedition Inflatable Stand Up Paddle Board Kit
The Peak Expedition paddle board is an inflatable touring board from Peak. It is 11' long, 32" wide, and 6" thick. It comes with one large fin and two smaller ones for a 2+1 setup. It's narrow hull is ideal for distances, whether you're touring, fishing, or snorkeling.
Pros: This board comes with a paddle, pump, leash, bag, fin, and a waterproof phone case, so you don't have to worry about your tech when you're out on the water. It's a very stable, durable board, made of high-quality material. It's only 19.5 pounds when inflated, making it easy to transport.
Cons: The bag that comes with the board does not come with pockets to store things in or keep things separate.
iROCKER Cruiser Inflatable Stand Up Paddle Board Kit
The iRocker Cruiser paddle board is convertible to several different uses, and measures 10'6" long by 33" wide by 6" thick. It's textured for a solid grip while you stand.
Pros: It is extra wide, so it's great for stability, both for standing and those that practice yoga. Along with a leash, pump, and backpack, it comes with a fiberglass paddle, which is durable and high quality– it can also be converted to a kayak paddle with the purchase of an extra blade. It also comes with three detachable fins so that you can rearrange them depending on water conditions.
Cons: The backpack that it comes with is fairly large, and may be difficult to maneuver.
SereneLife Inflatable Stand Up Paddle Board
The SereneLife Paddle Board from SereneLife has three fin placements so that you can use this board in multiple settings. It measures 10'6" long by 30" wide by 6" thick. It's designed to easily glide in the surf.
Pros: The surface is non-slip, but also cushioned enough so that when you do take a fall you can hop right back up. It comes with an aluminum paddle, leash, pump, and storage bag, as well as an all-too-important repair kit. This is a very stable, maneuverable board for kids.
Cons: The paddle is heavy compared to other SUP paddles. The storage bag isn't padded, which some users find uncomfortable to carry.
Other Great Paddle Board Related Articles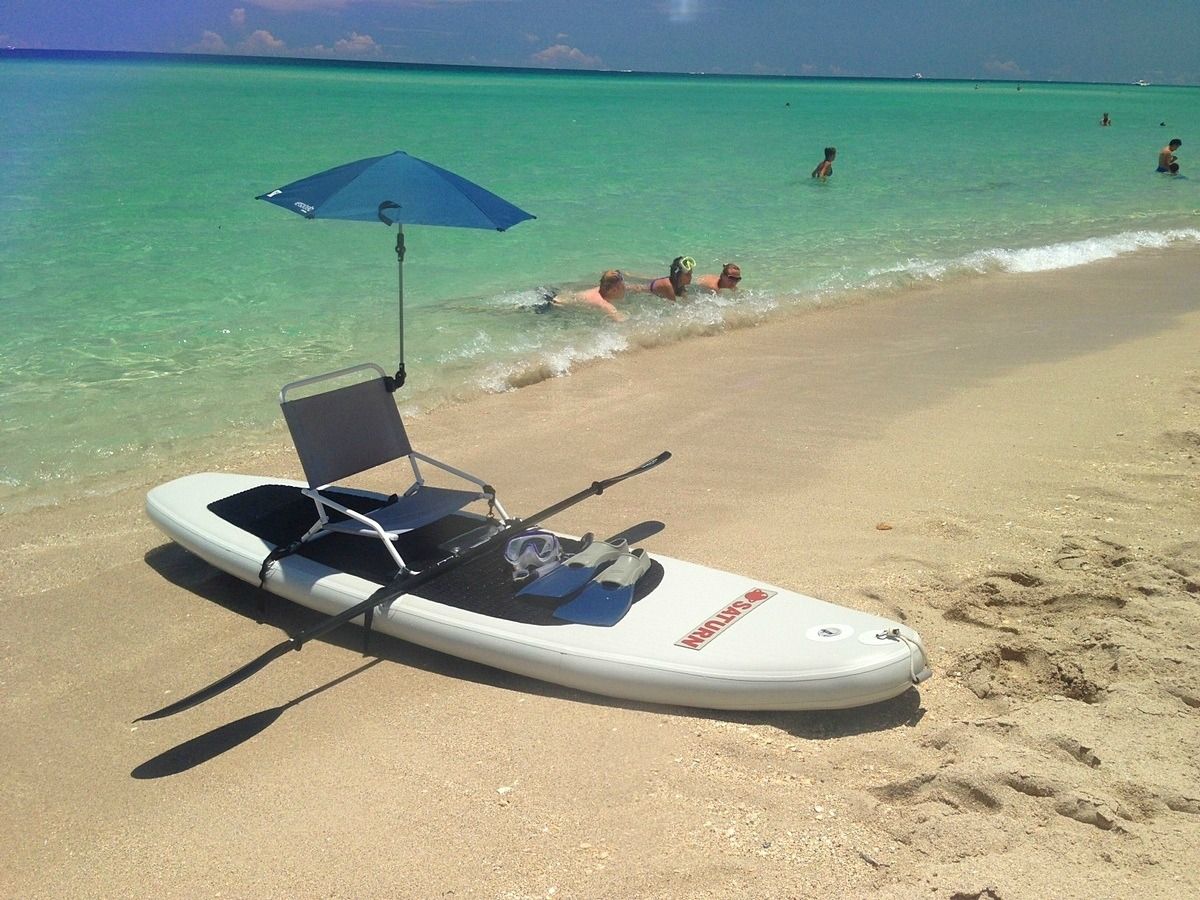 Some of the links in this post are affiliate links. This means if you click on the link and purchase the item, we will receive …