Some of the links in this post are affiliate links. This means if you click on the link and purchase the item, we will receive an affiliate commission at no extra cost to you. All opions remain our own.
Stand up paddle boarding is a great activity for kids. It's a wonderful way for families to spend time together, have a fun outing, and share experiences. Its a great way to get kids away from their electronics and to enjoy the outdoors. Paddle boarding can provide a fun way to exercise. Whether you and your children are experts or beginners, here are the best stand up paddle boards for kids.
Stand up paddle boarding is a great and unique way to get children active. Kids who may not like other more traditional activities may love paddle boarding. Parents will appreciate that it can instill a sense of appreciation for nature, introduce kids to adventure, and help them learn to persevere. Plus it will get your kids off the video games and get active!
What to Look for in a Paddle Board for Kids?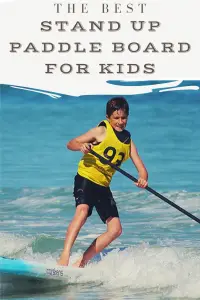 Here are some factors to consider when looking at paddle boards for kids:
Size: Make sure the board you purchase is the right size for your child, and that they won't outgrow it too soon!
Weight: A board that is too heavy will be harder for a kid to carry and use, so look out for lighter boards.
Maneuverability: Consider how easy it is for a child to maneuver the paddle board in the water.
How easy it is to get back on: If your child falls off, you want to ensure it is easy for them to get back on the board safely.
Inflatable or non-inflatable: These two kinds of paddle boards each have their pros and cons.
Inflatable SUP versus Non-Inflatable SUP for Kids
Inflatable paddle boards are more portable and are easier to transport, as they roll up when deflated. Since they are lighter, they will be easier for a child to carry, and blowing up the paddle board can also be a fun adventure. Inflatable boards also tend to be more durable if your child drops them, though they have slightly worse performance in the water.
If you or your child don't want to deal with the hassle of inflating and deflating the paddle board and would prefer to hit the water right away, a non-inflatable paddle board may be the better option. However, non-inflatable paddle boards tend to be heavier, so a child may need help carrying them. They can also be more difficult to transport, as you will need a large car or a car rack.
The Best Stand Up Paddle Board for Kids
Retrospec Weekender-Nano 8ft. Inflatable Stand Up Paddleboard
Summary: The Retrospect Weekender is a mid-price, 8-foot long inflatable paddle board that is designed for beginners. With a weight limit of 140 lbs, it is a great option for older kids, teens, and even smaller adults. It is made of triple-layer, military-grade PVC for increased durability and comes in a bundle with a 3 piece lightweight aluminum paddle, 3 removable nylon fins, and a manual pump.
Pros: Durable PVC construction makes it a great option for kids who may be less careful with their things. The board is even pet-friendly, with a foam deck that provides gripping for both humans and four-legged friends.
Cons: The weight limit of just 140 lbs means this board can't be used by some older kids or teens.
Vapor iSUP Inflatable Paddleboard
Summary: The Vapor Inflatable paddle board is designed for beginners. At 9 feet and 10 inches long, the board has a weight limit of 220 lbs. It comes bundled with a 3 piece adjustable aluminum paddle, a carry bag, safety leash, removable center fin, and an iSUP pump. 
Pros: A grooved footbed helps beginner stand up paddleboarders keep their balance. A cargo D-ring is integrated into the board's design in order to more easily attach luggage. This paddle board is very affordable for a beginner.
Cons: Reviewers mention that the included pump takes a long time to inflate the paddle board.
Wavestorm Expedition SUP Bundle 2-Pack
Summary: The Wavestorm Expedition paddle board is 9 feet and 6 inches long and has soft foam construction, which means its rigid and not inflatable. It has a suggested weight capacity of 300 lbs and each board comes with a water fin, leash, adjustable paddle, and protective board sock.
Pros: The board has great stability, traction pads for better grip, and is easy to control. A soft carry handle makes it easy for kids to carry the board on their own. The board is sold in packs of 2, making it a great choice for families with 2 or more kids. 
Cons: You can only purchase these boards in a pack of 2, so if you are looking to buy just one board, it may not be the best choice.
Fitmax Cloudsurfer 9' Inflatable Stand Up Paddle Board
Summary: The Fitmax Cloudsurfer is an inflatable paddle board with an extra-wide deck for added balance and stability. It comes with a manual air pump, oar set, and backpack for carrying and storage, and is also available in 9'6″ and 10′ lengths.
Pros: Triple bottom panel fins make the board easier to maneuver. At the inexpensive side of the spectrum, the Cloudsurfer is an affordable option. 
Cons: The board may be too large for younger children.
THURSO SURF Prodigy Kids Inflatable Stand Up Paddle Board
Summary: At 7 feet and 6 inches long, the Prodigy Junior Kids inflate paddle board supports weights up to 165 lbs. It features a double layer construction with military-grade PVC coatings. It includes 3 removable fins that can be arranged in two different set-ups, and comes with a manual pump, backpack, and an adjustable carbon shaft paddle with a nylon blade.
Pros: As the smallest option on this list, this stand up paddle board is an excellent choice for young children. Because the paddle is lightweight and adjustable, it can be used by kids as they grow.
Cons:  This stand up paddle board is mid-priced, and can be too small for older kids.
The Best Stand Up Paddle Board for the Whole Family
Peak 12' Titan Royal Blue Large Multi-Person Inflatable Stand Up Paddle Board
Summary: This paddle board measures 12 feet long and can support up to 500 lbs, which means it is perfect for group outings of 2-4 people. It is constructed of military-grade dual layer PVC and has multiple handles for easier carrying. The board comes with a bundle that includes 2 adjustable alloy paddles, a duffle bag, 2 pumps, dual valves, a center fin and 4 side bites, and a waterproof smartphone case.
Pros: This stand up paddle board can fit your whole family for a more exciting excursion. The durable construction means the board is safe for pets to use, too. 
Cons: It is less versatile for use by just one person if your child wanted to try stand up paddle board on their own.
Conclusion:
Introducing kids to stand up paddle boarding is a great way to bring more activity and adventure to their lives. Whether you choose to buy a separate paddle board for your child or a larger one to take your whole family out on the water, you and your loved ones are sure to have an exciting experience.
Other Great Paddle Board Related Articles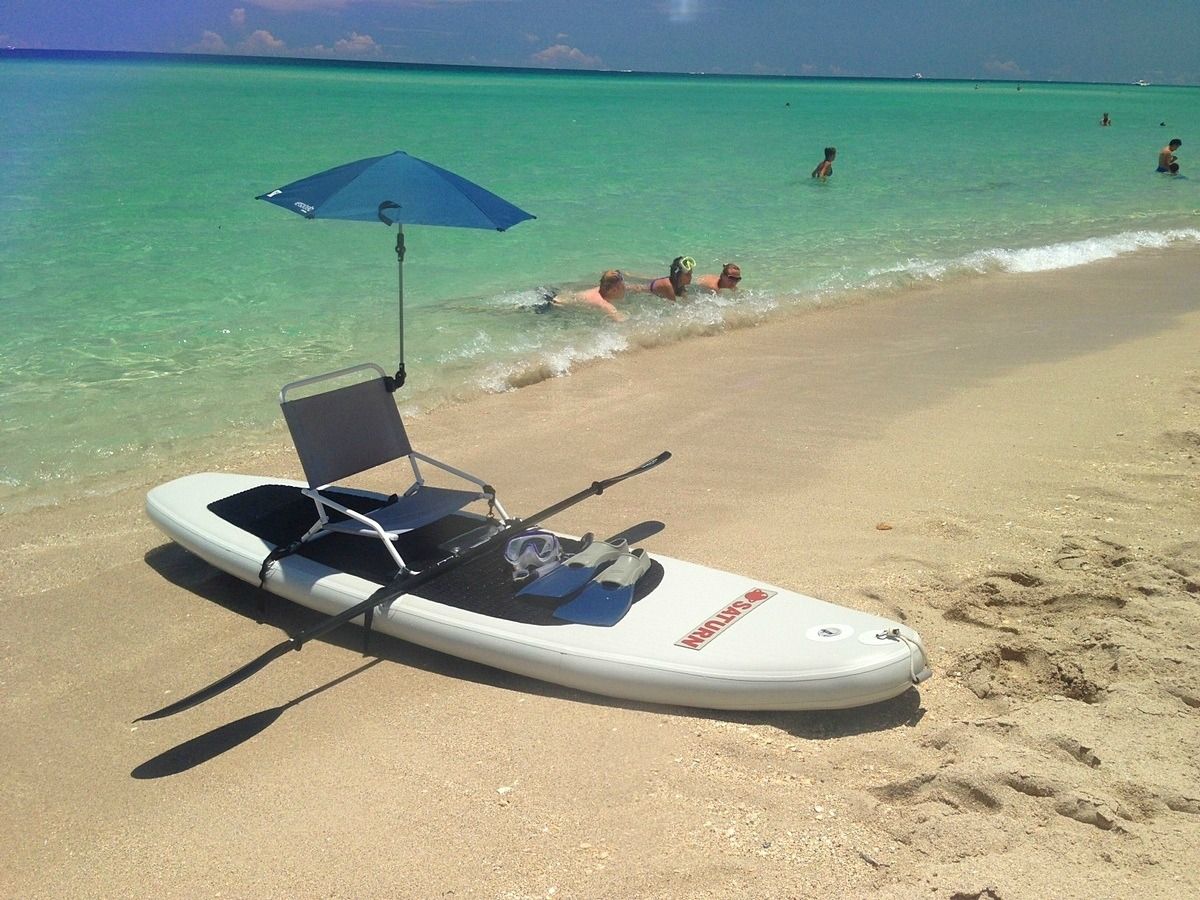 Some of the links in this post are affiliate links. This means if you click on the link and purchase the item, we will receive …