Some of the links in this post are affiliate links. This means if you click on the link and purchase the item, we will receive an affiliate commission at no extra cost to you. All opions remain our own.
Stand Up Paddle Boarding, also known as SUP, increases in popularity each year.
Over 21.7 Million Americans enjoyed Stand Up Paddle Boarding in 2014 alone.
Stand up paddle boarding is a mixture of kayaking and surfing which allows participants to be active in a pond, lake, or ocean. The hybrid sport and flexibility of climate make this water sport popular with the masses. 
Many paddle boarders like to stay active with the sport year-round, even when temperatures drop in both air and water. Wetsuit pants make paddle boarding in cold temperatures a more pleasant experience by providing a barrier between the paddle boarder and water, giving a layer of warmth and added protection for the skin.
What are Wetsuit Pants for SUP?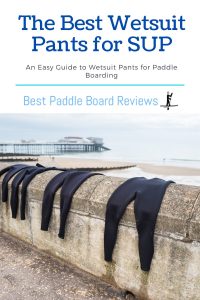 Wetsuit pants are intended to keep the lower half of the wearer's body warm. The wetsuit pants provide the wearer with a layer of fabric, usually Neoprene, between themselves and the cold water. Neoprene pants are not designed to keep the wearer's body completely dry but are meant to provide a layer of warmth. 
Wetsuits keep the body of the wearer warmer despite being outdoors in the cold water. Neoprene pants can be protective against UV Rays, any friction, and even sharp objects.
What are the Benefits of Using Neoprene Pants for Paddle Boarding?
Wetsuit pants help maintain body temperature and add a protective layer to your skin. Despite the cold water, your body temperature with wetsuit pants will be higher than it is without them. The protective layer of neoprene allows you to freely paddle board without the worry of sunburns or other potentially harmful situations to your skin.
What to Look for in Wetsuit Pants for Paddle Boarding
When looking for wetsuits, make sure the material is Neoprene. Neoprene is the industry standard. Neoprene is scratch-resistant and weather-resistant, which makes it ideal for outerwear.
How to Properly Put on Wetsuit Pants
FAQ for Wearing Wetsuit Pants
Are wetsuits waterproof? 
Yes, wetsuits are waterproof. They will not absorb water. However, the wetsuit pants will not keep the wearer completely dry if submerged in water. 
Can wetsuit pants be washed in the washing machine? 
Some wetsuits are washing machine compatible. Please read instructions with your product on washing.
Are wetsuit pants resistant to chlorine?

 
Yes, wetsuits are resistant to chlorine.
The Best Wetsuit Pants For Warmer Paddle Boarding
XTERRA Boards Lava Flow Paddle Boarding Wetsuit Pants
Summary: Lava Flow SUP Pants are designed for SUP, kayak, canoe, and boating enthusiasts and the 2mm thick neoprene helps keep you dry and warm on your stand up paddleboard when you initially get into the water and while you paddle. Lava Flow Stand Up Paddleboard Pants are more comfortable and feature reinforced knee pads to ensure durability for paddling on your knees as well as getting on and off the SUP board
Pros: These wetsuit pants have reinforced knees for extra durability and comfort and the Key pocket is really convenient. 
Cons: They fit a little longer than average.
LIFURIOUS Men's 2mm Neoprene Tight Wetsuit Pants
Summary: This premium 2mm Neoprene wetsuit is designed to keep you warm in all conditions and water sports. The wet suit leggings have high elasticity, its design is based on body shape, and they reduce resistance in the water and maximize motion flexibility. No chafing or soreness with Four-Way Stretch technology providing a body-hugging fit.
Pros: These wetsuit leggings fit true to size and are very comfortable. 
Cons: These pants are not the most flexible.
DIVE & SAIL Men's Wetsuit Pants 1.5mm
Summary: These men's wetsuit pants are made from 1.5mm ultra-soft and super stretch neoprene. The comfortable flat stitch construction gives you a soft and comfortable fit. Premium lightweight neoprene prevents water from coming in and out to increase warmth and decrease weight. Made from excellent stretch and recovery fabrics, with a form-fitting design that reduces drag in the water and provides you with free movement without restriction.
Pros: These pants are lightweight and very comfortable. 
Cons: Some customers called the durability of these pants into question. 
Lemorecn Wetsuits Pants 1.5mm
Summary: These are designed to keep you warm in all water conditions for standup paddle boarding, kiteboarding, wakeboarding, surfing, and other water sports. They are constructed from 1.5mm ultra-soft and super stretch neoprene and have comfortable flat stitch construction that gives you a soft and comfortable fit for men and women.
Pros: These are lightweight and flexible.  
Cons: Comfort can be an issue depending on body type.
CtriLady Men Wetsuit Pants 1.5mm
Summary: The wetsuit pant is made of 3-layer neoprene composite fabric making it waterproof and warm. There is high-quality and high-elastic fabric in the upper and lower layer, making the pants softer and closer to the body for a perfect fit. There is an adjustable strap in the waist for a better fit. The waterproof design prevents the water out. 
Pros: These pants offer quality, comfort, and can be used for a large variety of watersports. 
Cons: These are not the most durable neoprene wetsuit pants.
Other Great Paddle Board Related Articles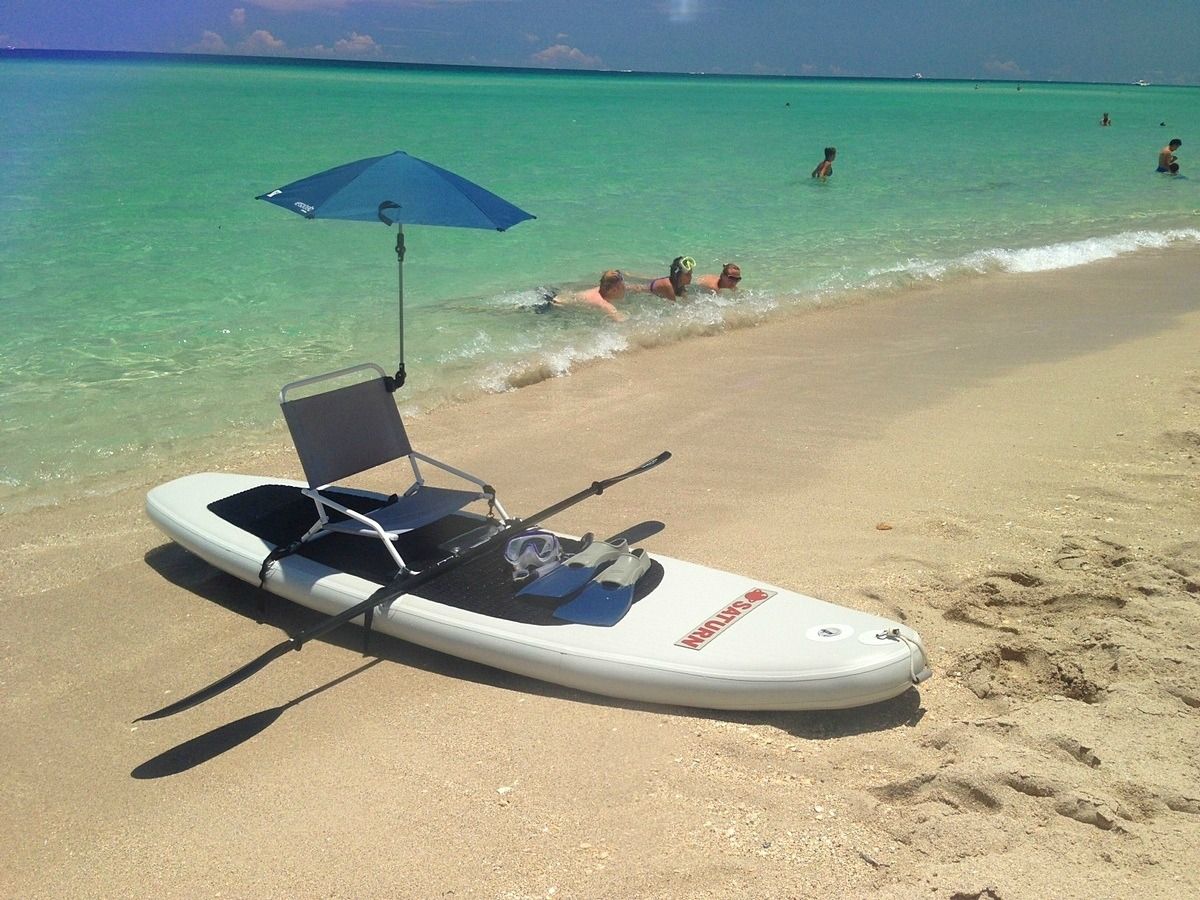 Some of the links in this post are affiliate links. This means if you click on the link and purchase the item, we will receive …