Some of the links in this post are affiliate links. This means if you click on the link and purchase the item, we will receive an affiliate commission at no extra cost to you. All opions remain our own.
Freshwater and saltwater fishing are both popular hobbies around the globe. If you're tired of standing on the shoreline waiting for the fish to come, maybe it's time to switch up the game. 
Have you ever considered fishing from a kayak? It's a great solution for the fisherman looking for a convenient and budget-friendly way to get out on the water. Fishing kayaks allow you to explore new fishing holes and reach more fish.
A fishing kayak has been designed specifically with fishing in mind. It includes specialized features and tools to make fishing easier and more effective. 
The design allows fishermen to reach certain areas of water that would otherwise be hard to reach. It also gives the fisherman a stable platform to fish from. 
When shopping for a kayak, it's important to think about how you'll use it. If you plan to fish from your kayak regularly, consider investing in one specifically designed for fishing. 
What are the Benefits of using a Fishing Kayak vs a Regular Kayak?
There are several benefits to using a fishing kayak over a regular kayak. Fishing kayaks: 
Have rod holders to make storage easier for fishermen

Are wider, longer, and heavier which provides a stable platform to fish from

Have seats that are adjustable in height to make the fishing process more successful

Angler kayaks are built to resemble fishing platforms with angler specific features such as baitwells  
What to Look for in a Fishing Kayak?
When shopping for a fishing kayak, you are going to want to look for several key features.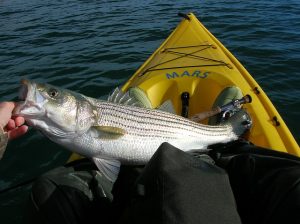 For starters, you will want to make sure the kayak is wide and stable enough (resembling a fishing platform) so you can easily stand up without the fear of rolling over.
Fishing Kayak vs Regular Kayak
How do you Paddle a Fishing Kayak?
There are couple of ways to paddle a fishing kayak that include using a normal two sided paddle and some even have foot pedals to help maneuver and propel the kayak forward. Here is a great video on how to paddle an angler kayak.
How do you Anchor a Fishing Kayak?
Most anglers use a traditional anchor to keep them in place. You don't want to be floating all around while the fishing is hot! The most common type is a 1.5-3.0 lb folding anchor. For more information on anchoring a fishing kayak read here.
What Makes a Fishing Kayak More Stable?
There are three main things that effect the stability of the kayak: the Width, the shape of the hull, and distribution of weight in the kayak. 
In general wider kayaks and those with flat hulls (or bottoms) are more stable and best for beginners. 
Perception Pescador Pilot 12
Summary: The Perception Pescador Pilot 12 is a sit on top fishing kayak with pedal driving. It comes with an adjustable lawn chair seat (2 different levels) and has four rod holders for anglers.
Pros: It is leak-proof. The kayak has a one-piece construction with built-in buoyancy as an extra safety measure. The kayak has a large storage area in the front and rear where you can store fishing gear, food, and water.  
Cons: Some customers state that the kayak was too heavy and hard to maneuver in heavy winds. Many customers also complained about the shipping and handling of the kayak. The kayak arrived with missing or broken parts to many of the customers. One customer also stated the kayak rudder pin broke shortly after he was kayaking for the first time.
Wilderness Systems ATAK 120
Summary: The Wilderness Systems ATAK 120 is a 12-inch premium angler kayak. It features seats on top with an open customizable platform. 
Pros: The kayak has an award-winning design. It also comes in a compact package so it is easily manageable. It allows for more advanced and tactical angling than a regular fishing kayak. Many customers also love this kayak for its amazing stability. The seat of the kayak is built to keep the kayakers as dry as possible 
Cons: One disadvantage of this kayak is that it is not compatible with a pedal drive. Other users critiqued the product stating that it might be too big to qualify as a kayak. It is so big that it is more like the size of a small boat.
Perception Outlaw 11.5 Kayak
Summary: The Perception Outlaw 11.5 is a sit on top fishing Kayak. It comes equipped with four rod holders and built-in tackle trays. The kayak weighs 77 pounds and can hold up to 425 pounds. The kayak can be used for fishing in lakes, ponds, calm coastal waters, and slow-moving rivers. 
Pros: This kayak comes with several advantages. First of all, the kayak is equipped with self-draining scupper holes in the footwell area to keep paddlers dry. Also, the kayak comes with an excellent seating system. The frame seats can be folded and removed for added convenience. The kayak also features three solo mount recesses that allow the fisher to add mounts and accessory holders without having to drill. 
Cons: One disadvantage of the kayak is that it moves slowly. It is not ideal for rapid waters. The center of gravity for the boat is high so there is a moderate risk for fishers to tip over during rapid waters.
Pelican Sit-on-Top Fishing Kayak
Summary: The Pelican Sit-on-top Fishing Kayak is a lightweight fishing kayak that weighs only 50 pounds. It can hold up to 325 lbs of weight and is 120 inches long. 
Pros: The Pelican Kayak comes with several advantages. It is very easy to maneuver due to its lightweight nature. Also, the kayak comes equipped with a bottle holder and carrying handles for added storage space. The kayak also features adjustable footrests, a padded seat cushion, and a backrest cushion for added comfort and support.
Cons: A disadvantage of this kayak is that it can not hold more than one person at the same time.
Sun Dolphin Journey 10-Foot Sit-on-top Fishing Kayak
Summary: The Sun Dolphin Journey is a ten-foot long sit-on-top fishing kayak. The kayak comes equipped with one swivel fishing rod holder and two flush mount rod holders. The kayak also offers adjustable foot braces.  
Pros: This is an excellent kayak offering several advantages to customers. It is very lightweight which makes it easy to handle. It also comes with a portable accessory carrier which allows the fisher to add another 250 lbs of extra storage. Furthermore, the open cockpit of the kayak allows for easy entry into the kayak.  
Cons: Some customers have critiqued the item stating that it is unstable. It can easily fill up with water and run the risk of tipping over. The kayak also does not track well.
In Review
Truly, fishing kayaking can be a great outdoor activity to indulge in with family and friends. It is important to take the proper measures before your adventure to make your experience fun and safe. There are many great fishing kayaks available on the market so it would be a good idea to thoroughly do your research before making your purchase.  
Works Referenced:
https://forums.paddling.com/t/recreational-vs-angler-kayaks/68162/9
Other Great Paddle Board Related Articles
Some of the links in this post are affiliate links. This means if you click on the link and purchase the item, we will receive …