Some of the links in this post are affiliate links. This means if you click on the link and purchase the item, we will receive an affiliate commission at no extra cost to you. All opions remain our own.
Many dog owners probably don't even think about needing a life vest for their furry friends while in and around the water. After all, aren't dogs naturally good swimmers? While this is true, accidents do happen and, when they do, your dog may panic and accidentally take you down with him. Dogs, despite being great swimmers, can drown and you want to be as safe as you can. When it comes to water recreation, it is better to be safe than sorry and invest in a quality life vest for your four-legged friend to avoid turning a leisurely time on the water into a day of tragedy. Especially during Stand Up Paddleboarding (SUP), when a dog life vest can help in many different ways.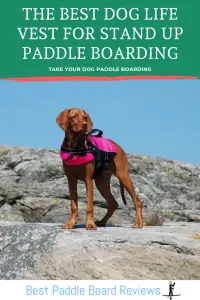 A dog life vest serves the same purpose human ones do: To keep them, namely their head, above water and to prevent drowning. Dog life vests look somewhat similar to the vests you see on service dogs, with the addition of handles on the back to easily lift your canine friend out of the water. Generally, they come in bright, noticeable colors or patterns. While you may be worried that your furry friend will not want anything to do with his life vest, many dogs actually get excited when they see you are packing it because they know that fun in the water is soon to come.
What to Look for in a Dog Life Vest?
Fit – This is the most important aspect when purchasing the appropriate life vest for your canine. You don't want it to be too loose, possibly causing your dog to slip out of it. But, you also don't want it to be so tight that your dog is uncomfortable or limits her leg movement.
Buoyancy or Flotation – Make sure you weigh your pet and choose the appropriate size to be sure that the life vest is capable of keeping your dog afloat.
Handle – These make it a lot easier to pick your pup up comfortably and safely.
Comfort – Again, make sure the life vest isn't too tight for your dog, making it both uncomfortable and not safe. It is common for the chest strap to rub, so be sure to check this while trying life vests on. He should be able to move about easily while wearing it.
Ease of Use – While the above aspects are of utmost importance, it is also important for you, the owner, to make sure you are going to be able to get the life vest on fairly easily, otherwise, you are less likely to use it.
How To Size A Dog Life Vest
The Best Dog Life Jacket for Paddle Boarding
RUFFWEAR - Float Coat Dog Life Jacket
Summary: This premium dog life jacket features a strong handle for lifting your dog out of the water, reflective trim for easier visibility, and a wide range of sizes to choose from (XXS-XL). An extra cool feature of this life vest is the design and placement of the foam panels. If your dog happens to flip over, these panels help to right the animal to its normal swimming position.
Pros: Reflective trim, adjustable fit around the neck area, low-profile handle,
Cons: On the pricier side. Only 3 colors to choose from.
Outward Hound Dawson Dog Life Jacket
Summary: This life vest features two handles, a front neck float to keep your dog's head above water, reflective accents for better visibility, and adjustable straps and belly band. The Dawson Dog Life Jacket offers 5 sizes to choose from.
Pros: This dog life vest is very affordable. Contains Velcro tabs on straps keep your pet from getting caught on hidden objects in the water. Warming insulation keeps your pooch warm while swimming in cooler water.
Cons: Not many colors to choose from.
Vivaglory New Sports Style Ripstop Dog Life Jacket
Summary: The Vivaglory life vest offers durable, ripstop material, numerous, bright color pattern options to choose from, and extra, adjustable neck space, and uses up to 50% more flotation material than many other life vests on the market.
Pros: Tons of colors and patterns to choose from. Pricepoint fairly reasonable.
Cons: Only 4 sizes to choose from (XS-L).
Outward Hound Kyjen PupSaver Life Jacket
The Outward Hound Kyjen life jacket is similar in design to the Dawson listed above with a few exceptions. This one is more uniform in thickness across the body, without the padding spots being visible like on the Dawson. The neck padding is also slightly different in design.
Pros:  This life vest is very affordable. 5 sizes to choose from.
Cons: Like the Outward Hound Dawson life vest, this one only has a few colors to choose from.
EzyDog Doggy Dog Life Vest Jacket
Summary: Rigorously tested and rated as one of the highest performing dog flotation devices on the market, the EzyDog combines comfort and safety. It is padded with extra buoyant foam, a contoured neck strap, reflective accents, and adjustable belly straps.
Pros: Extra foam. One of the highest recognized dog flotation devices on the market. 5 sizes to choose from.
Cons: This life vest is on the pricier side. Only a few colors to choose from.
Find the Right Dog Life Vest for You and Your Dog
You have several options to choose from when it comes to dog life vests for your canine friend. Be sure to carefully weigh the pros and cons of each and apply them to your dog personally. Does it fit well? Will it keep my dog above water in the event of an emergency? Is it easy to get on and off? Once you find the perfect life vest for you and your dog, you will be out enjoying paddle boarding and other water sports in no time!
Other Great Paddle Board Related Articles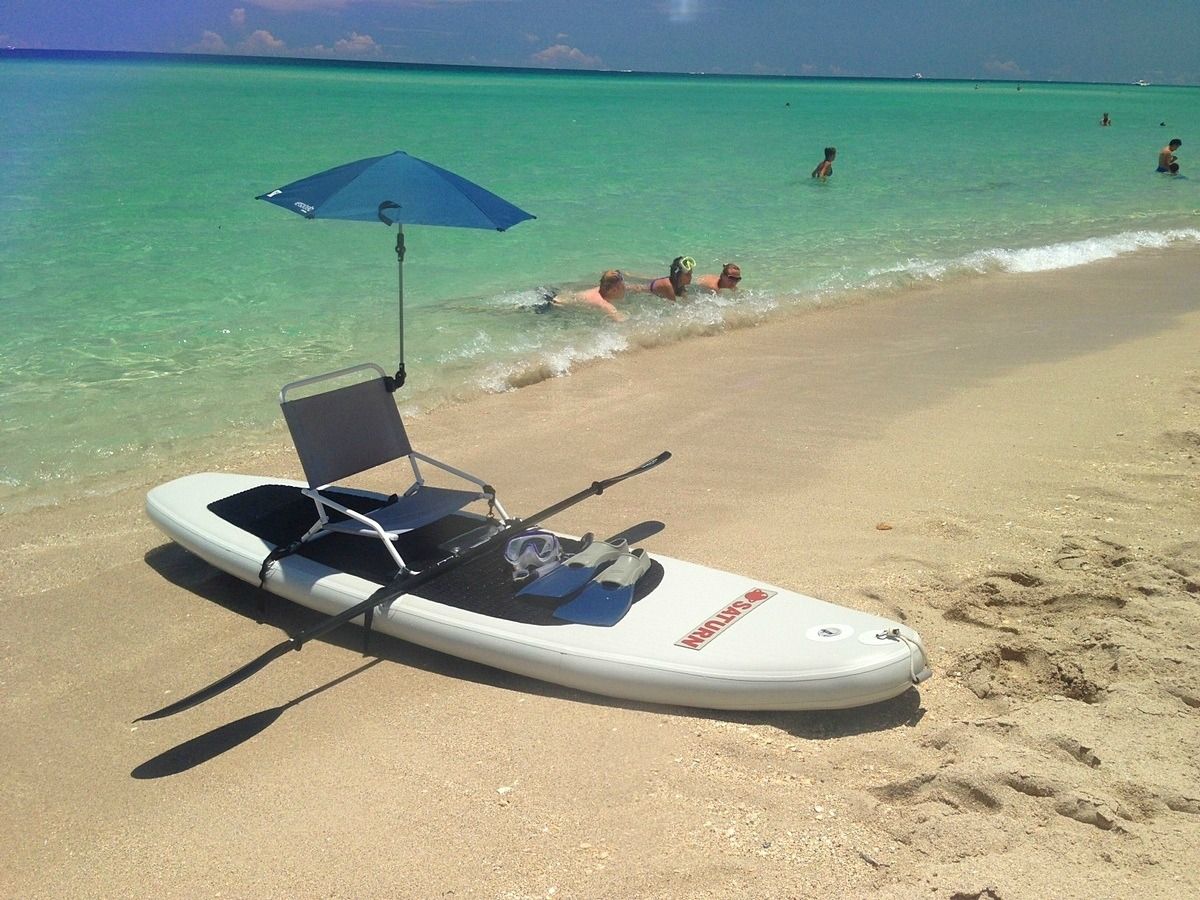 Some of the links in this post are affiliate links. This means if you click on the link and purchase the item, we will receive …