Some of the links in this post are affiliate links. This means if you click on the link and purchase the item, we will receive an affiliate commission at no extra cost to you. All opions remain our own.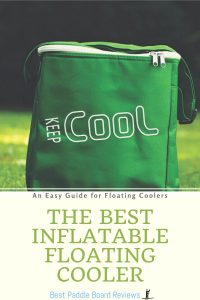 Remember when your parents would take you to the lake or pool on a hot summer day. The ground would be so hot you would be tippy-toeing to the water. Yet, when you finally made it, it was the best sensation in the world.
The only problem was if you got thirsty, you only had two options: drink the water at the pool, which is not advisable at all, or get out, and get your feet burned again. With a floating cooler, you never have to feel that again.
What is a Floating Cooler?
A cooler is an essential tool to enjoy a hot day out. A floating cooler is exactly what it sounds like. It's a cooler that you put ice in, except this one also floats. It's the ultimate accessory to top off any hot day on the lake, floating the river, or just relaxing in the pool.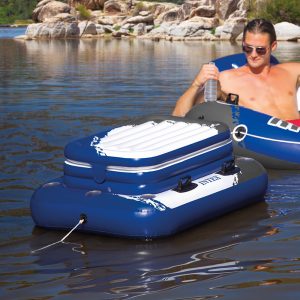 What are the Pros and Cons of a Floating Cooler?
The most significant advantage of having a floating cooler is the fact that you can take them into the water with you.
You can anchor it to you, a kayak, boat, or paddleboard.
Some floating coolers also have cup holders, which means you can enjoy half a can of soda, and forget it about it until you are thirsty again.
Also, in case you lose your balance, you can grab onto the handle of the cooler. It will not be sturdy enough to support you completely, but in case of an emergency, it's enough.
However, keep in mind that if you plan on giving them a beating, they will not hold up as much as a regular cooler. It will keep your drinks cold for the entire day, but if you are looking for something that would keep everything chill for days, we recommend a hard-sided cooler on shore.
What are the Best Places to Use a Floating Cooler?
Cooler At the Lake
A floating cooler is perfect for a relaxing time at the lake. You can hook the cooler to your body and bring it anywhere to unwind. 
A Cooler Floating Down The River
You can tow your cooler to your kayak and not worry about what you will drink later.
A Cooler At The Pool
You will never have to get out of the refreshing pool. Your drinks will be right there next to you. 
A Cooler for Lazy Paddle Boarding In The Ocean
Can you imagine going far from shore, getting thirsty, and having nothing to drink. Now imagine the opposite: you have a whole cooler's worth of drinks. 
How to Use a Floating Cooler
The Best Floating Cooler for Paddle Boarding
World of Watersports Inflatable Heavy Duty 30 Quart Cooler
Summary: The World of Watersports Inflatable Heavy Duty 30 Quart can carry 30 cans. It's made of a sturdy and durable heavy-gauge PVC, and it comes with a double-layered padded bottom that will keep everything cold.

Pros: It can hold up to 30 cans, which is more than enough for the entire family. It comes with a zippered lid that will keep your drinks safe even if it tips over. It's made from durable material, and it comes with its own pump for quick inflating and deflating.

Cons: This is inherent in all floating coolers, but there is always a risk of popping. Since it sits high on the water, you will need to tilt it to get your drinks. Because of this, you risk tipping it over.

SPORTS STUFF Inflatable Floating Cooler
Summary:  The SPORTSSTUFF Inflatable Floating Cooler has four cup holders, an easy-access zippered lid, and a molded handle for effortless transporting. It's constructed out of heavy-duty K80 PVC and equipped with safety valves for easy inflation. It's 18 wide x 16 long x 6 inches deep, and it weighs 7.7 pounds. This is a sturdy cooler.

Pros: The previous cooler could carry 30 quartz. This one can carry double that amount. The safety valve makes sure it doesn't deflate, and it's easier to inflate too.

Cons: it only comes with one handle. It's not that big of a deal when it's deflated or empty, but what about when it's full. How are you going to carry 40 plus cans with just one handle?
YAMAHA Blue Inflatable Floating Cooler
Summary: The Genuine Yamaha Inflatable Floating Cooler is insulated with nylon and has a removable base. It has six numbered cup holders to help you and your friends keep track of each other's drinks. It's 16.00" wide, 9.00" long, and 12.00" deep.

Pros: The numbered cup holders are helpful, and the addition of the removable base is convenient. There is no more risk of tipping over the cooler since you can just grab the base and set it down next to you.

Cons: It's small compared to other coolers.
Summary: Intex is a brand that specializes in inflatables. They have kayaks, spas, airbeds, and pools. So you are in excellent hands. This 35-inch diameter Inflatable cooler holds up to 30 12 oz. cans. It has an easy-to-use connector system that can be connected to other Intex River Run floats, and it has five built-in cup holders and two snack trays. This one comes with two durable grab handles for easier handling.

Pros: Designed to be connected with other Intex products with ease. The snack trays are a welcome addition that not a lot of other coolers have. It also comes with a repair patch.

Cons: Doesn't have a zippered lid, and according to some, the ice melts quicker than other brands.

Airhead Inflatable Floating Cooler
Summary: The insulated leak-proof nylon cooler can hold up to 24 cans and can detach from the inflatable base. It has six numbered cup holders and a pocket where you can store your sunscreen, water bottle, or snacks. Comes with an adjustable shoulder strap and a plastic rope connector welded to its side for easy towing. This cooler is 4" wide, 13" long, and 15" deep.

Pros: Company specializes in inflatables and it's made to work well with their products.

Cons: It's not as big as the others and has an interesting design.
In Review
The fact is that a floating cooler is essential for having a good time with no interruptions. You can take them anywhere you want and even attached them to your boat or paddleboard. Whichever product you choose is okay, just make sure it fits your needs.
Other Great Paddle Board Related Articles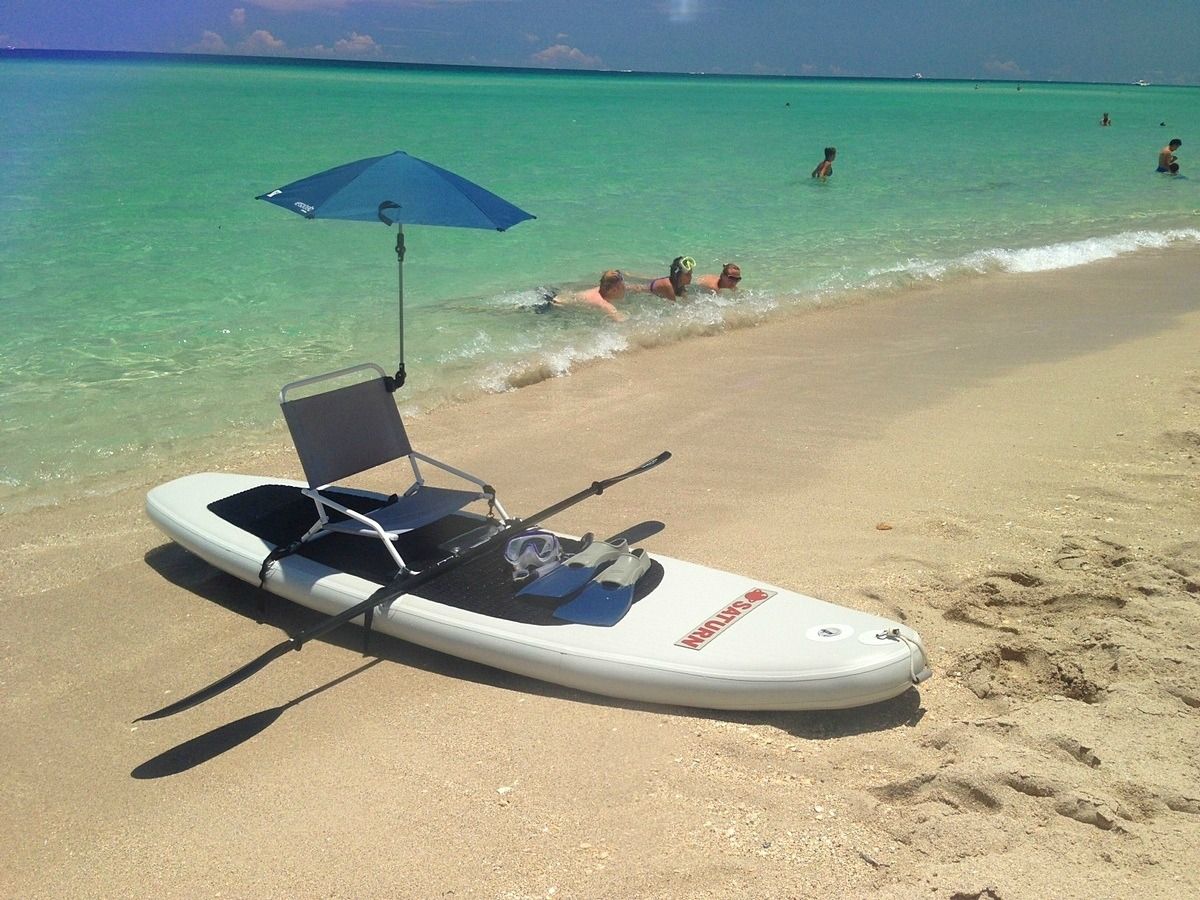 Some of the links in this post are affiliate links. This means if you click on the link and purchase the item, we will receive …