Some of the links in this post are affiliate links. This means if you click on the link and purchase the item, we will receive an affiliate commission at no extra cost to you. All opions remain our own.
Paddleboarding in the summer heat can be exhausting. As a sport that gives you a full-body workout, usually out on the open water, it can be easy to get dehydrated. Luckily, there is an easy solution. Bringing along a Paddle Board Cooler can make your day out on the water relaxing and refreshing. Bonus: a SUP cooler can help stabilize your board, double as a seat when you get tired and be used for activities like fishing. We have lined up the Best Stand Up Paddle Board cooler.
How to Use a Cooler on a Paddle Board?
When using a cooler on a paddleboard, the most common place is on the front of the paddleboard. They are usually anchored to the board with ties, bungee cords, or suction cups. It's important to make sure that the cooler is anchored tight so that it doesn't fall into the water, that would be devastating! 
What are the Options for a Paddle Board Cooler?
When choosing a paddleboard cooler, it really comes down to your priorities and how you plan to use it.  
Soft-Sided Coolers
Weighs less– The vinyl or fabric exterior is lighter than the plastic of a hard cooler (one point to the soft side). 
Easier to transport – Because it is lighter and often includes a shoulder strap, the soft-sided is a much better choice if being carried to and fro. 
Takes up less storage – Soft-sided coolers are generally smaller and sometimes collapsible making them much easier to store. 
Hard-Sided Coolers
Better ice retention – Of course this depends on which two coolers you are comparing but generally speaking hard-sided coolers will keep cold, longer than their counterparts. 
Greater capacity – Unlike their soft-sided friends, hard coolers were not made to throw over the shoulder and go. For this reason, they are often larger and can hold more items.
More durable – If your plans take you to rugged terrain or extended weather than the hard-sided cooler is probably for you.
Overall, each cooler has their upsides and down-sides, so choose what works best for you and your lifestyle.  
The Best SUP Paddle Board Cooler
You have come to the right place in search of your weekend companion. We have done the research and have the best SUP Paddle Board soft-sided coolers listed in order of our highest ranking
YETI Hopper Two Portable Cooler
Summary: A soft-sided portable cooler that's built for the long haul and can keep ice for days. Inside(inches) : 9 × 14 × 17. Features a waterproof DryHide Shell.  Empty weight is 5.5 pounds. Can hold 24 cans of beer with 2:1 ice ratio. Can hold up to 30 lbs of ice. 
Pros: The updated design of the zipper makes the filling and emptying easier. Padded carrying strap for comfort and convenience. Features strong straps that will hold up to a lot of use. Tapered body makes extended hauling more comfortable. Takes up less space than a rotomolded cooler. Hands down the top cooler on the list for ease of use and ice retention.
Cons: This cooler is a more expensive option. No side pocket for dry items. 
Engel HD30 Waterproof Soft-Sided Cooler Bag
Summary: The Engel HD30 Cooler is high performance soft-sided cooler (hold ice up to 4 days). Waterproof full-length zipper for easy access. Patent-pending vacuum valve technology – improves insulation performance. Rugged TPU outer wall construction. 
Pros: Includes ergonomic shoulder strap, bottle opener, front accessory pocket, and zipper lube. Very easy to access. The waterproof feature makes it a no brainer for paddleboarding.
Cons: Strap has two adjustments (a little time consuming). Reviews reported fraying stitching after a few uses.
TOURIT Soft Side Waterproof Cooler
Summary: Exterior size: 17 1/2″ x 11 1/2″ x 13 1/5″ (L x W x H), Interior size: 15 2/5″ x 9 1/3″ x 9 9/10″(L x W x H), Empty weight: 1.90kg, can hold 30 cans plus ice. Wide-mouth opening of the soft coolers insulated to ensure easy access and visibility to your contents. Insulation in 3 unique layers work together to keep your food and drinks cool up to 3 days. 
Pros: 3-year warranty against any product defects. Very wide opening for easy access to drinks. Includes side pocket for dry items and an attached bottle opener. A firm exterior allows it to be doubled as a small table.
Cons: For extra seal, the zipper is a little complex, which can be time-consuming. Some reviews reported an unadvertised logo if that bothers you. 
RTIC Soft Sided 30 Cooler
Summary: The RTIC cooler Holds up to 30 cans plus ice. No leak zipper and no sweat exterior. Up to 2″ of foam insulation. We love the zipper location on the top of the cooler to allow for easy loading and more importantly unloading or getting into the cooler. Plus this is one of our favorite coolers for the good looks factor.
Pros: Lightweight & Durable – Made with Tough, laminated fabric and welded seams. Multiple designs and colors.
Cons: Reviews reported that the zipper wasn't very durable.
Mountainsmith Deluxe Cooler
Summary: 150d Baby Ripstop Poly, 5″ high, 20″ wide. Barrel top zippered closure. Adjustable haul handle converts to shoulder carry making it easy to carry to the lake or beach. 
Pros: Drop-down beverage tray, a side mesh pocket, and bottle opener included. Much lower price than most coolers.
Cons: Not very many reviews, but all 4 are 5 stars. Doesn't include a shoulder strap (though the side straps convert). May not survive as well if it falls overboard as compared to some of the other coolers.
SUP-Now Paddle Board Cooler
Summary: SUP Paddle Board Accessories cooler and mesh bag in one. Utilizes 4 suction cups to stick to your board. Low price for a convenient carrying case for all your essentials. 
Pros: Small and portable. 100% money-back guarantee! Waterproof insert (for phone and keys). Two additional storage compartments for dry items. Fantastic customer service. 
Cons: Suction cups won't work as well on inflatable boards but can be put under bungee rigging. Doesn't hold ice or stay cold for extended periods of time.
Other Great Paddle Board Related Articles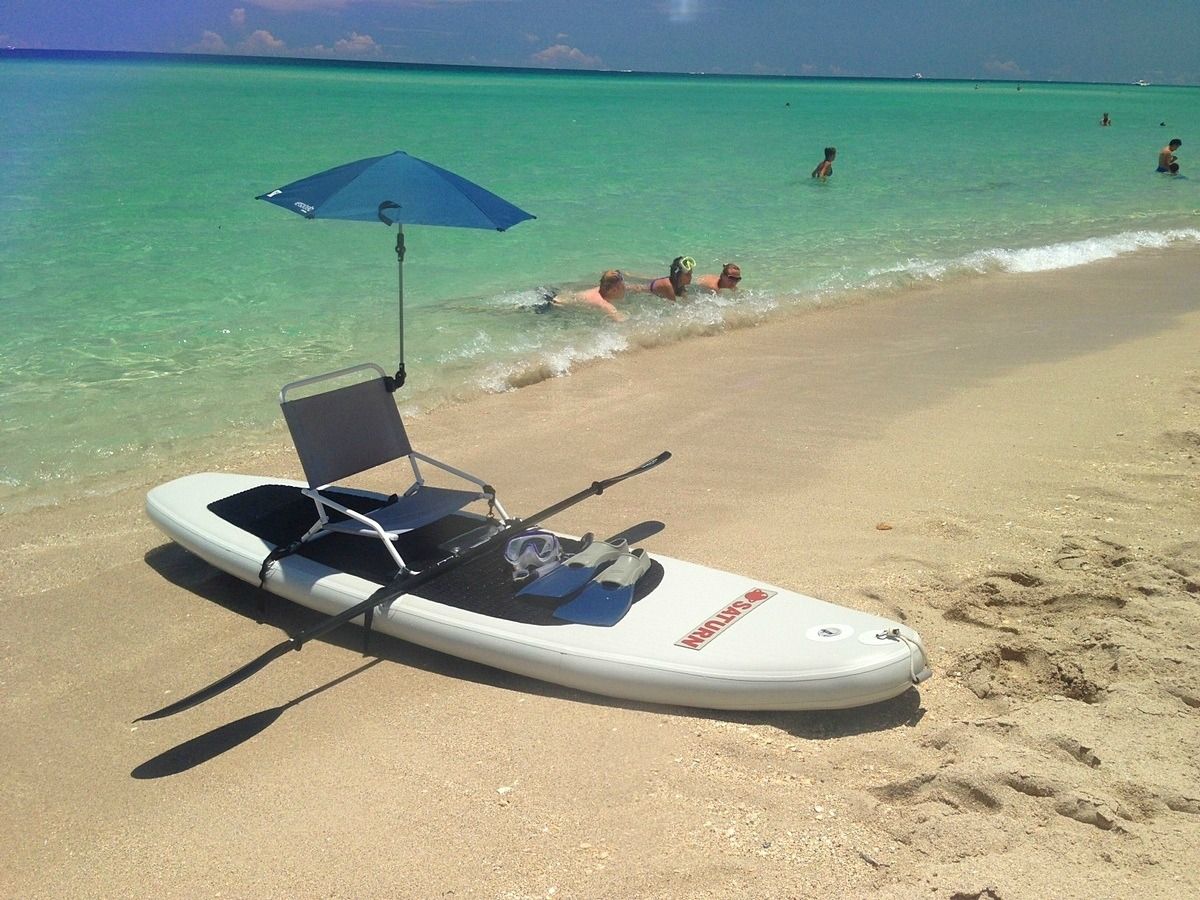 Some of the links in this post are affiliate links. This means if you click on the link and purchase the item, we will receive …