Some of the links in this post are affiliate links. This means if you click on the link and purchase the item, we will receive an affiliate commission at no extra cost to you. All opions remain our own.
Why Stand Up Paddle Board in Glacier National Park?
Montana is a state that has approximately 1.7 million residents as of 2019 according to the US Census Bureau. Stand up paddleboarding is an increasingly popular way to explore the state and its vast abundance of rivers and lakes.  Glacier National Park is known for its sense of adventure and views and is the perfect spot to explore Montana on a paddleboard. There are 200 lakes and 50 glaciers within the park as well as 1,600 square miles of landscape to explore. Each lake listed below has its own set of unique experiences and characteristics that make them the best place to consider when planning a trip to stand up paddle board in Glacier National Park.
Lake McDonald - Glacier National Park, Montana

Lake McDonald is Glacier National Park's biggest lake measuring in at 10 miles long and 472 feet deep. The lake is located off of Hwy 2 near the West entrance of Glacier National Park.  The Continental Divide is just 14 miles away.  It is well known for its view of the mountains and colorful pebbles lining the shores. Wildlife viewing from the lake can be spectacular. Lake McDonald can be accessed through its many campgrounds as well as through Apgar Village surrounding the lake.  Apgar Village includes many amenities including a pebble filled beach, several lodges and campgrounds, hiking trails, and restaurants.
Grinnell Lake - Glacier National Park, Montana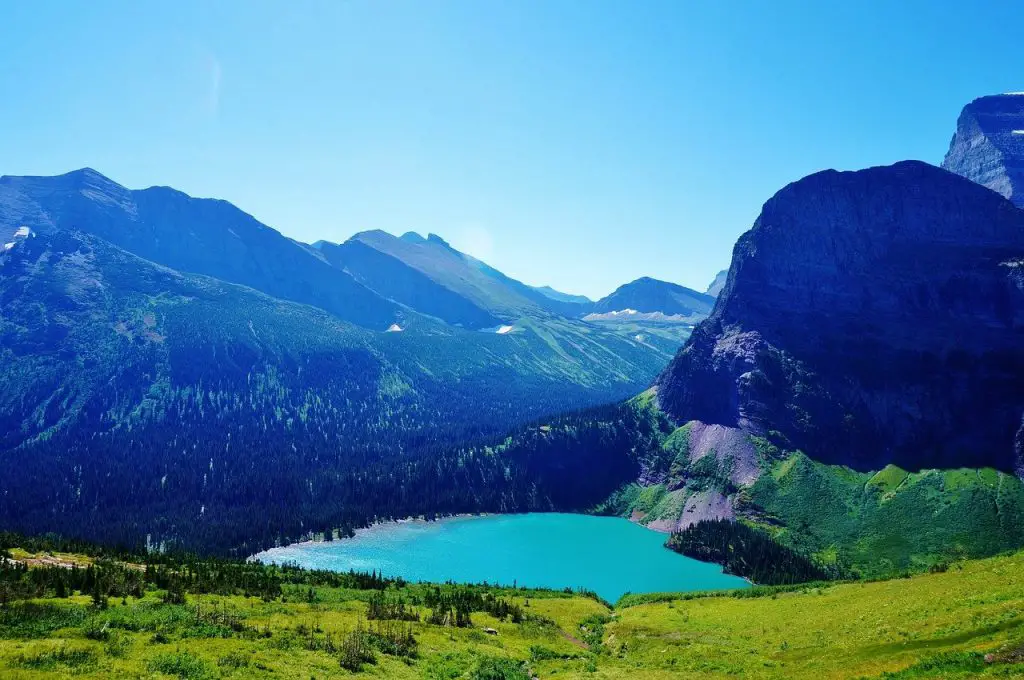 Grinnell Lake is best known for its hiking trails. A popular hike to Grinnell Lake is called Grinnell Glacier Trail. The actual trail begins near Swiftcurrent Lake, but many hikers choose to take a shuttle boat across Swiftcurrent Lake and Lake Josephine to shorten the length of the hike. Stand up paddle boarding through the lakes is another option for reaching the hiking path to Grinnell Lake. The hiking path features several streams, a suspension bridge, Hidden Falls, as well as access to Grinnell Falls. Grinnell Lake sits right below Grinnell Falls. It is known for its beautiful turquoise or emerald appearance. The lake, mountain, and falls are named after George Bird Grinnell an explorer and the founder of the Audubon Society.
Kintla Lake - Glacier National Park, Montana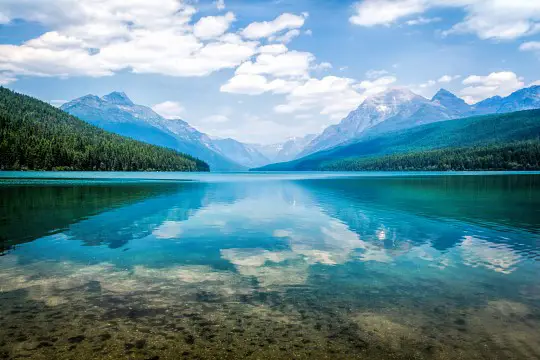 Kintla Lake is the fourth largest lake in Glacier National Park. It is 8 miles long and a mile wide and surrounded by mountains. No motorcraft are allowed in the lake so it is an ideal place to explore on a Stand Up Paddle Board. Kintla Lake is home to one of Glacier National Park's most remote campgrounds and has many hiking trails to explore as well as superior fishing conditions. Foot traffic to Kintla Lake is light so it is known for a place of quiet and solitude. The road leading to the lake and campground is long and bumpy deterring many travelers from visiting while allowing for those who do make the trek a peaceful and quiet visit. 
Quartz Lake - Glacier National Park, Montana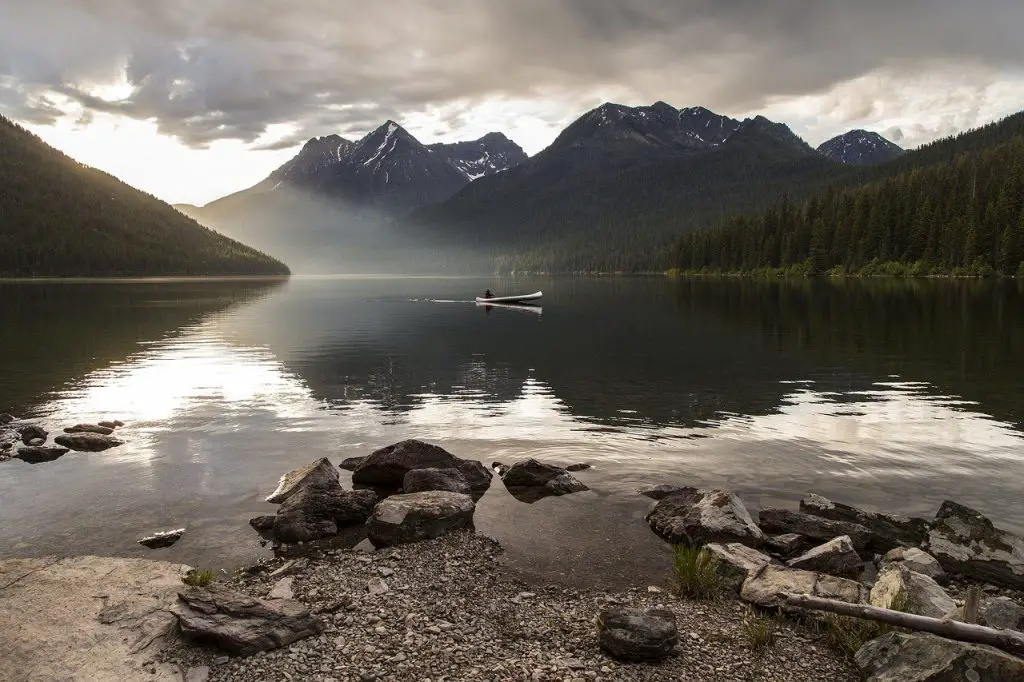 Quartz Lake is situated at the base of Vulture Peak. There are three sections to Quartz Lake: Lower Quartz Lake, Middle Quartz Lake, and Quartz Lake. Hikers can hike the Quartz Lake Loop beginning at Bowman Lake down through each section of the lake and right back up to Bowman. The hike is approximately 12.8 miles long.  Quartz Lake Campground is situated at the foot of Quartz Lake and is the perfect rest stop for those who want to make their hiking excursion an overnight or multi-day trip. There is another campground near Lower Quartz Lake as well as Quartz Lake Junction. Along the trail, hikers pass several streams including Quartz Creek which includes a footbridge that allows hikers the ability to pass over the stream.
Two Medicine Lake - Glacier National Park, Montana
Two Medicine Lake is located in the southeastern part of Glacier National Park. The lake is 2 miles long. Located on the lake is a 100 site campground with access to 12 different hikes as well as a boat launch. The lake offers breathtaking views of Rising Wolf Mountain and there are several opportunities for unique wildlife viewing. Two Medicine Lake can be explored in various ways, by using one of the many hiking trails visitors can catch a glimpse of Running Eagle Falls, Rockwall Falls, or some of the many mountain peaks, glaciers, or valleys surrounding the lake. Visitors can choose to take a boat tour across the lake and experience a guided tour or rent a boat, kayak, or use a stand-up paddle board to explore the lake on their own.
St Mary's Lake - Glacier National Park, Montana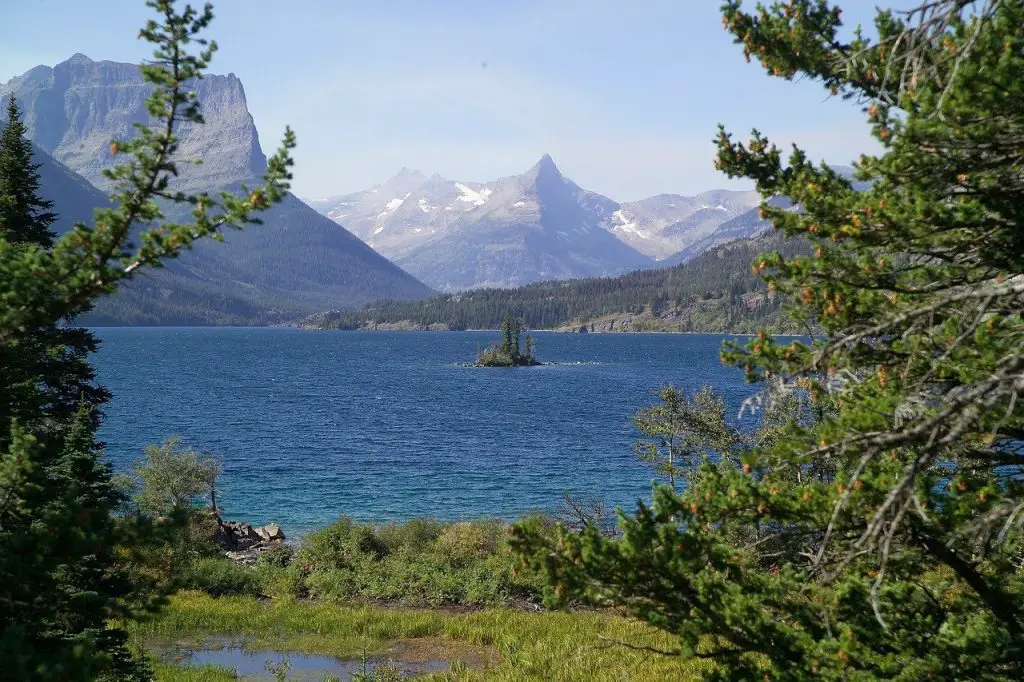 St Mary's Lake is 10 miles long and is Glacier National Park's second-largest lake. It is located on the east side of the park alongside Going-to-the-Sun Road. St. Mary's Lake is known for its boating and water skiing activities. There are 2 campgrounds located around the lake as well as several hiking trails. Fishing is open for lake trout fishing only.  It is surrounded by mountain peaks and waterfalls. Travelers can rent boats or take historic boat tours on the lake. The water in St Mary's Lake can be quite cold so it is best to have a guide or to be an experienced paddler if going out on the lake on your own. Several different companies in the area offer guided tours and rentals for canoes, kayaks, and paddle boards.
Avalanche Lake - Glacier National Park, Montana