Some of the links in this post are affiliate links. This means if you click on the link and purchase the item, we will receive an affiliate commission at no extra cost to you. All opions remain our own.
If you haven't been on a stand up paddle board, or better yet a multi-person stand up paddle board, you are missing out! A sport that once belonged solely to surfers has gained massive popularity and paddleboards can now be seen everywhere from small-town lakes to the oceans of Florida and California. A paddle board is a larger and wider surfboard that is paddled (in this case standing up) so that it can be used in calm waters without any waves. Paddleboarding is a great workout that exercises the entire body while improving balance, and it can be done individually or with a partner. The first time that I saw two people on a paddle board I had to do a double-take because I had no idea that two people (and a dog!) could fit on one paddle board.

Scroll left or right for full table
Why You Should Get a Multi-Person Paddle Board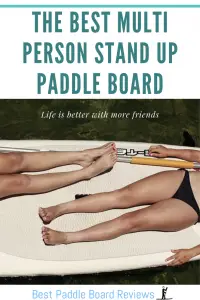 Exercising is always more fun when it's done with a friend, and multi-person paddle boarding is no exception. A board built for two or more allows you to get on the water and enjoy your workout with your best friend, a new acquaintance, cousin, sister or maybe all four. Multi-person paddleboarding is the easiest way to get into the sport, and the best for beginners, because the board is larger so it is more stable in choppy water. You also have the benefit of extra paddlers so if your arms get tired, or you need a break, you have a partner to pick up the slack, help navigate, and share in the fun.
What To Consider in a Multi-Person Paddle Board
Safety Considerations when Using a Two-Person Paddle Board
Get a PFD for Everyone – What is a PFD? A personal flotation device and everyone needs one because everyone is going to end up in the water at least once.
Have a Good Leash – When you fall off your paddle board it is going to try and float away, so a leash is necessary to keep the board in your possession at all times.
Grip for Two People – Paddleboards can be slippery, and to prevent injuries make sure your board has a traction pad because the pad will give your feet something to grip.
Make sure there is room for a cooler and dry bag – Paddling is an exercise done away from the shore so you need to leave space on your board for water and a dry bag that can hold your identification documents, keys, and phone. Whats better than friends and the best paddle board cooler on the same board?
Consider getting a carrier with wheels to get to the Water – Multi-person paddle boards are heavy because they are built to handle the extra weight being placed on them, so look into getting a carrier with wheels to help you transport your board.
The Best Multi-Person Paddle Board
Peak 12' Titan Large Multi-Person Inflatable Stand Up Paddle Board
Summary: The Peak 12' Titan is an inflatable board that can hold up to 500 pounds and can be inflated in 7-10 minutes. It weighs 35 pounds inflated and can be easily deflated, rolled up, and carried in a duffel bag. The board is also made of military-grade PVC and comes with a carrying bag and bonus water-proof smartphone carrying case.
Pros: Sturdy, easy to inflate, durable
Cons: Fins are not detachable
ISLE Megalodon Inflatable Multi-Person Standup Paddle Board
Summary: The ISLE Megalodon is a 12-foot long inflatable board that supports up to 450 pounds (2-4 people) and comes with a 30-day satisfaction guarantee (if you don't like the board returns it within 30 days with no problems). It is a thicker board that can be used for touring, yoga and fishing and weighs 34 pounds.
Pros: Can carry solo, lots of space, sturdy
Cons: No carrying bag
Driftsun Orka 12 Ft Extra Wide Multi Person Inflatable Paddle Board
Summary: The Driftsun Orka is a 12 foot long, 4.5 feet wide inflatable paddle board that is extra wide to accommodate both people and gear. The board can hold 2-4 people with a total weight limit of 550 pounds and is made out of military-grade PVC. It weighs only 32 pounds so one person can easily transport the board
Pros: Easy and fast to deflate, sturdy, dog proof
Cons: Issues with the seams for some reviews
ISLE Megalodon 12' & 15' Inflatable Stand Up Paddle Board
Summary: The ISLE Surf and SUP Megalodon is a unique board that can be used in small to medium size waves. The 12' board weighs 34 pounds and can hold a maximum weight of 450 pounds, and the 15' board weighs 50 pounds and can hold a maximum weight of 1,050 pounds. The 12' board can hold 2-4 people and the 15' board can hold 5-8 people. 
Pros: Great for dogs, eye-catching, lots of space
Cons: Heavy
Bluefin Inflatable Stand Up Paddle Board

Summary: The Bluefin inflatable board is 18 feet long, which makes it one of the biggest boards money can buy and can hold up to 10 people (1,433 pounds). Despite its size, the board easily deflates and rolls up. The board is made of triple-layered, military-grade PVC that weighs 60 pounds when deflated.
Pros: Great for families/groups of friends and room to hold the extras (coolers, gear, etc)
Cons: Heavy to carry
Driftsun Party Barge 15 Foot Inflatable Paddle Board
Summary: The Driftsun Party Barge is a 15 foot long inflatable multi-person stand up paddle board that weighs 47 pounds. The board can carry 5-7 people for a weight maximum of 1,100 pounds. The board comes with a built-in traction pad and front bungee cargo.
Pros: Lots of room and great for floating
Cons: Hard to pump
Conclusion:
Stand up paddle boarding is great fun, no matter the board you choose. Enjoying the water with your friends and family, while getting a great workout at the same time, is an experience that just can't be beat.
Other Great Paddle Board Related Articles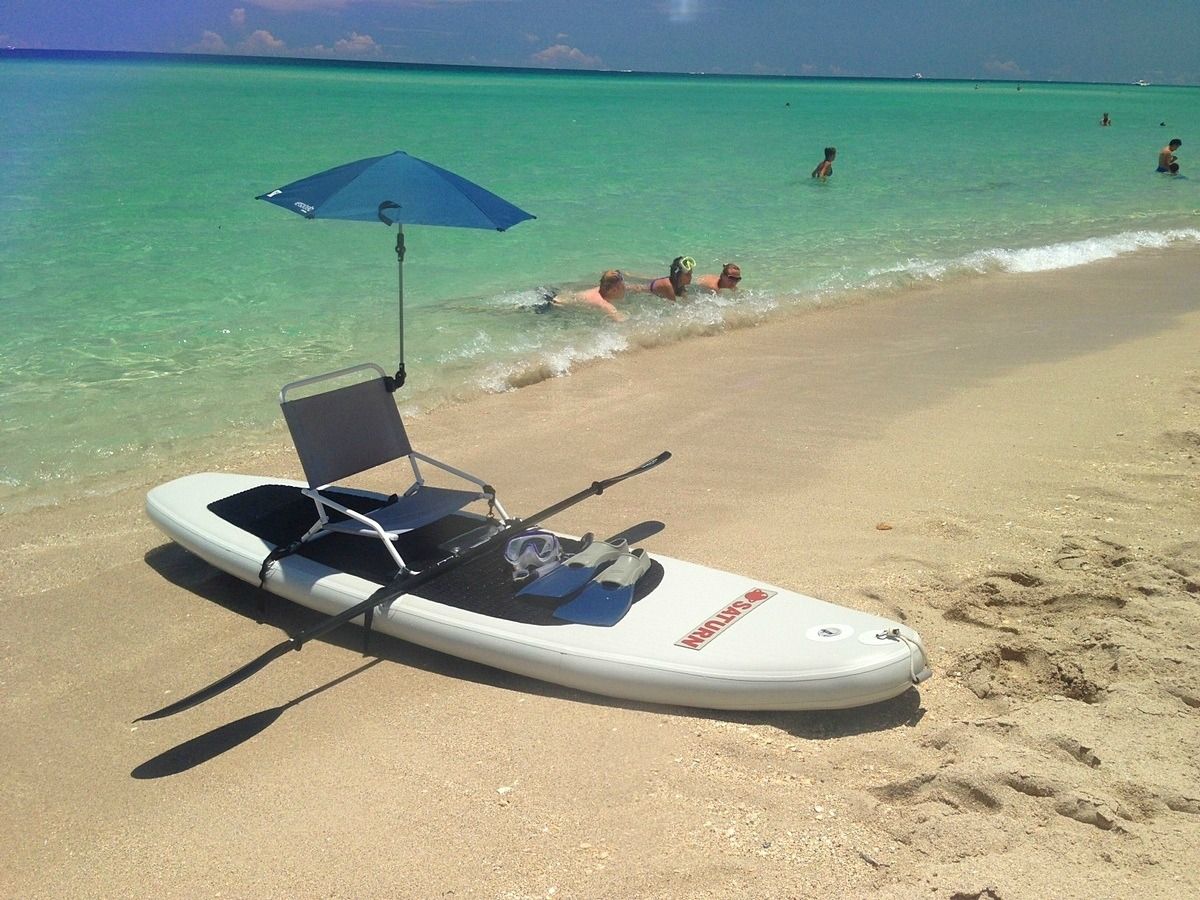 Some of the links in this post are affiliate links. This means if you click on the link and purchase the item, we will receive …