Some of the links in this post are affiliate links. This means if you click on the link and purchase the item, we will receive an affiliate commission at no extra cost to you. All opions remain our own.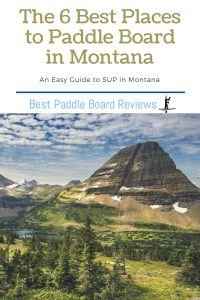 Montana is the 4th largest state and 3rd most populated state, located right under the Canadian border. It is called the treasure state because of its rich deposits of minerals. The state has two significant geographical landscapes, and that's the rocky mountains and the great plains. Humans started life in Montana about 7,000 years ago and then was bought by the united states in 1803 as part of the Louisiana purchase. Montana's views and lakes make stand-up paddleboarding a wonderful past time in the state. Glacier national park has some of the most stunning views and lakes for stand up paddleboarding. 
Lake McDonald - Glacier National Park, Montana
McDonald lake is located in Glacier National Park in northern Montana. The lake has many moods, but it is always absolutely beautiful. The lake is 10 miles long and nearly 500-feet deep and is a result of glacier carving and is the largest lake in the park. Lake McDonald lodge offers delicious food and lodging close to the lake. The sightseeing on the lake makes a stand-up paddle boarding on the lake a brilliant idea. We definitely recommend taking a waterproof camera to get the best shots. Get information on Lake McDonald and other amazing glacier carved lakes at Visit Glacier Park.(photocredit)
Flathead lake is the largest freshwater lake in the state, located in the state's northwestern part. The lake is 28 miles long and 15 miles wide and offers hundreds of wildlife and wild horse island species. This lake is huge and has so many nooks and bays to paddle board in. The lake offers trophy fishing and is perfect for watersports, mainly stand-up paddleboarding. In Somers, Montana, at the northern part of the lake, is a 5-star restaurant called Cowboy Up Country Cooking to help with the appetite you worked up SUP.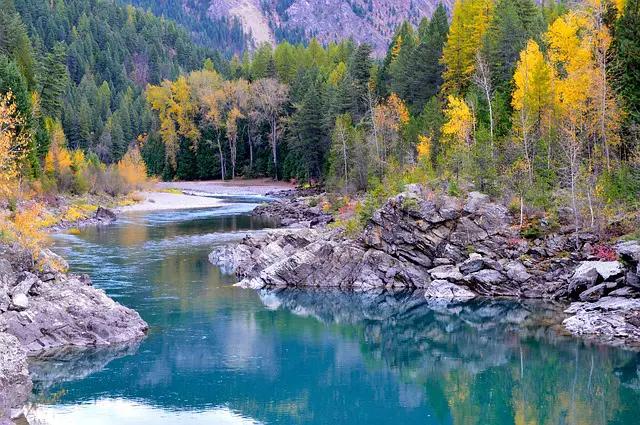 Flathead river also has colder and cleaner water than any other river in Montana, thanks to the melting snow. The river has the most breathtaking views in the state, making it a considerable tourist destination for people worldwide and an excellent spot for standup paddleboarding. There are also many more activities on the river. Fly fishing is one of the popular activities. A popular brewery along the river is in the middle of Polson on the south of flathead lake, right where the river begins. It is called Glacier Brewing Company, and it boasts of excellent service and food and drinks. 
Clark Fork River - Missoula, MT
Clark Fork River is in southwest Montana and one of the longest rivers stretching 280 miles, ensuring hours of fun. Clark Fork River is a popular spot for fly fishing, kayaking, and Stand up paddleboarding. The river has a story of healing. It suffered metal runoffs from mining in Butte and Anaconda. Still, in 2008 when a hundred-year-old dam was removed, it started a cleanup of the river. Now the river is entirely metal-free. There is fine dining in Missoula Montana at pearls cafe which has french influenced cuisine and an excellent wine list. 

Hebgen Lake is a man-made lake approximately 16 miles long and has a depth of 70 feet max, located in southwestern Montana. There are many recreation opportunities on the lake, including camping, fishing, boating, and standup paddle boarding.  The lake is well known for an earthquake in 1959 that created the quake lake located downstream. Feast Bistro in Bozeman Montana serves the best in seafood and has excellent reviews. 
High Mountain Lake Escape - Grinnell Lake, Montana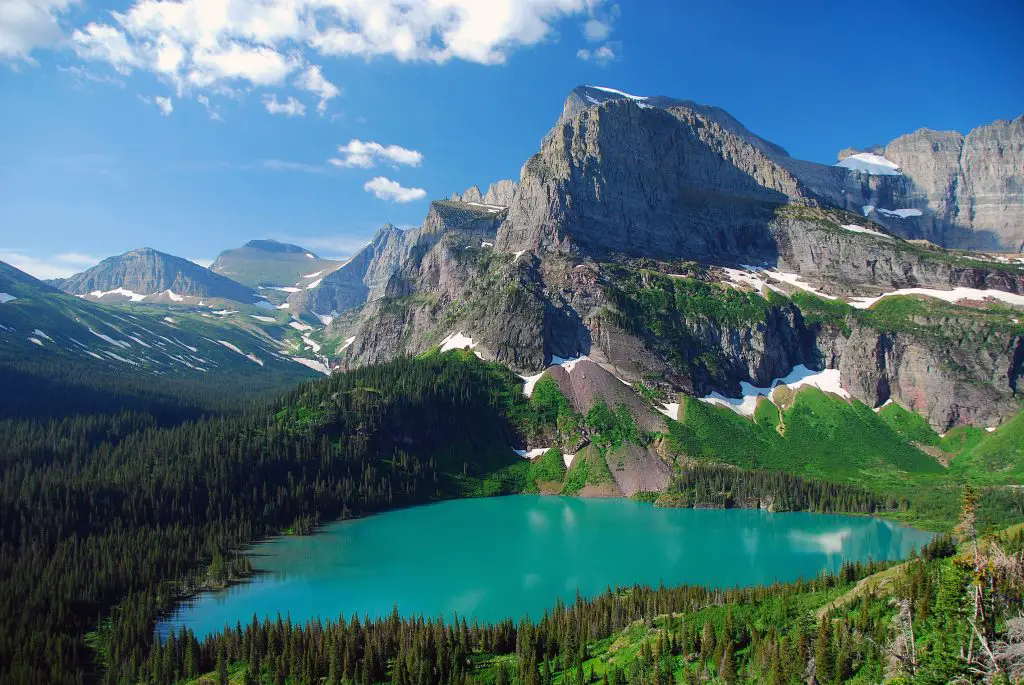 Grinnell lake is located in Glacier National Park and is 710 miles long and 530 miles wide. It has a stunning turquoise color due to the rock silt from Grinnell glacier. It is a trendy hiking spot and offers many other recreational activities like swimming, boating, and standup paddle boarding. Grinnell lake offers beautiful water and beautiful scenery. You might need a lightweight paddle board to get to Grinnell Lake but it is all worth it. Nell's is an excellent restaurant nearby that caters to hungry hikers and stand up paddle boarders.