Some of the links in this post are affiliate links. This means if you click on the link and purchase the item, we will receive an affiliate commission at no extra cost to you. All opions remain our own.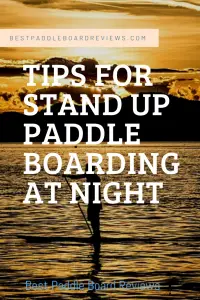 Stand up paddle boarding at night might sound scary but it is one of the best times to go. When paddle boarding at night the stars are out bright, the water is usually quiet and calm, and more times than not you have the water to yourself. Nighttime paddle boarding can be fun and exciting or it can be calm and relaxing just floating on the water. Whether you have done paddle boarding at night before or are simply thinking about trying here are our best tips for stand up paddle boarding at night.
Safety First... But Enjoy the Adventure
First and foremost you have to take extra steps to be safe. Visibility is down and help is likely far away so make sure to be a little more cautious. We recommend going on a full moon for a little light and take light as well. Make sure that the weather is good and the water will be calm. We recommend going somewhere that you are familiar with and have been during the day time so you don't have any surprises. Finally, check with local recreation laws to make sure that night time usage is allowed by law. 
Get a Stable Paddle Board that's Perfect for Nighttime SUP
If you are paddle boarding at night, the last thing you want is to fall in the water. It's often colder, rougher, and harder to get back on the board when you can't see. The best way to prevent that is…. get a board that is more stable and better than the rest. We recommend getting a 6" thick board such as the Isle Explorer Inflatable Paddle Board. It's more durable than your average paddle board, more stable and it comes as a bundle so there isn't much else you would need.
Use an Underwater Light on your Paddle Board
The underwater light serves multiples purposes and is also just cool to have. The underwater light lets you see rocks or obstacles in shallow water, maybe a fish or two and helps navigate around the shoreline. The underwater light also provides a safety light for others to see and know where you are at without bumping into you. This is especially important if you are sharing the water with boats or motorized vessels.  The Nocqua underwater light system fits any type of paddleboard, comes with 2 600 lumens lights and comes with a carrying case. 
Have a Solar Light for the Shore
For the shoreline you want to have a light that lets you know it's there but not too bright drown out the stars or dominate the area. One of the best options is an inflatable solar light that is easy to pack up, is just bright enough, and is even waterproof. These are inexpensive enough that you can get a second to take along on the board as well. We love the lightweight design, durability, and solar charging. One negative is it may blow away in windy conditions so make sure to attach it to something sturdy in that instance.
A leash is a good idea for any time of the day, not just night time. One of the worst things that could happen is you fall off the board and the board shoots away and you are trying to find it in the dark. This way should you fall off you can focus on your safe landing pull the board back to you with the leash. The BPS Storm leash has a coiled design to reduce friction in the water and has 10 feet in length.
Take a Life Jacket… and Actually, Wear it
Most of the places that you go to paddle board outside of the ocean such as state parks require you to have a life jacket on the board at all times. You need one with you but you might as well wear it at night. You are more likely to fall in the water and it will help keep you warmer at night. Most also come with a reflective material to make you easier to see to other lights. We like the Onyx Life Jacket due to its open design to allow for more movement and it's not bulky and annoying. Finally, it comes with a whistle on the front if you ever needed to use it for help.
Take a Headlamp - Keep your Hands Free
A headlamp is incredibly helpful with night time paddle boarding. You can use it while onshore to get things ready and keep your hands free and you don't have to hold a flashlight. It's also perfect to keep on your hat or head and is easy to turn on and off. No need to fumble with a flashlight and take one hand off the paddle. The black diamond storm headlight is perfect for SUP. It has 350 lumens to light up the water if you need to what's in front of you or if you drop your beer in the water. It's easy to use and has multiple settings including full strength in proximity and distance modes, dimming, strobe, red, green and blue night-vision, and lock mode.
Don't Forget the Necessities for Paddle Boarding in the Dark
No, we aren't talking beer and sunscreen although be sure to check out our post on the best soft-sided coolers for paddleboarding. (link) We are talking about important things you can't forget if you are paddle boarding at night.
Bug Spray 
Forgetting the bug spray can be the difference of an epic night and a terrible let's get the hell out of here type of night. Depending on where you live in the country the mosquitos and bugs may be most active right at dusk and are attracted to lights. Our favorite is Sawyer bug spray and it comes in a two-pack.
Long Sleeve Shirt
I know you are probably going to jump in the water anyways but trust me, you want a long sleeve shirt. This goes back to the bug spray as some of the bugs can be crazy depending on where you leave. Get an inexpensive tech long sleeve shirt that you don't care if it gets wet and you have no problem getting muddy or dirty. Check out the Baleaf performance shirt to save you money.
Dry Bag
If you are paddle boarding at night then things are going to get wet. You are going to be more reactive and then proactive to the water and any rough areas. It's best to get a dry bag that you just keep on the front of the board. You can keep the keys, phone, dry clothes, jacket, and even the beer in the bag. They are inexpensive and totally worth it. We have the Earth-Pak dry bag because it comes with a phone protector and is cost-friendly.
Walkie Talkie
So this falls more on the recommended vs you have to have but we love taking walkie talkies with us. That way we don't risk losing our phone in the water with my butterfingers grip. The Midland walkie talkies are waterproof and go for 36 miles so you aren't ever going to lose range surfing or exploring the lake. Plus who doesn't love playing with walkie talkies?
Conclusion
Going Paddle Boarding at night does not have to be intimidating or scary. With the right safety measures, you may find that nighttime paddleboarding is more adventurous, exciting, or it can be calming and relaxing. Either way enjoy the water to yourself and don't forget to check out the stars.
Some of the links in this post are affiliate links. This means if you click on the link and purchase the item, we will receive …