Some of the links in this post are affiliate links. This means if you click on the link and purchase the item, we will receive an affiliate commission at no extra cost to you. All opions remain our own.
There is no better feeling than being out on the water on a blue-skied, sunny day with your paddle board. But transporting your paddle board to the water can become a challenge when you don't have the right gear. The last thing you want to worry about when gearing up for a day of fun in the sun is being concerned about your truck getting damaged along the way to the water. That's where a tailgate pad is worth it.
When spending time having fun using outdoor equipment, it is important to have the right equipment to enjoy the experience fully. That's why investing in a SUP tailgate pad specifically designed for paddle boards is absolutely worth it since it ensures that you will transport the board safely to your ideal location and enjoy the day, worry-free.
Before tailgate pads were used, trucks were scratched and dented often as owners tried to find ways to safely strap down their boards. But with a tailgate pad specifically designed for paddle boards, you are able to customize the size of the pad using the built-in straps. The pad protects the paint and metal on the tailgate from scratches and dents while the paddle board rests safe and secured using the customized straps. 
What are the Benefits of using a Truck Pad?
Safe and Secure
 Using a tailgate pad allows you to drive stress free when transporting your board as you know it won't slide around and cause any damage thanks to the built-in straps on the tailgate pad. 
Maximize Space
Because the pad wraps around the tailgate of the truck, you are still able to use the bed of the truck to haul other items such as coolers or anything else you may want to enjoy your day on the water with your board. 
Efficient
The tailgate pad is designed to stay on the tailgate. This makes it hassle-free so that instead of having to take it on and off every time you go out on your board, you can just leave it set-up and trust that it will not only stay in place but also hold up under the elements as that is what it is purposefully made to do. 
What to Look for in a Truck Pad for SUP?
Padding – You want to look for a pad that has thick padding to protect both the tailgate and your board. 
Material – The best  pads are the ones that have a soft underside such as a fleece material. Those pads are best to help prevent paint scratches. 
Straps – It is helpful to purchase a pad that has adjustable straps so that you can tailor fit the pad to your specific tailgate. 
Backup camera-friendly – If your truck has a backup camera. It is important to find a tailgate pad that won't cover the backup camera.
The Best Tailgate Pad for Paddle Boarding and Surf Boards
DaKine Surf Tailgate Surfboard Pad
Summary: The DaKine Surf Tailgate Pad is purposefully designed to protect your tailgate with a mix of polyester and fleece material to keep your tailgate scratch-free. Its Camo pattern fits with the outdoor lifestyle you love.
Pros: The pad is durable, lightweight, and easy to store. Coming in at under it is a manageable price point and bargain. 
Cons: It is not waterproof and may accumulate more wear and tear over time. This pad was just introduced to the market in 2020 so it does not have a strong reputation yet.

Vamo Stand Up Paddle Board Truck Pad
Summary: The Vamo pad is unique in that it can hold up to 3 boards at a time. Not only is the pad easy to install, but it also comes with a lifetime guarantee. 
Pros: This pad is easy to install, weather resistant, and has adjustable straps. The pad was built to be adjustable to fit a wide variety of trucks. 
Cons: It is hard to find on Amazon at times because it can sell out. It is also all Nylon so if you want a softer inside flap this may not be the pad for you.
Softride Shuttle Truck Pad
Summary: This pad comes in two available options, either a 25 inch or 54-inch size depending on your truck's tailgate. The Softride comes in 4 different sections which can be helpful if you don't want to have a pad over your entire tailgate. With over 250 reviews on Amazon, it comes highly rated with a strong reputation for durability. 
Pros: It is extra padded and boasts that it can protect your tailgate from items as heavy as ladders and tools. 
Cons: This comes in four different parts so if you are looking for one long pad this isn't the right one. Some customers noted that this pad does cover their backup camera.
Dorsal Truck Tailgate Surf Pad
Summary: This unique pad comes with UV protection for wear and tear over time. It is designed to be slip-resistant which helps keep your board in place as you drive. 
Pros: The UV resistant feature helps keep the pad looking new and the pad uses high-density foam for extra protection for both your board and tailgate. 
Cons: If you are interested in locking straps to help keep the pad in place those need to be purchased separately. Reviews mention that the pad has a hard time staying in place.
Onefeng Sports Truck Tailgate Surf Pad
Summary: The Onefeng is specifically designed to carry Paddleboards whereas other pads are designed for bikes as well. The Onefeng is easy to install and has a soft rubber cover to help prevent scratching. 
Pros: Because this pad was purposefully designed for surfboards and paddle boards, it is just the right size for those items. Customer reviews boast that the straps hold the pad securely in place and this inexpensive option is still high quality. 
Cons: The straps are not as adjustable and the item is often sold out on Amazon making it hard to find.
Other Great Paddle Board Related Articles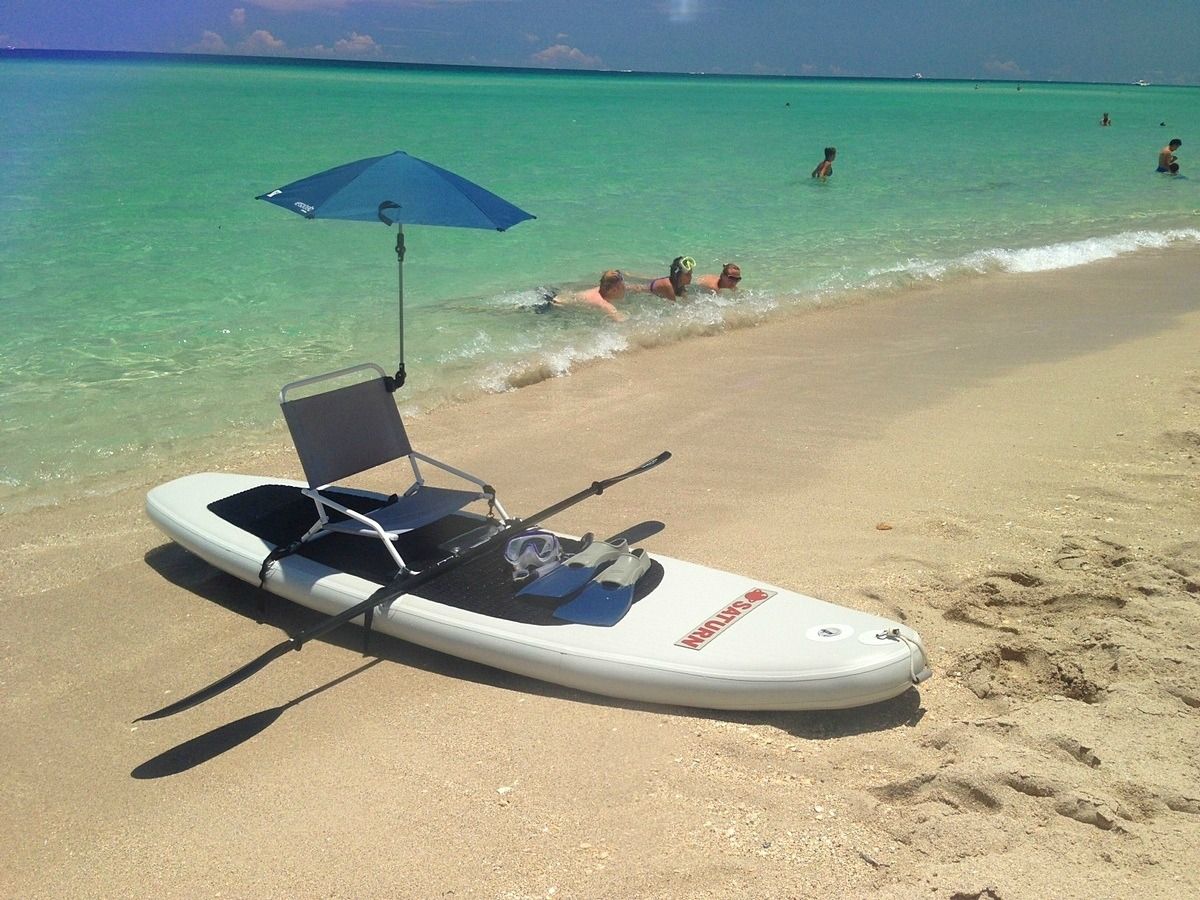 Some of the links in this post are affiliate links. This means if you click on the link and purchase the item, we will receive …