Some of the links in this post are affiliate links. This means if you click on the link and purchase the item, we will receive an affiliate commission at no extra cost to you. All opions remain our own.
Is there anything better than relaxing on the water with family and friends? When you go to the beach or lake, you want to relax spend quality time with loved ones. Bringing an inflatable island with you to the water lets you do both. 
A floating island lets multiple people relax on the water. It can also help you stay near children, and keep you close to others in your group doing different water activities. The raft not only lets you hang out with others, but it also helps you stay cool in the water. With an inflatable island, you can stop sitting in the scorching sun and sweltering heat and finally get some relief. 
What is an Inflatable Island Raft?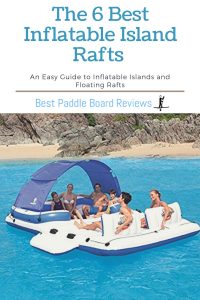 Imagine a float that's durable, large, spacious, and comfortable. What you're imagining is an inflatable island raft. An Island Inflatable raft is the best of the best when it comes to floats. It's large, comfortable, and is designed to seat multiple people while providing comfort. Many of the rafts on the market are built with comfort and durability in mind and include cupholders, headrests, and built-in canopies.
When is it Beneficial to Use an Inflatable Island?
There is so much to love about inflatable islands. The island rafts were designed to give comfort to all. The raft gives a group of people the chance to hang on the water together while letting the kids work on their boogie boarding skills or build sandcastles on the shoreline. Inflatable islands let you float in peaceful bliss protected from the sun with a built in canopy. No longer will you dread your kids asking you to go in the water because with an island raft you can join them and be comfortable at the same time.
What Does an Inflatable Island Raft Look like?
FAQ for Inflatable Islands and Rafts
Is there a Weight Limit for an Inflatable Island?
There are weight limits for each of the inflatable rafts so be sure to read the instructions. For example, the Bestway Floating Island has a weight limits of 1200 lbs.
How Many People Can you Fit on an Inflatable Island?
Be sure to read the instructions for the specific island that you buy but most can fit between 4-8 normal sized adults.
How Do you Inflate an Inflatable Island?
The best way is to use an electric or battery powered pump that you might use for a kayak or a paddle board. See our reviews of those by clicking on the link. Depending on the size of your island it can save between 10-20 minutes instead of using a hand pump.
How Do you Repair an Inflatable Raft
The majority of the inflatable islands are made from high grade PVC material similar to paddle boards and inflatable kayaks. Therefore, you can use a paddle board or raft repair kit.
The Best Inflatable Multi-Person Float for Family Fun on the Lake
Bestway CoolerZ Tropical Breeze Floating Island Raft
Summary: The Bestway inflatable raft holds up to 6 people and their drinks. The raft provides a sunshade to help protect you from the sun and is built with safety and comfort in mind. 
Pros: The Bestway has extra-wide pillow backrests and a built-in cooler bag to keep your drinks cold. It has handles and lines all around to help you feel safe and secure when getting on and off the raft. 
Cons: The material may not be as thick as needed and can obtain small holes easily based on user reviews.
World of Watersports Parthenon Canopy Spa Island
Summary: The Parthenon Island comes with a built-in canopy and can hold between 6-8 adults. It is built with a durable material that is made to last. 
Pros: The attached platform makes entering and exiting the raft easy and convenient. The material is durable and is less likely to wear over time. 
Cons: According to user reviews, the cupholders are shallow. Also, due to its size, it can take a while to inflate.
Sportstuff Fiesta Inflatable Island
Summary: The Fiesta Island comes equipped with built-in cup holders, comfortable backrests, and enough space to hold 8 people comfortably. 
Pros: The Fiesta is made with durable PVC comfort mesh seating, ensuring both comfort and protection from holes. 
Cons: Because of the way the float is designed with seams, it seems to puncture and deflate easier than some of the other island rafts.
Bestway CoolerZ Tropical Breeze III Inflatable 8-Person Floating Island
Summary: The Tropical Breeze III is a unique Island raft because it includes two breakaway lounges. It is built for 8 people and includes a removable sunshade as well. 
Pros: If you want your own raft you can use one of the breakaway loungers. 
Cons: According to customer reviews, some customers received the float with parts missing or torn.
Goplus Island Giant Flamingo Float
Summary: Designed in the shape of a bright and happy Flamingo, the Goplus Island float is built with safety and comfort in mind. It contains 6 airbags to help the flamingo stay afloat in the event of a leak or puncture.  
Pros: The flamingo island float is durable and has 6 cup holders. 
Cons: It states that it can hold numerous people, but according to previous customers only one or two adults can sit on the float comfortably.
Swimline Giant Inflatable Pizza Slice for Swimming Pool
Summary: Perfect for a pizza pool party, the inflatable pizza slice floats come in a pack of 8 individual pizza slices that when put together make a whole pizza and look great in pictures. Each slice has a built-in cup holder and headrest to make the user as comfortable as possible.
Pros: The slices are 14 feet long with plenty of space to lounge. 
Cons: The float is separate pieces so if you are looking for an island float that holds multiple people at once this isn't the float for you.
In Review
Instead of purchasing numerous water floats that aren't built to last and need to be replaced each year, invest in an inflatable island to provide both comfort and connection when hanging out on the water with family and friends. Take some time to research the island raft that meets all your floating needs, then take the plunge and add this relaxing float to your water gear. Next time you and your family and friends head out for a day on the water, you will be thankful you bought a raft to rest and relax for a day of fun in the sun. 
Works Referenced:
Other Great Paddle Board Related Articles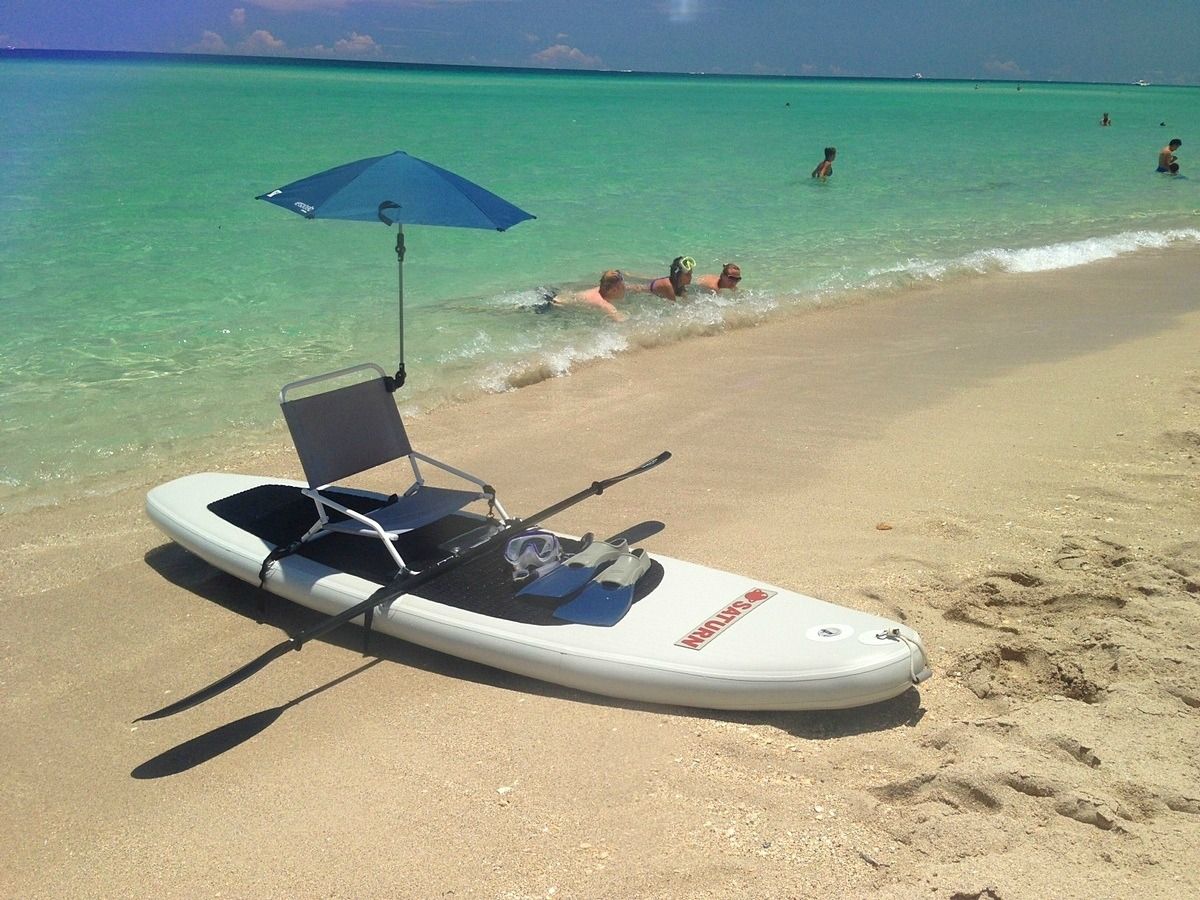 Some of the links in this post are affiliate links. This means if you click on the link and purchase the item, we will receive …