Some of the links in this post are affiliate links. This means if you click on the link and purchase the item, we will receive an affiliate commission at no extra cost to you. All opions remain our own.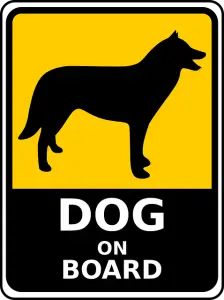 It's a hot day and the first thing that comes to mind for some relief is the water. The board hits the water with a relieving splash, and as you coast out slowly, breeze dancing across your skin and the smell of fresh salt air tingles your nose. It's the perfect day, but wouldn't this relaxing picture be better with your furry friend? Bringing a dog paddle boarding is a trend that is a more common sight at local water spots.
Paddle boarding is a sport where the enthusiast can go out onto the water with a surfboard shaped floating device and a paddle and explore the body of water of one's choice. Paddle boarding is more than just a sport, for some who participate in the yoga style of paddle boarding you can go out on the water and relax, and taking your dog with you has become a trend that many dog owners enjoy.
Paddle boarding has become a great way to get outside and is a workout that allows you to work on balance, and while doing so can help strengthen your core. Paddle boarding has grown in popularity especially in the last ten years. Paddle boards are also no longer out of reach expensive as you can get a great inflatable stand up paddle board for under $500. In 2015 The Outdoor Foundations Special report showed that 2.8 millions of people in the U.S participated in stand up paddleboarding in the previous year (1). So it makes sense with dogs being a popular family member in the home that their owners would want to include them in the sport. This a review of the best stand up paddle boards (SUP) for Dogs.
Why You Should Get a (SUP) Paddle Board that Supports a Dog?
Paddleboarding with your pet is a great way to bond and a good source of training for the dog. Whether it be that you are camping and do not want to leave the dog alone on the shore, or you just want a day outside, there are many good reasons to take your dog with you. However, there are some extra steps you will need to take to make sure you are ready to paddleboard with your pet. Some level of training is involved to get your dog to stay on the board and follow your commands which will be important when you are out in the middle of the water. Furthermore, one should consider the breed of dog, because some can swim easily while others may need a life vest.
What To Consider in a Paddle Board for Dogs
Size and Thickness – The wider nosed the front of the board the better for places for the dog to sit, and you should try and find a board 10 feet or longer, especially if large breed dogs are sharing the board with you. 
Stability – There were some reviews that said inflatable boards felt more unstable, so in these instances, it would be important to spend a little more if you are going to choose an inflatable option.
Height out of the Water – Material on the Paddle Board for Slipping Paw – Look for a board that is called a soft top so your dog is less likely to slip. Epoxy boards with this kind of top can make it hard to keep from slipping, especially if your dog is going to be in and out of the water.
Total Supported Weight – 200-250 lbs depending on the size of the board and design.
How To Paddle Board with Your Dog
Safety Considerations when Paddle Boarding with a Dog?
Get a PFD that has a Handle – It is easier to carry while you are trying to get you and your pet back and forth between the water and your vehicle. If you fall in the water or decide to swim you have something to grab onto when pulling yourself back up.
Length of the Paddle – There are options for adjustable paddles so you can make what works for you if you are reaching over your dog or if you are a little taller or shorter.
Grip for your Dog – May need to get a dog traction pad if you are concerned about your dog falling in the water, however, the reviews say that a soft top board helps with stability, so testing out your dog's ability to stand and balance themselves at home might be important.
Easy places to get on and off the Paddle Board – The best places to get on a paddle board is in calm flatlined water. Place the board in the water and wait for it to stabilize before you slowly move onto the board.
Bring Treat in a Waterproof Bag – Everything and anything you bring on the board could possibly get wet so keep that in mind when looking for waterproof gear. Some boards have a pocket cell phone, but other than that it is important to think about weight, and what you will feel comfortable bringing as you will need to keep balance. Dog treats might be a good idea if you are needing to find incentives for your dog to follow commands, or just for fun as you can be out for long periods of time.
The Best Paddle Boards to Take Your Dog on the Water
Peak Expedition Inflatable Stand Up Paddle Board
Summary: This wider brim paddleboard has it all, from more room to fit all your accessories including an extra person or a dog, to the waterproof phone case, leash, and additional fin that doesn't require a tool. Storage bag and pump to complete what you need.
Pros: This one is for the more experienced floater, as it is a bit pricier but seems to be at a higher quality. Middle-grade pricing, but seems to be highly rated and worth the extra price for someone who knows they enjoy this as a hobby. 30-day guarantee for those worried about the extra investment this board requires.
Cons: Some of the other boards could hold 300-350 lbs this one can only hold 240-275 lbs. The oar is not adjustable like some of the other ones that are a bit pricier than this one. It also doesn't mention the oars floatability.
SereneLife Inflatable Stand Up Paddle Board
Summary: This board everything you would need as a beginner in paddleboarding and good for pets as the top is wide-set, has a nonslip top, comes with a repair and pump kit, as well as a bag. This board would be an all in one kit to get you out on the water right away.
Pros: Wide-brimmed top for an extra rider, nonslip, comes with a pump and repair kit, as well as a carrying bag. Cost is at one of the lowest price points you can get with all the included accessories.
Cons: Reviews show that the paddle sinks and some people had a hard time with the fin being damaged easily.
Peak 12' Titan Royal Blue Large Multi-Person Inflatable Stand Up Paddle Board
Summary: This is a 2-4 person board with high-end durability, and military-grade PVC. It is still lightweight for its size and comes with a pouch to carry your cell phone. This also comes with 2 paddles and is able to support over 500 lbs! It also comes with 2 inflation valves for faster filling time.
Pros: You can bring multiple people on the board, it has a nonslip material, phone carrying abilities, compact carrying. 30-day money-back guarantee. No bad reviews on Amazon.
Cons: The price is on the higher end.
Atoll 11' Foot Inflatable Stand Up Paddle Board
Summary: This 11ft inflatable stand up paddle board is sleek while still being 11 feet long, with the paddle boards floatable/adjustable paddle, bag, pump, and fin all you need is this product to start paddle boarding today. It comes in at a lightweight 21 lbs for a paddle board that can support your dog.
Pros: This one newly comes with a leash for your paddle, which also floats and adjusts for your needs.
Cons: The bow of the boat is more slender than some of the other options which might make it harder for a large dog to be on board with you.
Vilano Journey Inflatable SUP Stand up Paddle Board
Summary: This board is a sleek SUP paddleboard and has the ability to be carried for long distances as it is lightweight. It has a PVC top like a hard top paddleboard. This also comes with a board, pump, 3-Piece paddle, Removable carry Strap, Leash and a Backpack.
Pros: Compact, light, sleek look, with straps for storage. One of the most cost-effective paddleboards on the market.
Cons: small, skinny tipped bow will make it hard for dogs to be on the boat with you.
Goplus Inflatable Stand up Paddle Board
Summary: The Goplus Inflatable stand up paddle board is a great economical option for someone who wants to start paddle boarding but doesn't want to break the bank. It is 11 feet long, so fitting for dogs. The paddle is extendable, and it comes with three tail fins.
Pros: Adjustable oar 67-83" inches, Storage, three removable fins on the back. A cheap option for what comes with the product.
Cons: Very slender so may make taking some dogs out difficult or a little tight.
Conclusion:
 There are lots of great inflatable options for the paddleboarder and their dog, but the main conclusion I have come to is that if you are going to invest in a paddleboard size is a big factor if you have a larger dog especially, and having the ability to extend or leash your oar may be important in the event things get hectic while you are out on the water. Lastly, keep in mind grip-ability for your animal and if you are not focused on that as a priority check into the grip pads for comfort for your dog. All of these options will help you narrow down what you need for your paddle boarding experience from the more economical options which may be a better fit for the rookie paddler to the larger investment with more bells and whistles. Happy paddling, and get out there!
Works Cited:
Other Great Paddle Board Related Articles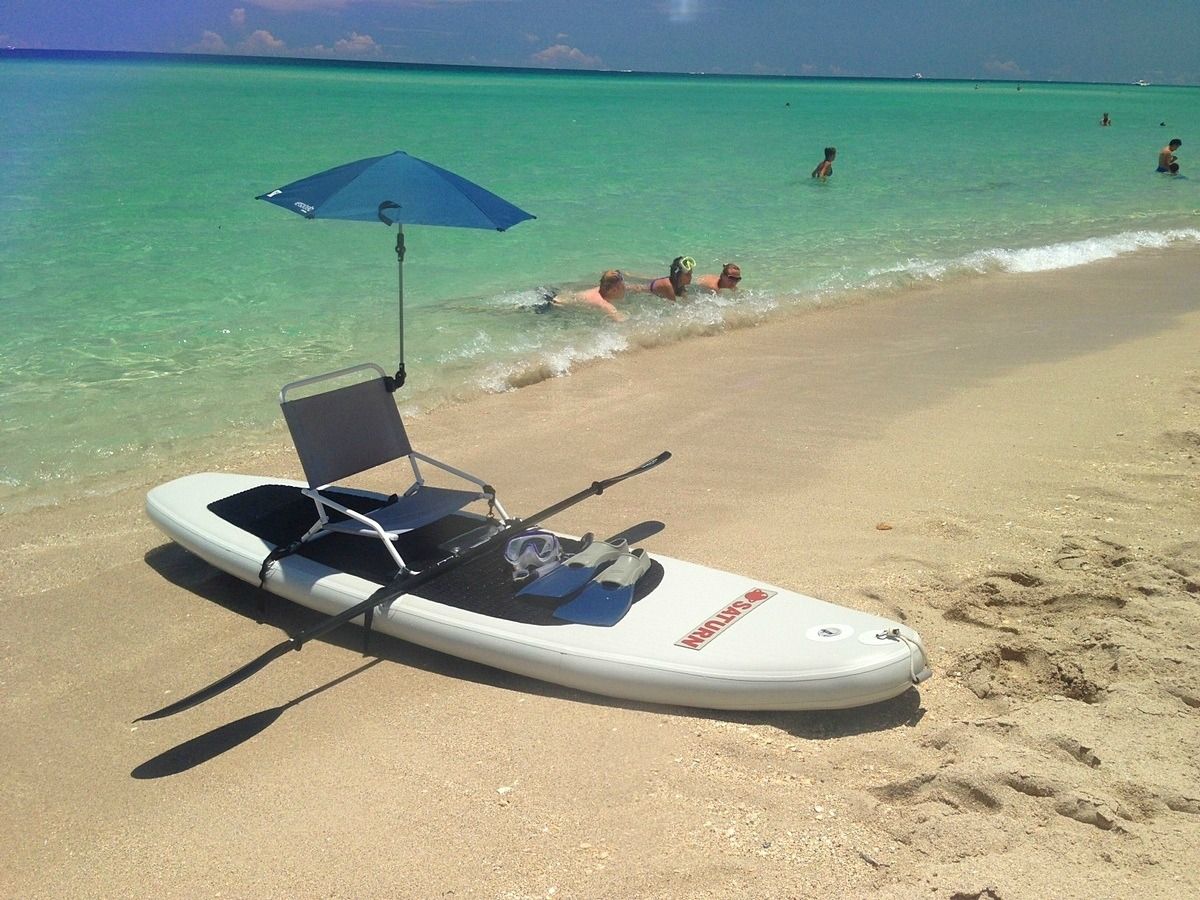 Some of the links in this post are affiliate links. This means if you click on the link and purchase the item, we will receive …