Some of the links in this post are affiliate links. This means if you click on the link and purchase the item, we will receive an affiliate commission at no extra cost to you. All opions remain our own.
If you are looking for a hobby, trying to shake up your exercise routine, or you want an activity for your family getaways – paddle boarding is for you. Paddle boarding is a water sport usually performed on the open ocean but can really be done on any body of water. You use your oars while standing, lying, or sitting on a paddle board to propel yourself forward. This high trending sport is a great full-body workout; simultaneously working your core, balance, strength, and endurance. It's a fun opportunity, for any fitness level, to get out on the water and experience nature (you can even do yoga on them). Though some paddle boards can be expensive, you don't have to break the bank! This article will explain what an inflatable paddle board is, what to look for when shopping and a list of the best inflatable stand up paddle board for under $500. 
What is an Inflatable Paddle Board?
An inflatable paddle board is a paddle board you can inflate and deflate at your convenience. They are:
Easier to transport, they take up less space so you don't have to take a truck, or pay substantial fees on airplanes. 

More durable, unlike a traditional board they aren't as easily scratched and broken.

Easy to store, simply deflate when done using and it will fit snugly in a closet.

Better for beginners, as they glide slightly slower and are easier to maneuver. 

Less expensive, so they are a better choice if you are on a budget.
What to Look for in an Inflatable Paddle Board
Size of Paddle Board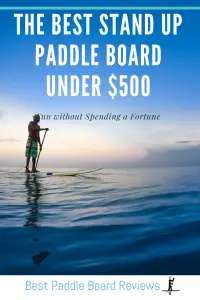 Generally speaking, when choosing the size of your board, a bigger person will need a bigger board and a smaller person will need a smaller one. However, there are a few other factors to consider. A longer board will glide faster than a short one, but a shorter one will turn better. A narrow board will be faster, but a wider board will be more stable. It really comes down to what your preferences are and what will work best for you.
Accessories To Look For with the Paddle Board
A leash will keep your board close to you in the event you fall off (it happens to the best of us). This is highly recommended as wind and waves can carry it away quickly. 

Make sure your board comes with a quality pump.

You will want a carrying case for storage and convenience.
Finally, Keep an eye out for durability and warranty so that you can return it if something happens. Also, Paddle boards can be very heavy, be sure to get free shipping and look at the return policy.
The Best Inflatable Stand Up Paddle Boards (SUP) Under $500
We have done the research to find the best inflatable boards for under $500, here they are!
Roc Inflatable Stand Up Paddle Board
Summary: Roc Premium Inflatable Paddle Board is made of high-quality military-grade material. Providing a durable lightweight board. The extra-wide design creates an all-around board for all skill levels. Boards can be used in the ocean or freshwater lakes and rivers. Boards are 10'5″ long x 32″ wide and 6 " thick. With a maximum weight limit of 275lbs.They also offer a free one year warranty.
Pros: Packages come with — Board, Paddle (premium alloy paddle that floats) a Leash, Pump, Waterproof Cell and Key Bag and a Premium Backpack. Free shipping with prime.
Cons: Does not come with instructions so you may need to do a little research. This is a bigger board, so may not be as good for a smaller person.
Peak 10' Inflatable Stand Up Paddle Board
Summary: The Peak 10′ Inflatable paddle board is one of the best on the market, period.Board size:10'0 x 32" x 6" | 225 Liters. Weighs only 18 lbs Inflated. Stable Yoga Fitness platform, Fresh and Saltwater. Supports up to 275 lbs. Bring along an Extra Person, Dog or Cooler. (5-7 Minutes) to Inflate by hand with included GRI Dual Action High-Pressure Hand Pump. Replacement Parts Available for all items. Worry-Free One Year Warranty, No-Hassle 30 Day Free Returns.
Pros: This is a great board for all you yogis out there. 35% Lighter Construction than Comparable Models. Includes Adjustable 3 Piece Alloy Paddle Nylon Blade (Yes, It Floats), Travel Backpack, 10 ft Coil Ankle Leash, GRI High-Pressure Dual Action 15 PSI Pump with Gauge, 9-inch Nylon Snap-In Center Fin, Bonus Water-Proof Smart-Phone Carry Case. Also, has built-in Tail Mounted D-Rings and a 6-point Bungee System. Free shipping with Prime.
Cons: Not a fast board (for yoga purposes). Reviewers reported slight discoloration on the binding seams after use.
SereneLife Inflatable Stand Up Paddle Board
Summary: The Serene Life Stand Up Paddle Board is 10' long and provides 30" of deck width for improved stability and balance while standing. The triple bottom panel fins help board improve overall speed, handling and steering for easier use by kids, teens and adults alike. Great for beginners.
Pros: SereneLife Paddle Board also comes with paddling essentials, including a coiled ankle cuff safety leash, oar Pedal, manual air pump, patch repair accessory kit, and convenient storage bag! Very stable, great for beginners and children. Offers free shipping. 
Cons: Great maneuverability, but the shorter/wider model makes it glide a bit slower.
GILI All Around Inflatable Stand Up Paddle Board Package
Summary: The Gili Inflatable Stand Up Paddle Board is a great all-around board. Board Size:10'6 x 31″ x 6" –  blend of balance, weight & size. Weighs only 19 lbs. 6″ Thick for stability. Constructed from Cross Stitched, Reinforced PVC. Everything fits in the included backpack. Risk-Free returns for 60 days, and a full 2-Year Warranty.
Pros: Extra large diamond traction pad: bring a 4-legged friend or do Yoga. 6-Point Front Bungee for quick access to your gear. Includes 10′ Coiled Leash. Nose and Center Grab Handle for easy transport and maneuverability. 9" Snap-In fin attaches quick and easy with secure fin box – no tools needed. 2 Stage Pump for fast and easy inflation. Adjustable Travel Paddle breaks down into 3 pieces and adjusts to your height. Free shipping with Amazon Prime.
Cons: Not great for speed, but perfect for paddling around. Reviewers reported the pump was a little flimsy so use with care.
ANCHEER Inflatable Stand Up Paddle Board 10'
Summary: The Ancheer Inflatable Stand Up Paddle Board is the least expensive great board on this list. A 0.9mm military PVC plus drop stitch inner construction. Board Size: 10′ x 30" x 6" thick, max load: 240 lbs, weighs 17 lbs for your light carry, inflation < 5min, deflation < 3min, max PSI:15. 3 fins for extra stability, easy for all skill levels. A great choice for paddling, cruising, yoga, fishing, and sightseeing in flatwater.
Pros: Comes with 3 piece sup paddle, coil leash, detachable center fin, backpack, common hand pump, and a repair kit. 30 days no risk return + 1-year material guarantee. Made of thick   PVC to maintain a rigid & reliable paddleboard shape, no dings or damage.
Cons: Not ideal for fast paddleboarding or rough water like rivers or waves. The hand pump can be a workout (but that's all the fun). Does not offer free shipping.
Swonder Premium Inflatable Stand Up Paddle Board
Summary: The Swonder Inflatable Stand Up Paddle Board is 10'6″ long 32" wide and 6" thick. Combined with a Non-slip soft deck, elastic bungee design, and a heavy-weight capacity. Constructed with military-grade PVC and drop-stitch system.   return and one-year quality assurance.
Pros: Comes with a super light-weight aluminum alloy paddle, GRI high-pressure hand pump, 10' coil safety leash, and a GRI detachable fin. Free shipping with Amazon Prime. Excellent customer service!
Cons: This is a large board so wouldn't be ideal for light-weight peo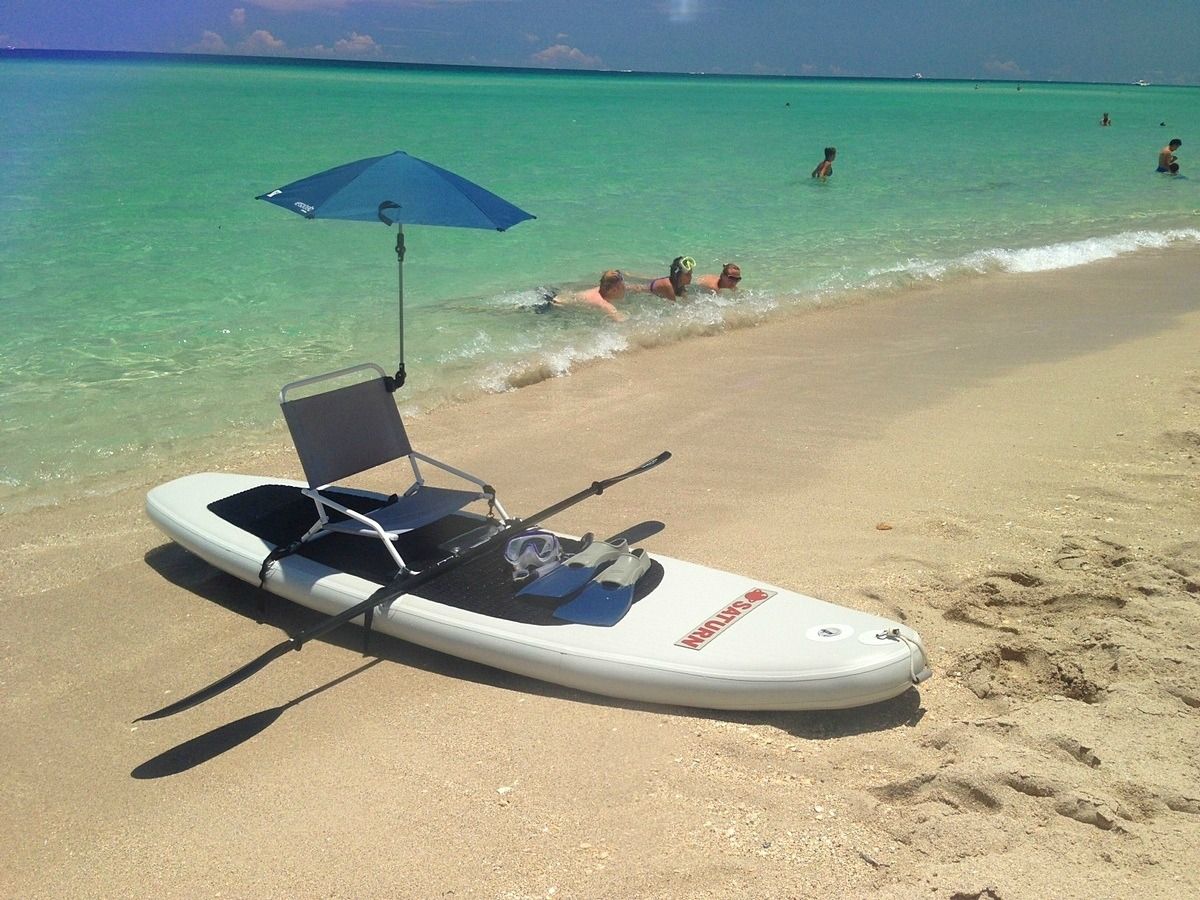 Some of the links in this post are affiliate links. This means if you click on the link and purchase the item, we will receive …