Some of the links in this post are affiliate links. This means if you click on the link and purchase the item, we will receive an affiliate commission at no extra cost to you. All opions remain our own.
If you're anything like me, you've spent most of the last six months holed up inside, spending those few hours outside of work watching Netflix or playing the guitar. Aren't you wishing for a safe, enjoyable, and socially distant way to get outside and enjoy the beautiful world around us?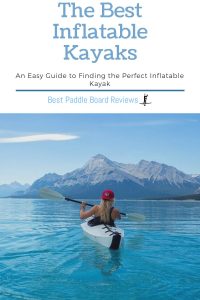 Inflatable kayaking could be exactly what you've been looking for. Generally speaking, kayaking has continued to grow and grow in popularity over the past decade. To give you a glimpse of that growth, a 2015 report found that the number of kayakers in the United States grew from 18 million to 21 million from 2012 to 2015 and has only continued to grow since then. 
Historically, kayaks were relatively uniform in nature: hard-shelled, plastic, and heavy. They have been and still are very nimble on the water. However, given the increase in popularity of the sport, coupled with technological advances, the demand for inflatable kayaks cannot be ignored.
What is an Inflatable Kayak?
An inflatable kayak is just what the name suggests: a kayak that can be inflated and deflated after use. Similar to inflatable paddle boards (SUP's), inflatable kayaks are made with drop-stitch technology; this allows for the small fibers in the kayak to bind together during the inflating period to create a strong surface.
What are the Benefits of an Inflatable Kayak?
The major benefits of an inflatable kayak are that it is portable, easy to transport, and normally much cheaper than a traditional hardshell kayak. They are also much lighter in weight; an inflatable kayak weighs around 25 pounds on average, as compared to the 50-60 pound weight of hard shells. Additionally, the fact that inflatable kayaks can be reduced to such a small size means they are very easy to maintain and store; a hardshell kayak, on the other hand, obviously requires a significant amount of space for storage. 
How to Pump Up an Inflatable Kayak?
Pumping an inflatable kayak is the most labor-intensive step in the entire process of owning one.
Doing so can take up to ten minutes with a pump (and a lot longer if you forget to bring one along). You can use an electric kayak pump to drastically save time and energy!

This step also requires the importance of attaining the correct air pressure inside the kayak for optimal performance, measured in PSI (pounds per square inch).

The higher the PSI, the more rigid and durable your kayak will become. Suboptimal levels of air can lead to a loss of buoyancy as well as decreased strength on the water.

Be sure to follow the instructions of your inflatable kayak in order to handle this task efficiently.
What To Look for in an Inflatable Kayak?
Durability of the Kayak
Because it sacrifices the traditional protection of a hardshell kayak, you'll want to be sure your inflatable kayak is made with drop-stitch technology that can absorb the bumps and blows on the water.
Weight of the Kayak
As previously mentioned, inflatable kayaks are much lighter than hard shells. On average, they tend to weigh around 25 lbs.
Maneuverability
Because inflatable kayaks are so lightweight, they can also be quite difficult to control. I recommend browsing the most modern kayaks on the market, most of them made of the strongest materials.
Storage
The easiest part of it all! Simply fold up your kayak and store it wherever you want.
Maintenance
Be sure to clean your kayak thoroughly after each use, especially if you plan to fold it and store it inside somewhere.
How Long Does it Take To Inflate a Kayak
The Best Inflatable Kayak
Intex Challenger Inflatable Kayak
Summary: The Intex kayak is among the best on the market, made of durable material for added safety. It weighs 27 pounds when inflated with a maximum weight capacity of 220 pounds.
Pros: cargo net attached to the front provides extra storage; inflatable seat with a sturdy backrest
Cons: some users have complained of the paddle breaking after minimal use

ADVANCED ELEMENTS Expedition Elite Kayak
Summary: This kayak is a hybrid of a folding frame kayak and an inflatable kayak and includes an aluminum-rib frame technology for incredible tracking and maneuverability. 
Pros: drop-stitch floor for the utmost speed and protection on the water; includes two separate air chambers
Cons: users complained of a high degree of difficulty in inflating this kayak
ADVANCED ELEMENTS Lagoon 1 Kayak
Summary: The Lagoon 1 Kayak boasts an extremely unique design as its bow and stern have rigidly fixed forms that help the kayak cut through the water. The Lagoon 1 is more than eight feet long and can hold up to 250 pounds of weight.
Pros: D-ring bungee attachments for extended storage capabilities; rubber carry handle
Cons: some users complained of its ability to maintain control in choppier waters
Intex Explorer K2 Kayak, 2-Person
Summary: Intex is a brand that specializes in inflatables. The Intex kayak is perfect for easy, recreational paddling and comes with 2 seats. Its bright yellow color way makes it extremely visible in the water. 
Pros: comes with a hi-output pump and carry bag
Cons: users complained of lackluster customer service
Sevylor Quikpak K5 1-Person Kayak
Summary: The Sevylor kayak boasts a unique backpack system that carries everything you need to get going and ultimately folds out into your kayak's seat. 
Pros: double lock valves use two locking points for easy inflation and deflation
Cons: users complained that the skeg under the kayak performed poorly
Other Great Paddle Board Related Articles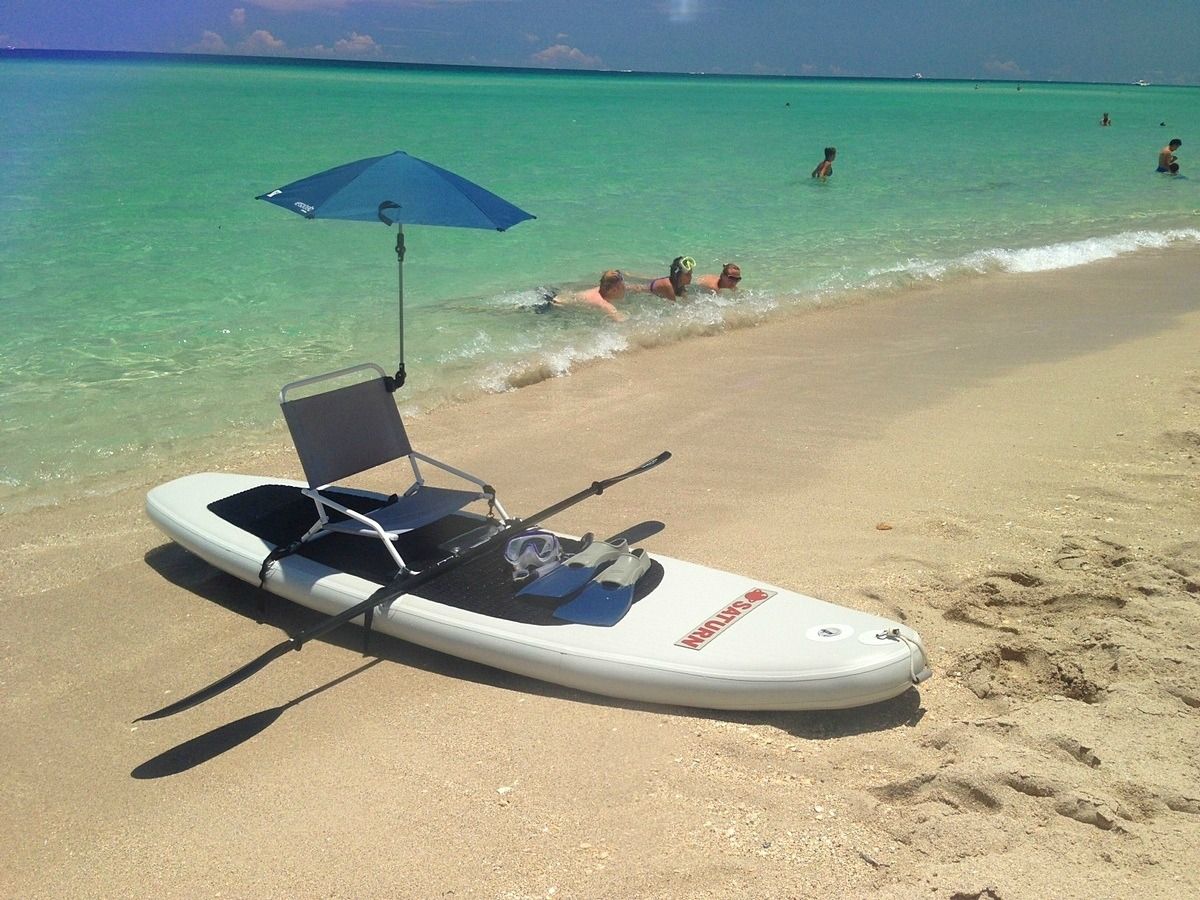 Some of the links in this post are affiliate links. This means if you click on the link and purchase the item, we will receive …