Some of the links in this post are affiliate links. This means if you click on the link and purchase the item, we will receive an affiliate commission at no extra cost to you. All opions remain our own.
Are you a weekend warrior with a small space? Do you and your family love to get out on the water with a paddle in hand? If you find yourself renting kayaks because you just don't have the space to store one, or you can't carry an 80 pound+ hard shell kayak,  then I have the perfect solution for you! A 2-Person inflatable kayak gives you and a passenger enough space to hit the open water, without all the hassle a hardshell kayak can cause. Inflatable kayaks are hard to beat when it comes to recreational water crafts. 
What is a 2-Person Inflatable Kayak?
I know what you're thinking. Inflatable kayak? What am I, a ten year old kid hitting the local pool with my rubber ducky float?! Don't let the name inflatable kayak deter you. While they definitely don't have a hard outer shell, a mix of synthetic rubber and plastic polymers make them ready for the water. Inflatable kayaks are easy to store and much easier to transport than hardshell kayaks. They need to be inflated before each use and should be deflated to store. These inflatable kayaks are built to handle an array of water conditions. Some are even capable of handling Class 3 and Class 4 water currents. Just keep in mind that they are not all built equally, so you'll need to choose the best inflatable kayak for the conditions you plan to use it in. 
What are the Benefits of Using a 2-Person Inflatable Kayak?
There are so many people who love to kayak, but think their only way out on the water is on a rental. Maybe you live in a small space or think you don't have the ability to transport your own kayak. Don't let either of these things stop you. Two of the top benefits of a 2-person inflatable kayak is its ease of transport and storage. Most inflatable kayaks can be stored and transported in a small suitcase or duffel bag, making it possible to store in the trunk of a car and carry down to the water upon arrival. 
In addition to compact transport and storage, inflatable kayaks are much lighter than hardshell kayaks. Many weigh in at around 25 pounds, compared to the average 80 pound weight of hardshell kayaks. Don't let their light weight fool you. 
They have a high weight capacity, with some inflatable kayaks able to hold as much as 500 pounds! 
When you're on the water, safety should always be your top concern. Inflatable kayaks are just as safe as their more expensive hardshell counterparts. The tough synthetic rubber material is built to bounce off any boulders and rocks you may encounter in the water. Tough and stable, inflatable kayaks are built for safety and strength in the water.
What to Look for When Purchasing a 2-Person Inflatable Kayak?
Kayak Material
There are two main materials used to construct inflatable kayaks: PVC and Hypalon. PVC allows for a more solid construction, which makes it tougher against bumps. It's also easier to patch the Hypalon. If you're heading out into rough river waters, PVC is most likely going to be your best option. On the other hand, Hypalon withstands UV rays and is also resistant to fungus and mildew. These two factors make Hypalon-built kayaks last longer than PVC kayaks. 
Stability in the Water
Inflatable kayaks are surprisingly more stable than hardshell kayaks. While shopping for an inflatable kayak, look for the flattest bottom you can find. The flatter the bottom surface, the more stable the kayak. 
Durability of the Kayak
Consider where you will be using your kayak. If you plan to take your kayak into rivers, your main concern needs to be puncture resistance. If you are taking your kayak into the ocean, you may be most concerned with stability. 
Size of the Kayak
When choosing your 2 person inflatable kayak, you'll want to choose a size that is comfortable for you. Will you need extra space for fishing gear? Make sure you consider everything you'll be taking out on the water with you. 
Weight of the Kayak
You'll need to consider two things when it comes to weight. The lighter the kayak, the easier to carry. You'll also want to think about the combined weight of you and your passenger, as well as any gear you'll be taking along. Some 2-person inflatable kayaks hold around 400 pounds, while others can carry as much as 650 pounds. 
Choosing a 2-Person Inflatable Kayak
FAQ for 2-Person Inflatable Kayaks
Are Inflatable Kayaks Safe? 
Inflatable kayaks are just as safe, if not safe in some situations, as hardshell kayaks. Their synthetic rubber exterior is built to bounce off blunt objects and resist punctures. They are even more stable than many hardshell kayaks. 
Do Inflatable Kayaks Puncture Easy?
Inflatable kayaks are built to resist punctures and tears. In the unlikely event that you do get a leak, inflatable kayaks are built to keep floating. Many of them have three separate air chambers, which means a leak in one of them will not typically cause it to sink. 
How do you Store Inflatable Kayaks?
Once you are done using your inflatable kayak it should be deflated. Once deflated, it should be dried and rolled up. Most inflatable kayaks can be stored in a duffel bag or suitcase. Some even fit in a backpack. This makes them ideal for travel and transport. 
The Best 2-Person Inflatable Kayak for Family Fun
Intex Challenger Kayak Series
Summary: The Intex Challenger K2 Kayak is a puncture and UV resistant vinyl kayak measuring in at 11.5 feet. The bright green color makes it easy to see in the water. It comes with two 86 inch aluminum paddles and a high output pump for easy inflation. This kayak is built for 2 people, has a carry weight of just over 33 pounds, and has a maximum weight limit of 400 pounds. 
Pros: This kayak fills in less than five minutes with the included pump, is easy to get into, and has a ton of legroom. It also has a lot of storage space in front of and behind the seats. The adjustable seats are comfortable and the kayak is very stable. 
Cons: This kayak has only two air chambers and the sides are a little thick, which can affect paddling.

Airhead Montana Two Person Inflatable Kayak
Summary: The Airhead Montana Travel kayak is a 12 foot inflatable kayak designed for two people to use in lakes and moderate white water. The bright orange color makes it highly visible in the water, and the 3 air chambers add to its safety. It's constructed of heavy gauge PVC, has a UV protective coating, and neoprene guards for added comfort while paddling. The seats can be adjusted or removed as needed. It weighs in at 36.3 pounds and has a maximum weight capacity of 500 pounds. 
Pros: Easy to track and very stable. Inflates in less than 10 minutes with a manual pump. The neoprene guards make it very comfortable while paddling. 
Cons: The three separate air bladders are a little hard to clean in between and it does not come with a pump or paddles.
Intex Excursion Pro Kayak
Summary: This 2-person inflatable kayak is made of laminate PVC and has a polyester core. It's lightweight and highly resistant to damage from abrasion, impact and sunlight. It comes with two skews which can be swapped out based on water depth. The seats are adjustable and there are two recessed fishing rod holders. This kayak also has removable and adjustable mounting brackets for accessories and storage space in the bow and stern. The purchase includes two 86 inch aluminum oars and a high output pump. The kayak is easy to inflate and deflate, weighs just over 39 pounds, and has a maximum weight capacity of 400 pounds. 
Pros: Easy to inflate and pack up after use, has a lot of legroom and comfortable footrest, includes everything needed except for life jacket, and is very easy to handle in the water. 
Cons: The carry bag is not the most durable, and may need to be replaced after a few uses.
Sea Eagle 370 Pro Inflatable Kayak
Summary: The Sea Eagle 370 Pro is an inflatable kayak can be used for up to three passengers. It weighs 32 pounds and has a maximum weight capacity of 650 pounds. This inflatable kayak has two movable seats and includes paddles, a foot pump, and a carry bag. It has 2 skegs for improved tracking and can be used in up to Class III whitewater. 
Pros: Set-up takes about 5-10 minutes, it has a large capacity for gear, it is more stable than a hardshell kayak, and is very easy to get in and out of. It's also the only one on this list approved for 3 passengers. 
Cons: The larger size makes it a bit slower and it takes a little more effort to paddle. 

Coleman Tahiti Classic 2-Person Kayak
Summary: This inflatable kayak is built for two people, weighs just 19.3 pounds, and has a maximum weight capacity of 360 pounds. It is constructed of 21-gauger PVC construction and built for use on lakes. It includes a carry bag and has carry handles for easy transport. Spray covers will help keep you dry and the backrests make for a more comfortable ride. 
Pros: Everything needed fits into the carry bag making for easy transport. It is very stable and seems unlikely to tip. 
Cons: This kayak struggles and tends to spin in the wind, so make sure you check conditions before heading out. The removable seats are not the most comfortable. 
Other Great Paddle Board Related Articles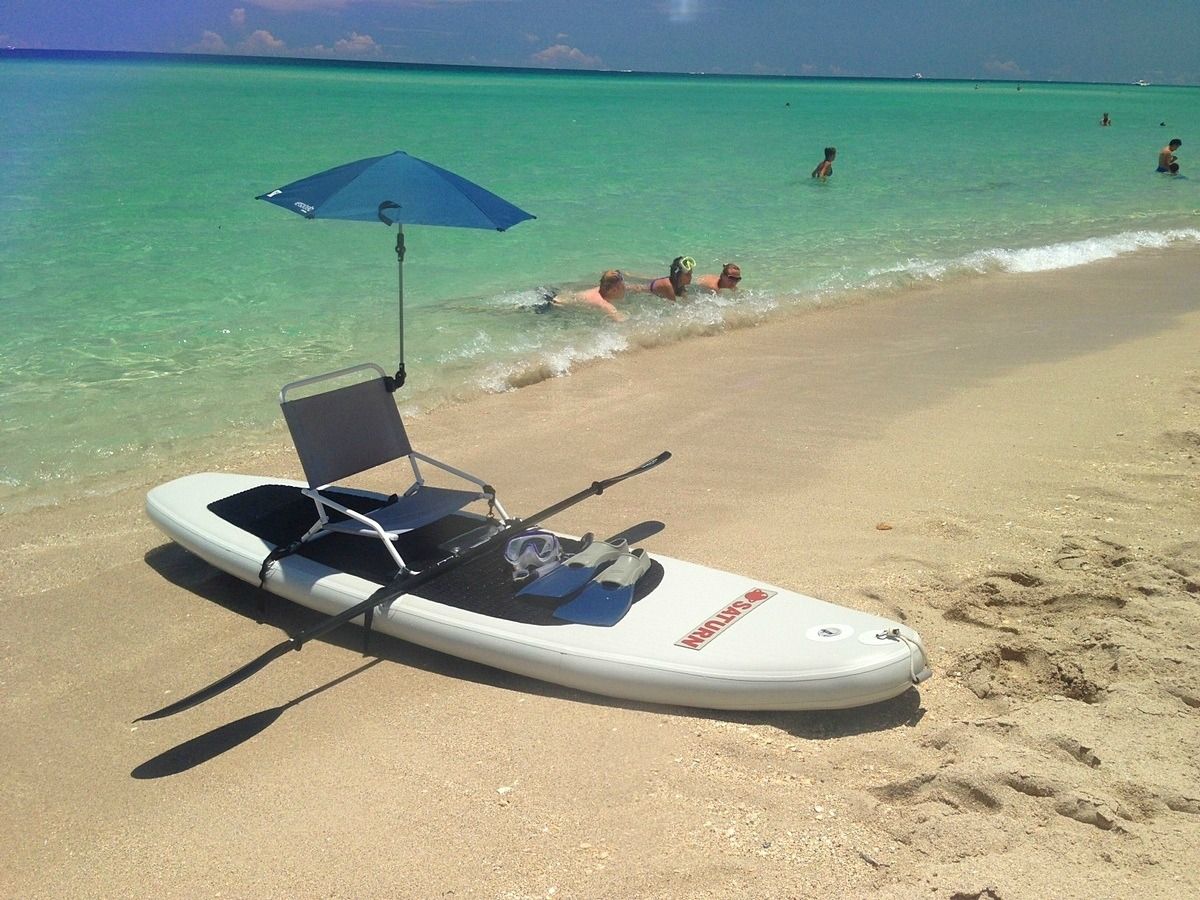 Some of the links in this post are affiliate links. This means if you click on the link and purchase the item, we will receive …