Some of the links in this post are affiliate links. This means if you click on the link and purchase the item, we will receive an affiliate commission at no extra cost to you. All opions remain our own.
Throughout the past several months, there has been a premium on finding new ways to exercise and remain in spite of the pandemic, but, as we all know, most of such activities are limited to within our homes. Are you looking for an easy, enjoyable alternative to the stationary bike you've been using in your garage–one that will enable you both to stay fit and enjoy the beautiful outdoors? Kayaking might be exactly what you're looking for.
Recreational kayaking is a safe and easy way to exercise outside while adhering to social distancing guidelines, and the market is currently booming.
According to market research firm NPD, kayak and paddle sales nationwide have skyrocketed by an astounding 85% and 63% respectively from April 2019 to April 2020. 
Today I'll be diving into the best kinds of kayaks currently on the market. More specifically, I'll discuss the differences between the two primary types of kayaks: sit-on-top kayaks and sit-in kayaks. Finally, I'll give a few recommendations for the best sit-in kayaks for sale.
What is a Recreational Kayak?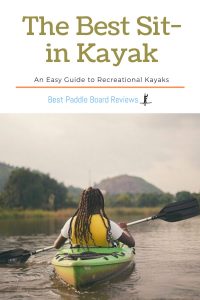 Why has recreational kayaking become so popular? One reason is the sport's flexibility and convenience. Kayaking can be done almost anywhere–lakes, rivers, rapids, oceans, etc. At least one of those terrains is accessible to virtually every American and can be reached in no more than an hour. Compare this with, say, surfing, which obviously can only be done on the ocean, and it's easy to see why one might want to invest in a kayak before a surfboard. 
Another reason for the surge in popularity of recreational kayaking is the freedom and independence it offers the user. No longer do people feel as though they have to pay for a guided tour to make their way down a river. In fact, early reports suggest that raft rentals for whitewater tours are down as much as 80% this summer over last. Part of this can of course be attributed to the pandemic, but nonetheless, kayaking is taking the recreational water sport industry by storm.
Sit-on-Top vs Sit-in Kayak?
Sit-on-top and sit-in kayaks are exactly what they sound like. In terms of their design, they are very similar; they have a deck, a hull, a stern, and a bow. The only difference is where the user sits.
Sit-on-Top Kayak
On a sit-on-top kayak, the user sits above the surface of the kayak, whereas in a sit-in kayak, he or she sits in the cockpit, which is the enclosed area that sinks to the floor of the kayak. 
Sit-in Kayak
Historically, sit-in kayaks are recommended for more experienced kayaks as it is more difficult to climb in and out of, especially if one were to flip while out in the water. They are great for colder water, as the patron will stay drier than if he or she were in a sit-on-top kayak. The cockpit is also quite large, so the user will never feel the same kind of confinement he or she might experience while strapped into the chair of a sit-on-top kayak.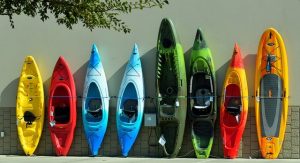 What are the Different Types of Kayak Materials?
There are a number of different materials that can comprise a kayak, many of which depend on the size and skill of the user. In previous generations, most kayaks were simply carved out of wood, similar to a canoe. However, technological advances and increased popularity have spurred the evolution of lightweight, dynamic kayaks.
Polyethylene
The majority of the popular kayaks on the market today are made of a plastic called polyethylene, which is used in just about everything—storage containers, body panels, etc. These kayaks are extremely durable while also being relatively lightweight; they are popular for a reason as they provide, all in all, perhaps the greatest value of any kayak. Be sure to treat your polyethylene kayak with a UV-protecting agent as the sun will damage it if not treated properly.
Composite
Composite kayaks are typically made of fiberglass, aramid, carbon fiber, or some combination of those ingredients. As you might be able to guess, composite kayaks are like the luxury cars of the watersport industry. You'll have to spend a pretty penny for one, but it's great for those who are very skilled and passionate about kayaking. Keep in mind that they are also the most expensive to repair.
ABS
Thermoform ABS kayaks are a popular alternative to composite kayaks. These kayaks are made with similarly expensive and high-quality materials, but the technology of thermoforming is extremely efficient, making the overall costs of ABS kayaks much cheaper. The process of thermoforming entails essentially using a vacuum to suck heated plastic over a mold.
What to Think About When Purchasing a Sit-In Kayak?
Length: There is a rather large variance in the lengths of kayaks, depending on the size and skill of the user. Whitewater and youth kayaks are the shortest at around 7 feet. Fishing and ocean surf kayaks are the longest at around 14 to 16 feet. In general, however, most recreational kayaks, whether sit-in or sit-on-top, are usually between 9 and 12 feet long. 
Skill Level: As I alluded to briefly in the previous section, it would be prudent to refrain from purchasing a composite kayak unless you are a skilled kayaker. They are the least protective and most expensive. Polyethylene kayaks are the best option for a beginner. 
Ease of Getting in: Sit-in kayaks are traditionally more difficult to climb into whereas sit-on-top kayaks are designed to support more weight on top of the kayak, making it easier to get in and out. Sit-in kayaks are also easier to tip, so be sure to assess your proficiency in climbing back into a capsized kayak. 
How to Use a Sit-in Kayak
The Best Sit-In Kayaks for Paddling Adventures
Sun Dolphin Aruba 10-Foot Sit-in Kayak
Summary: Among the most popular kayaks on the market, the Sun Dolphin kayak is a 10-foot long polyethylene kayak that is great for kayakers of all sizes and skill levels. It is even available in a multitude of different colors.  
Pros: has a large, open cockpit with an adjustable padded seat with high back support, as well as adjustable foot braces
Cons: some users complained that the cockpit was far too small for anyone of average height

Pelican Recreational Performance Sit-in Kayak
Summary: The Pelican Performance kayak is extremely slick and sporty, specifically for those looking for more intentional response to body movements and weight shifts. Its built-in keel extension allows for faster speeds on the open water. 
Pros: made out of a patented RAM-X PREMIUM plastic, a highly durable high molecular weight polyethylene
Cons: users complained of unusually slow delivery and inconvenient packaging
Wilderness Systems Aspire 105 Kayak
Summary: The Wilderness Systems kayak is yet another popular sit-in kayak and is extremely useful for kayakers of all skill levels. It is 10 feet long and has a maximum weight capacity of 400 pounds. 
Pros: durable skeg that is also retractable for shallow water while also deployable for straight tracking
Cons: some users complained that its value did not warrant the high price
Perception Joyride 10 Kayak
Summary: The Perception Joyride kayak is the most family-friendly kayak you'll find. Its adjustable footrests accommodate users of any size. It even has a Selfie Slot for taking awesome pictures. 
Pros: multiple storage hatches and a convenient drink holder
Cons: users complained of a lack of a drain plug in the kayak

Old Town Dirigo 106 Recreational Kayak
Summary: The Old Town kayak has been around forever, and for good reason. It is a very dynamic and safe kayak, great for beginnings just learning the craft as well as veterans looking for an easy joyride. 
Pros: boasts easy grip thigh pads for maximum control on the water
Cons: not considered nearly as fast on the water as other kayaks
Other Great Paddle Board Related Articles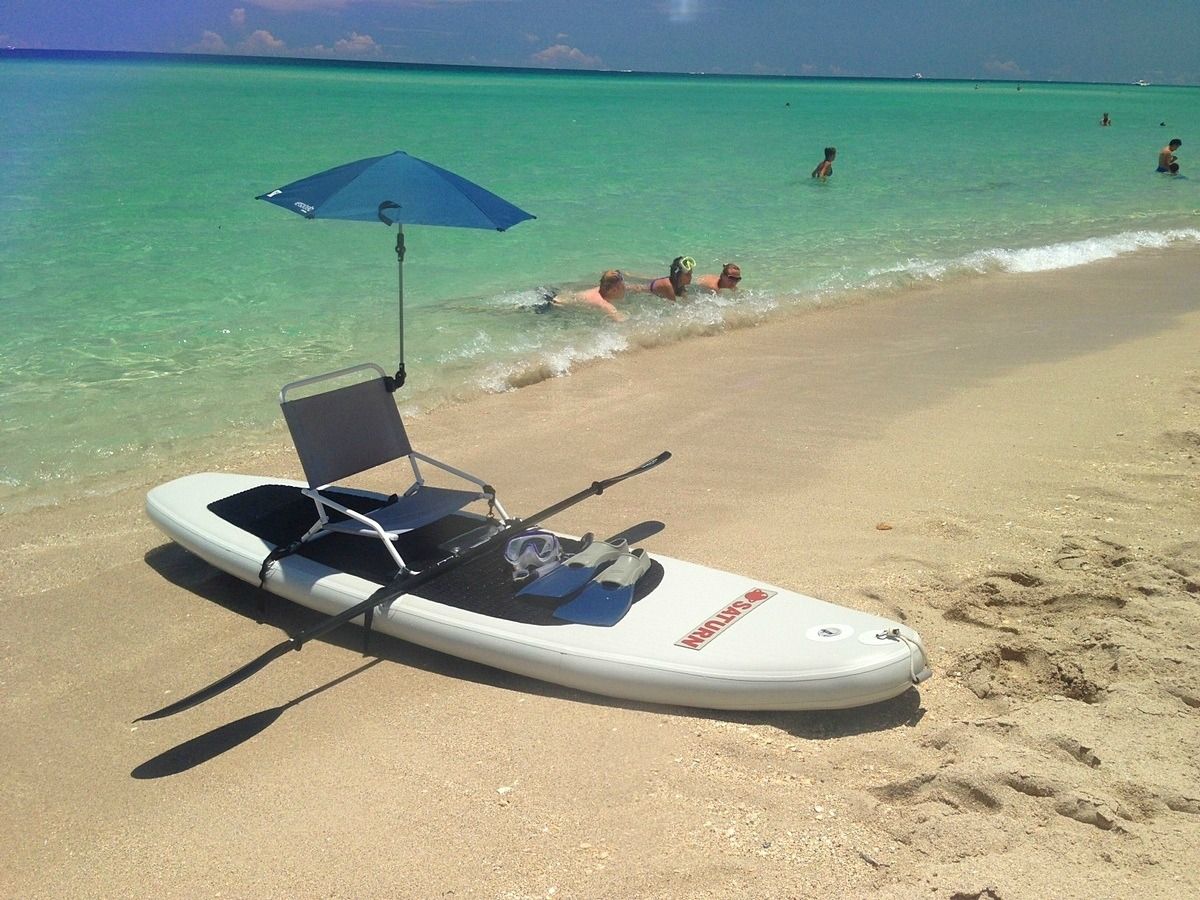 Some of the links in this post are affiliate links. This means if you click on the link and purchase the item, we will receive …