Some of the links in this post are affiliate links. This means if you click on the link and purchase the item, we will receive an affiliate commission at no extra cost to you. All opions remain our own.
One of the many unfortunate consequences of cellphones has been the difficulty for kids to get enough exercise. Many have been staying inside, watching idly by as the summer passed them by. Looking for an enjoyable, safe, and socially distant activity that your kids can partake in? Look no further than the world of kayaking!
In general, kayaking has continued to grow and grow in popularity over the past decade.
A 2015 report found that the number of kayakers in the United States grew from 18 million to 21 million from 2012 to 2015 and has only continued to grow since then.
Practically speaking, this growth has corresponded with increased technological advancement in the industry. For example, inflatable kayaks have become a huge player in the market thanks to their cost-friendliness and convenience, and there are even dog-friendly kayaks available for purchase. 
Furthermore, we've also seen the development of kayaks made specifically for children, and that is the specific focus of this article.
What to Look for in a Kids Kayak?
When looking for a kayak that is best for kids you want something that is easy to use and easy to get in and out off.
Sit on Top Kayaks
A sit-on-top kayak provides more protection than a typical kayak as it allows for the user to get on and off very easily. 
Kayak Length
Most children's kayaks vary from 6 feet (for kids under the age of 8) to 8 feet, which is about the length of a traditional kayak.
Kayak Weight 
Most kayaks of this size weigh between 20-30 pounds
Kayak Width
 Look for a kayak that is 24-30 inches
Tips for Kayaking with Kids
Kayaking for kids can be an extremely fun and safe activity when prepared properly.
Like any other watersport, wearing a life jacket is of paramount importance in maintaining the utmost safety.

Additionally, as previously mentioned, a sit-on-top kayak allows for your child to get on and off very easily. It also protects them in the event of a capsize as water does not fill the kayak.

It would be prudent, of course, to make sure that your children are only kayaking in calm waters.

I also recommend that an adult is within sight to supervise, especially in the first few outings.

Furthermore, many children's kayaks come with a tow rope that allows you to stay in constant contact or even tow the kayak back to safety. 
The Best Kayak for Kids and Teenagers
Pelican Solo 6 Feet Sit-on-top Youth Kayak
Summary: The Pelican Youth Kayak is a 6-foot long kayak that is the ideal kayak for young paddlers, complete with a safety flag and self-bailing design. It also comes with a paddle park to store your paddle. 
Pros: extremely lightweight so that young paddlers can easily take it in and out of the water; very safe
Cons: seat and seat rest are not included with the kayak
Lifetime Youth Wave Kayak with Paddle
Summary: The Lifetime youth kayak is one of the most popular on the market, having been constructed of high-density polyethylene for superior strength and durability. It advertises a 130-pound weight capacity.
Pros: multiple footrest positions for different size riders; backed by a 5-year warranty
Cons: users complained that there was no place to store the paddle
Summary: The MaxKare kayak is great for kids of all sizes and skills with a grooved cockpit that keeps the user 360-degree protective. It has a maximum weight capacity of 120 pounds and a maximum height of 5'3.
Pros: great for any kind of environment (domestic pool, river, lake, calm sea, etc.); front carry handle designed for single-handed pulling and moving
Cons: some users complained of a lack of durability
Intex Challenger Kayak Series
Summary:  The Intex kayak is made with heavy-duty puncture-resistant vinyl, meaning that your child will be very well-protected against any kind of obstacle in the water. Keep in mind that this is an inflatable kayak.
Pros: has a 220-pound weight capacity; removable seat
Cons: users complained of difficulty inflating/deflating

Lifetime Hydros Angler Kayak
Summary: The Lifetime Hydros Kayak is another very popular option. Extremely sturdy and reliable, the Hydros has a molded swim-up deck in the rear that makes it easy to climb aboard directly from the water. 
Pros: UV-protected and made of high-density polyethylene; has two flush rod holders and one adjustable rod holder
Cons: users complained of poor design and of standing water in the cockpit
Other Great Paddle Board Related Articles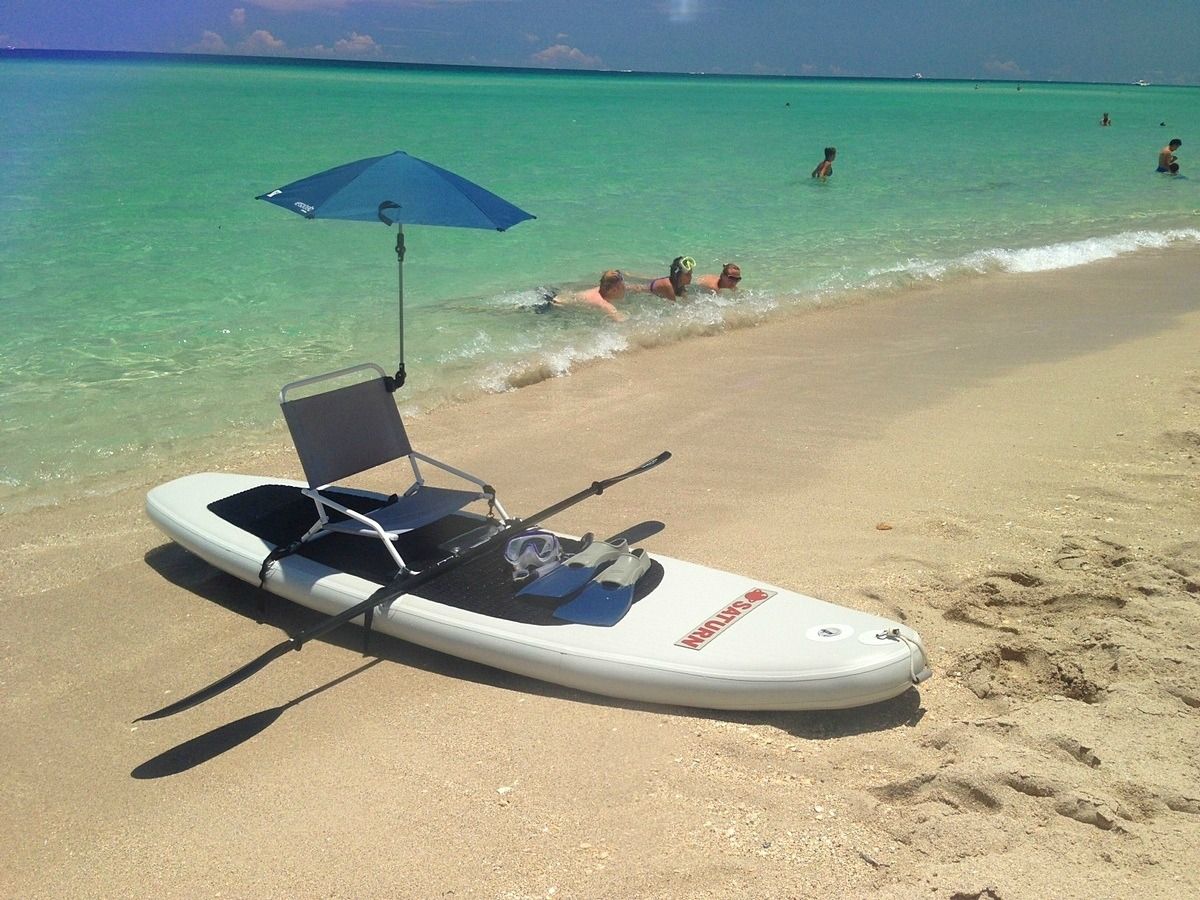 Some of the links in this post are affiliate links. This means if you click on the link and purchase the item, we will receive …