Some of the links in this post are affiliate links. This means if you click on the link and purchase the item, we will receive an affiliate commission at no extra cost to you. All opions remain our own.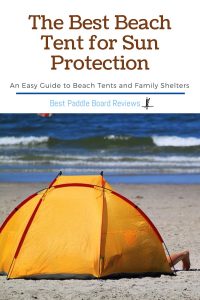 No matter where you live, it seems that nearly everyone loves to get outside to enjoy the sunshine. The fresh air and rays are an instant mood lifter. Whether you visit the beach with your family, hit the lakeshore with a group of friends or make a solo trip to a local park, there is no doubt you will want and need sun protection. Applying and reapplying sunscreen throughout the day is never easy. One of the best ways to avoid a burn and provide a break from the heat of the sun is with a UPF sun blocking beach tent. 
So, you already have a camping tent? There's a difference! Even if you think they look the same, beach tents are designed to provide sun protection and are made from water-resistant materials. They are designed to allow for maximum enjoyment of the outdoors while giving shelter from UV rays, usually with an open front, compared to a camping tent which is built with the overnight sleeping experience in mind, designed to protect you from wind, rain, and other outside elements.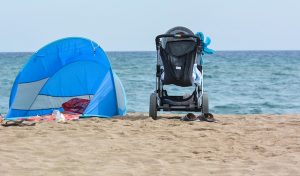 What are the Benefits of using a Beach Tent for Paddle Boarding?
Beach tents are essential for paddle boarders. There are the obvious benefits like helping to avoid sunburns. And of course using a tent saves the effort of constantly reapplying sunscreen. They also provide a central base to protect and store your gear and bags, and of course your cooler full of snacks and drinks. As you cool down and get refreshed after some time on the water, relaxing under the shade of a beach tent is far more comfortable than simply laying on a towel. 
What to Look for When Purchasing a Beach Tent?
Of course the overall look of a product is a big factor when making any purchase. When choosing a beach tent you will also want to consider the following factors: 
Beach Tent UPF Rating 
Of course this is probably a given, the ratings can vary so be sure to keep this top of mind when making your decision. 
Ease of Tent Setup and Takedown 
If you have ever used a tent, you know why this is important. If it's easy to use, you are more likely to actually use it! 
Size of the Tent 
Just like camping tents, they come in different sizes. Are you planning to have some children in tow? Or will it only be you?
Other Factors 
Don't forget about airflow, ease of cleaning, and versatility of use. 
The Best Sun Tents for Shelter by the Water
Pacific Breeze Easy Setup Beach Tent
Summary: Weighing in at just over 6 pounds, this lightweight and compact tent opens up to fit 3-4 adults. When fully set up, the tent is 95" x 52" x 51" and includes internal pockets and hooks for personal items. It folds down to 38" x 6" x 6" when placed inside the traveling case. Included with the tent are 4 stakes and 5 sandbag pockets. You can expect UPF 50+ sun protection.
Pros: The three mesh windows allow for great circulation to keep you cool and enjoy the breeze in the spacious interior. The windows have closable flaps, which makes it versatile to provide more protection and privacy. On the lighter side, this tent is especially easy to transport. To make sure you are satisfied with your purchase, Pacific Breeze offers a 1 year warranty. 
Cons: More expensive than most options, this tent does not include a fold out front porch section. The four thick plastic stakes included could be a bit of challenge to nail into hard non-sand surfaces, and without any backup stakes could be a bit of a challenge if any are lost or broken.
KOON Beach Tent Sun Shelter
Summary:  This tent is 99" x 55" x 55", with a 53" front porch space and weighs 6.5 pounds. When compressed and stored in the carrying case, it is 32" x 4.7" x 3.8". The tent includes 6 plastic stakes and 5 sandbag pockets. This tent provides UPF 50+ sun protection. 
Pros: With a "pop up" design, this tent is quickly set up; the company quotes 1 minute or less! Having double sided silver coating on the tent siding to help block 97.5% of UVA and UVB rays this also provides assistance for keeping the inside of the tent cool. The fold out front porch allows for extra space to lounge and can also be used to close the tent to provide privacy for changing, breastfeeding, or other needs. 
Cons: The tent has a large KOON logo on the back, which can be seen as a downside for some. In regards to tent material, several reviews reported that the fabric was more fragile than they expected and the tent closes with velcro (not a zipper) which could prove to be a bit of a challenge in a sandy beach environment.
Gorich Large Pop Up Beach Tent
Summary: Fully set up this tent is 86″ × 67" × 51.5″, with a 37.5" front porch.  When placed into the round carrying case, it has a compact size of 26.5″ L x 26.5″ W x 2″ H. The tent includes 10 stakes and 4 sandbags. The tent body fits 3-4 adults, if including the porch extension there is room for additional people to spread out. You can expect UPF 50+ sun protection with silver coated and waterproof material. 
Pros: This tent has a cool pop out design, making set up very easy. When folded down, the tent has a round, flat design and is very lightweight, making transport and storage very easy! With more of a square design than some of the other tents, this would make a very family friendly option. Coming with wind ties and separate sand bags, this tent is stable in windy conditions. The fabric is tear resistant on the bottom of the tent. 
Cons: The two side windows can not be closed. While set up is easy, folding this tent back down is not intuitive and will require some practice. 
Coleman Beach Shade Shelter
Summary: Measuring at 90" x 53" x 57", the tent includes 4 stakes and 6 sandbags. Weighting around 5 pounds, it includes a compact carrying case with shoulder strap. The tent easily fits two adults and one small child, providing UPF 50+ sun protection.
Pros: As one of the lightest of all the tent options, the built in cord for wet cloths is a huge bonus to hang dry wet clothes or towels.This tent is one of the most affordable options, which makes it popular! The fold up front porch allows the tent to be completely closed for maximum privacy.
Cons: The set up is more cumbersome than most beach tent options, requiring the polls to be threaded through the tent loops, similar to a traditional camping tent.The set up time will be much longer than the other options reviewed here.  
WolfWise 4 Person Easy Up Beach Tent
Summary: This beach tent sets up to a size of 98.43″ x 53.15″ x 53.15″ with a 51.18" front porch. At 8.5 pounds it can be folded down to a size of 37.4″ x 6.7″ x 6.7″ H. The tent includes ten stakes, with three attached sand pockets. You can expect UPF 50+ sun protection.
Pros: Three oversize mesh windows allow for excellent ventilation, but can be easily closed for privacy, along with the zipper front that completely closes in the tent. This option is great for family as the size is larger than most beach tents and has plenty of indoor storage pockets and even a hook. The high quality spring mechanism allows for easy set up and tear down. The blue and grey color combination is much more subtle than many beach tent options. 
Cons: Slightly heavier than many other beach tents. This is on the more expensive side of beach tents, and the most expensive of the options we reviewed.
Other Great Paddle Board Related Articles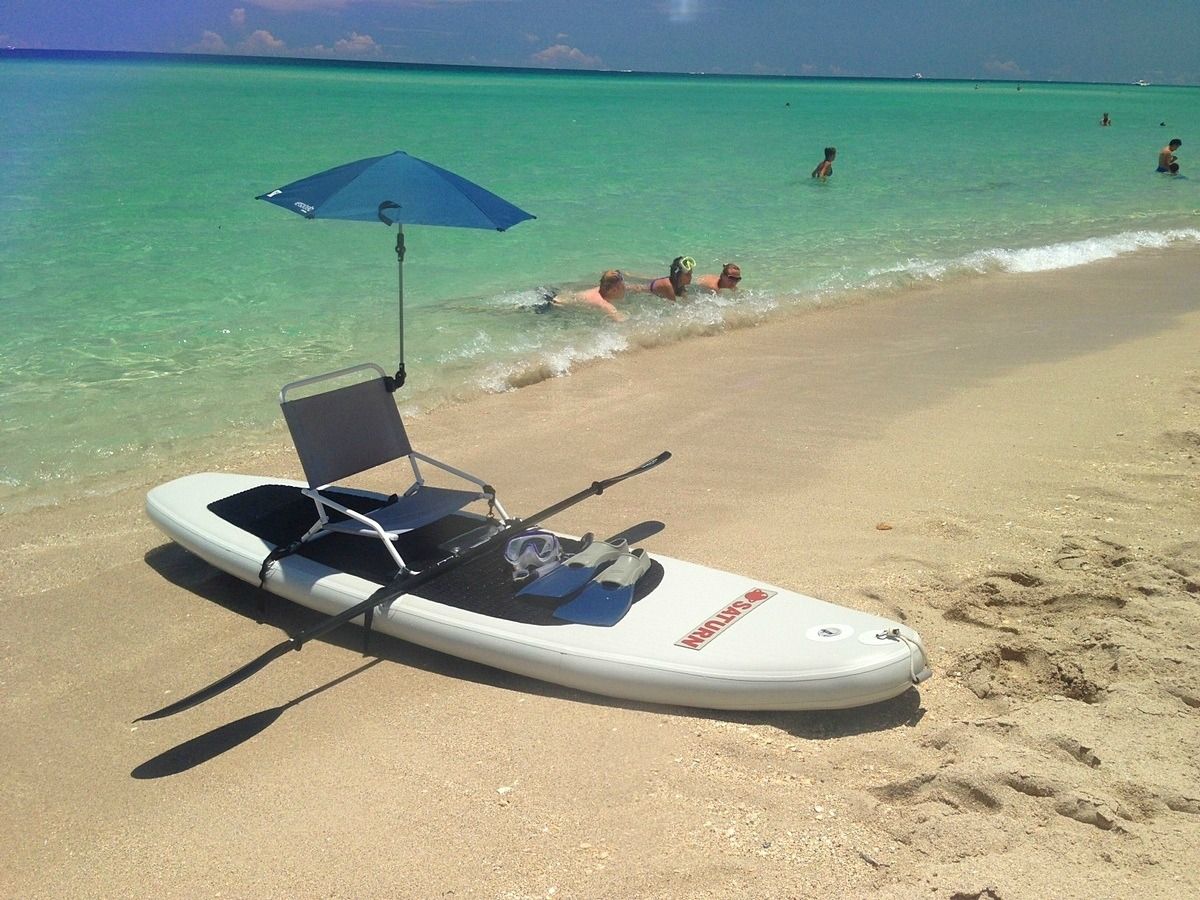 Some of the links in this post are affiliate links. This means if you click on the link and purchase the item, we will receive …