Some of the links in this post are affiliate links. This means if you click on the link and purchase the item, we will receive an affiliate commission at no extra cost to you. All opions remain our own.
One of the reasons why stand up paddle boarding is becoming increasingly popular is the variety of activities that it allows. The fact that the whole family can get on a board and enjoy surfing or paddling on a warm day creates memories. It also gives numerous health benefits to paddlers who can enjoy the calm breeze on the water, amidst full-body workout and freeing the mind of stress. Sometimes the weather can become unpredictable, hence the need to consciously select which dress will be most appropriate. Neoprene booties are one of the best clothing accessories to enjoy colder weather SUP. 
What are Neoprene Booties?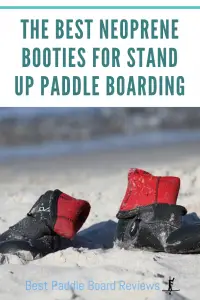 In cold weather, with a chilly breeze and cool ground, an essential part of your attire is a pair of neoprene booties. The Neoprene booties are perfect for the ease, designed comfort, and the warmth they offer your feet. They come in various sizes and styles for men, women, and kids alike. If at any point in your adventure, you step off the board and explore the surrounding area, these booties offer protection against rocks and pebbles. They also help to keep your feet warm during winter making these the ideal cold-weather SUP footwear.
Choosing a Neoprene Bootie Size?
A good choice for neoprene bootie sizing is to generally go down a size if you are betweens sizes. This lets less water sit in your boots and provides more warmth and better grip on the board. 
However, neoprene booties are generally on the narrow side. This obviously depends on the brand but if you have wide feet you may actually benefit from going up a size for more comfort and warmth.
How Do Neoprene Booties Keep Your Feet Warm
What to Consider in a Neoprene Bootie?
Thickness

– the standard thickness for neoprene booties include 3mm, 5mm, and 7mm for paddle boarders. But generally, the thicker the bootie, the better the warmth it provides.

Bootie Height

– there are basically two options and it comes down to what else you are wearing. If you are wearing a wet suit, or other warm clothes an ankle-height bootie might be the perfect height. However, colder temperatures and less warm clothing may warrant taller booties.  

Bottom Sole

– the various style of soles also contribute to the comfort and protection that the booties offer. Also, some soles provide better grip on the board depending.

Ease of Use

– Putting on a pair of neoprene booties allows flexibility, quality protection, warmth, and dry feet. Before making a decision think about how easy it is to take that specific boot on or off.

Zipper or Bootie Closure

– the zipper is another feature that allows easier use and less hassle.  It also allows for quicker access for air when you are spreading the boots out to dry.
The Best Neoprene Shoes for SUP
BPS Storm 'Smart Sock' Neoprene Booties
Summary: The BPS Storm smart socks come with a very smart design that is suitable for walking around as fin socks. This unisex product also has a durable use with a lot of flexibility especially for water sports like beach soccer and volleyball. It also has an adjustable elastic strap for fitness and a flexible but tough sole that does not absorb water. The shape of the Smart sock also gives a barefoot feel and its lightweight that gives immense comfort. 
Pros: Efficient logistics with a quick shipment as soon as an order is made. The package also includes an e-guide with helpful tips for easy use. A solid 12-month guarantee that ensures replacement in case of any issue. The design also has a low-cut with blind stitches and attached tab for pulling off and wearing.
Cons: Not too suitable for walking on asphalt or concrete as hard surfaces can really wear out its sole. It is also not suitable for long-distance walks as it could develop holes in the sole. Overuse can reduce its durability and quickly wear out the structure.
Neo Sport Premium Neoprene Booties
Summary: The Neo Sport Premium Neoprene Unisex wetsuit pair of boots is a characteristic synthetic product. It also has a variety of thicknesses, ranging from 3mm, 5mm to 7mm. It has an inbuilt structure that is essentially tough for hard surfaces and is resistant to puncture. It has a rugged traction sole and a strong heavy-duty zipper for full protection of the feet. 
Pros:  Under the zipper is a Water Entry Barrier that helps to keep the dryness of the inside intact. The strong joining of parts can withstand wearing and tearing. Excellent protection for kayaking and can endure long walks all through the day.
Cons: Real sizes may vary from the indicated sizes on the guide, if not carefully selected. Overuse may weaken the gluing and cause a parting of the sole from the top. There are rare cases of return where other customers might get the returned products.
Mares Equator 2mm Neoprene Booties
Summary: The Mares Neoprene 2mm Scuba Snorkeling Dive Boots has an Anti-Slip Rubber Sole for Water Sports such as volleyball and beach soccer. Also, the design has a well-structured sole with coverage to the sides of the boots. With a non-slip sole, this pair of dive boots have a synthetic body of 2mm thickness neoprene. It also has a lightweight that makes it easy for travel.
Pros: A fantastic product for scuba diving; very light (about 316g per pair) and suitable to manipulate when putting on or pulling off. It is easy to be turned inside out when drying after washing. It also has rubber heels that ensure the straps are still intact with no gaps nor squeeze. The tight part of the ankle keeps out grains of beach sand is intact.
Cons: Poor strength of the sole that may not offer 100% protection, especially for very sharp edges like urchin's spines. The buildup is also very bad and can be extremely fragile. Tough surfaces might cause minor tears over time. Also the actual sizes might be smaller than the choice and therefore needs to be chosen carefully.
Cressi Tall Neoprene Booties
Summary: The Cressi Minorca Neoprene Ultra-Durable Tall Boots with an ideal sole for tough conditions. At the same time, the design is well-sewn and allows efficient use for water sports such as scuba diving, swimming, canoeing, snorkeling, free diving, and many more. It has a strong, durable sole that is efficient for protection against friction with tough structures. The product also has a super-elastic and an excellent Nylon ll Neoprene Rubber as well as a toe cap.
Pros: The boots have an extra protection layer. Side zipper closure with inner layer to prevent water penetration and for donning and doffing. It also has an elastic layer that allows for various feet sizes and has an anti-slip grip for slippery surfaces such as wet boat surfaces. The surface is puncture-resistant and that ensures feet protection. 
Cons: The zipper may lose on its own while diving without you knowing. Try to order a smaller size than your actual size in order to ensure there is no error in choice. The boots can lose shape when the boots are poorly managed especially when already wet.
SEAC Pro HD 6mm Neoprene Booties
Summary: SEAC Pro HD Neoprene Wetsuit Boots with a 6mm thickness and a side zipper. There is also an inner layer under the zipper to offer extra water resistance and protect the feet from getting wet. The 6 mm thickness is good enough for cooler waters with less than 20-degree celsius. Furthermore, the special wetsuit boot has excellent arch support with the heel air bubbles that helps reduce stress. Its size range is between XXS and XXL.
Pros: A very comfortable product for beach walks with accurate thickness for the environment. Excellent zippers on top of a robust scuba boot features. The strength of the sole is also excellent for rocky and other hard surfaces. There is also a pull and lock feature on the zipper which can prevent the slipping down of that part.
Cons: The stitching on the velcro tab might pull off if handled roughly and can also cause a removal of the tab control. Also, the arch area might cut into the feet and cause feet sore. The top of the boots above the ankle is also too low for athletic legs. It may also only allow a short distance walk to maintain durability.
Conclusion:
The set of Neoprene Booties for Stand Up Paddle Boarding offers outstanding qualities, ranging from strong, tough soles to water-proof inner layers. Also, the booties accommodate different ranges of sizes with different thicknesses that are suitable for different areas around the beach. They are also designed for outdoor games and water sports such as volleyball, fishing and beach soccer or other types of enjoyable games. These products are classic examples of essential accessories for great family time while surfing on a standup board.
Works Cited:
https://en.wikipedia.org/wiki/Standup_paddleboarding
https://thursosurf.com/blog/reasons-stand-up-paddleboarding-popular/
Other Great Paddle Board Related Articles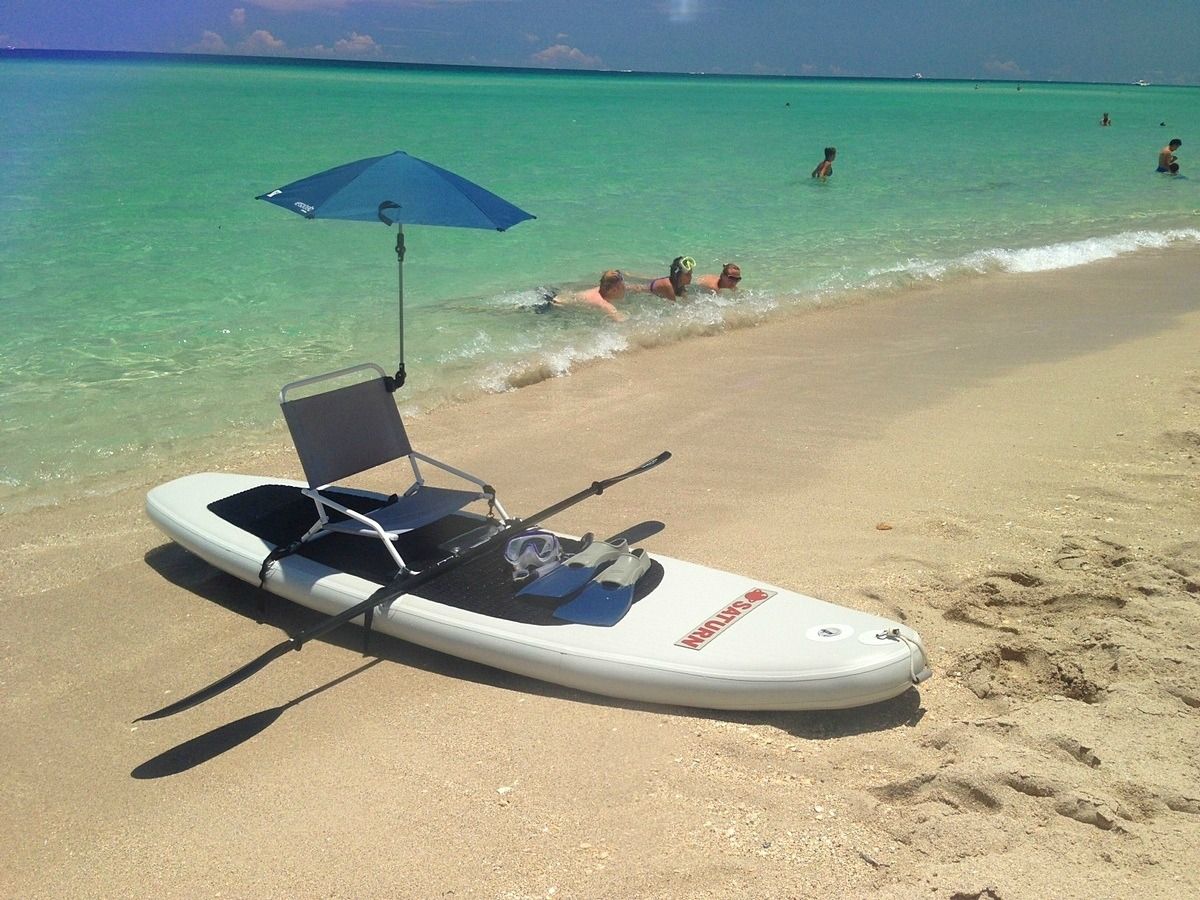 Some of the links in this post are affiliate links. This means if you click on the link and purchase the item, we will receive …