Some of the links in this post are affiliate links. This means if you click on the link and purchase the item, we will receive an affiliate commission at no extra cost to you. All opions remain our own.
If you are of the opinion that ordinary freestyle surfing is the best fun on the wave, it is perhaps because you have not tried out the Stand-Up Paddle (SUP) Boarding. Propelling myself with a paddle adds extra speed and sure extra moves for me. In the US in 2013, SUP became the most popular outdoor activity for first-timers and more people are trying it out every following year. An outstanding benefit of SUP barding is a wider view it affords the surfer and the benefit of doing other stuff like fishing. However, if you will be paddling for the whole day or you are a regular surfer, I strongly recommend that you protect the hands.
What is Stand Up Paddle Boarding?
Unlike the typical surfing that a surfer rides on the coming wave, Paddle Boarding involves an active movement over water with the aid of paddle while the surfer is standing. The first benefit of such active paddling is that it is quite enjoyable on flat waters with minimum waves. So, if you are a beginner, Stand-Up Paddle Boarding is a great way to start off. I can assure you that with the SUP boarding, you will enjoy an awesome view, be able to try out some yoga positions and even other recreational activities like fishing. I personally like to try it out on lakes and rivers where the water is relatively calmer.
The Benefits of Using Gloves for Paddle Boarding
The most obvious reason why you should protect your hands when paddling is to avoid blisters at the end of your surf. Furthermore, a good pair of gloves not only care for your hands but also gives you a good grip on the paddle. Due to the frictional movements when sliding up and down the paddle severally, you will need to get your hands back in good shape when you are done. A pair of gloves is a good way to achieve it. The highlights of the benefits of using gloves are listed below;
The Benefits of Using Gloves for Paddle Boarding
Comfort

– your pair of gloves should above all benefits, bring you comfort. The movements of the hands back and forth on the pole can cause friction and generate heat. You, therefore, need your hands, which make the most movement to be comfortable. 

Grip

– a good grip on the paddle is essential to your control when on water. As a result, you cannot afford to use a loose pair of gloves. Also, the firmer the grip, the less likely you will lose hold when the row gets tougher.

Material

– my recommended material for the best pair of gloves is neoprene with a little silicon pattern to enhance the grip and for strength and durability

Sun protection

– When choosing gloves too, pick a slightly thick one but without compromising its toughness with grip. Check out also for the glove with a composition for UV protection against your skin.

Water Protection

– the surface of the gloves should also be hydrophobic and ensure that water does to stain nor be absorbed in it so that your hands can remain dry.

Wrist closure system

– The adjustable wrists of the gloves ensure you can tighten it up to your preference. It can, therefore, remain tight and compact.
The Best Fingerless Gloves for Stand Up Paddle Boarding
Palmyth Fingerless Gloves
Summary: Fingerless unisex fishing gloves with a protective layer from sunburn and an extra layer of silicone dots for a firmer grip. It has a nature-friendly design that supports paddling, rowing, rowing, sailing, hiking, and driving. The fabric also contains SPF UV protection as well as Certified UPF 50+. Fully synthetic, fairly elastic, breathable, quick-drying, with adjustable velcro wrist strap.
Pros: the gloves support flexibility of fingers during use. It is also very light and can be worn all day long without any feeling of burden. The tips of the short fingers have pull-tabs that make removal stress-free. Wide suitability to fishermen, hunters, hikers, outdoor athletes, anglers, sailors or even kayakers.
Cons: the padding may be too thin for kayaking especially with the webbing of the thumb. Also, it is not too perfect for driving, as it can get easily ripped apart with much vigorous use.
IUSTAOCN Fingerless Gloves
Summary: The pair of unisex gloves, suitable for both men and women; made of ice silk material and specially customized fabric of UPF 50+ certification and UV protection from the Sun. A spectacular design for the palm with consideration for frictional parts for extra padding with SBR and silica. The pair of sun gloves are suitable for outdoor activities, such as hunting, hiking, fishing, sailing, rowing, canoeing, kayaking, cycling, trekking.
Pros: A lifetime money-back guarantee if the product does not satisfy the customer and this is an assurance of the best quality. Uncompromising flexibility and comfort for the whole time of use with skidproof and shockproof functions. It also has a soft and smooth touch on the skin with a quick-dry feature. 
Cons: The pair might be too big for certain hands and therefore may become loose. Overstretched parts in adjustments may also affect comfortability. Therefore, you may need to order for a bit smaller size for your hands.
Day Wolf Fingerless Gloves
Summary: The day wolf sun gloves are made of lycra fabric and the high-quality material ensures breathability and fair elasticity. It comes in a variety of designs and colors without compromising quality. The material is of a 4-way stretchable set and cover for sensitive palm parts. It also contains an extra layer of silicon to augment the features of the synthetic material. All the features of the gloves add up qualities of an extraordinary tool for basically all outdoor sports.
Pros: The gloves layer can protect up to 98% of the UVA and UVB rays of the sun, harmful to the skin. As a top-quality product, it also comes with a one-year money-back guarantee for any unsatisfactory delivery. Breathable and elastic design, palm contact points have special support that aids the grip. Short finger-length are flexible and comfortable in various uses.
Cons: In the case of wetness, it may reduce the effective grip and become sleeky. You may also easily forget that the rest of the fingers are not protected during use, causing an unexpected sensation through the hands. 
Bassdash Fingerless Gloves
Summary: The ultimate sun protection fingerless gloves are made up of a 4-way stretch synthetic microfiber leather with fascinating attributes that sets it above other similar products. One of the uniqueness of the product is the three-quarter length size of the finger-like structure to allow more protection to the users. It is also suitable for many outdoor sports such as rowing, paddling, kayaking, cycling, shooting, driving, and other training. The Bassdash Ultimate sun gloves are UPF 50+ protection that ensures absolute shield from the direct sunlight that may cause burns.
Pros: Nio abrasion, No cuts, No scrapes, while it gives a bit of space for flexibility without compromising protection. A lightweight product with breathing tiny pores in order to keep the hands dry after use especially against sweats. In addition to the palm, it also protects the wrist by holding on tightly to the closing strap.
Cons: You may experience a bit of difficulty in folding fingers due to the lengths of the finger-like parts. The design is more optimized for function, not having the most attractive looks to impress.
FitsT4 3/4 Fingerless Gloves
Summary: The Kayaking sailing gloves are a full- protection pair of gloves, that is padded with protective materials. It also protects almost all the fingers, with a mesh-protective layer for improved comfort. Another peculiarity is its extra padding as protection for rigorous activities such as mountain climbing or hiking, rope climbing, or hauling. The common sporting activities suitable for this peculiar product include kayaking, sailing, fishing, and others.
Pros: The extra protective padded layer can prevent rope burns and blisters due to holding objects for too long tightly. Also, the product is suitable for men, women, and kids alike with an adjustable wrist part for firmness. It also has full mobility of fingers to do other things such as tie-up knots, twiddle the thumbs of open up bags.
Cons: There is presently limited shipping to some countries, so, take note of this in placing an order. Sometimes, the sizes may also turn out to be smaller than the ordered size and can become uneasy if eventually managed.            
Conclusion:
The fingerless gloves are essential dressing materials in the case of paddling or climbing or cycling or even riding. They also have adjustable straps on the closing ends of the wrist. Also, the compatible gloves design work for fishing, and other sports. Most essentially, the gloves affordability, comfortability, flexibility, and protection from harmful UV sun rays that may lead to skin cancer.
Other Great Paddle Board Related Articles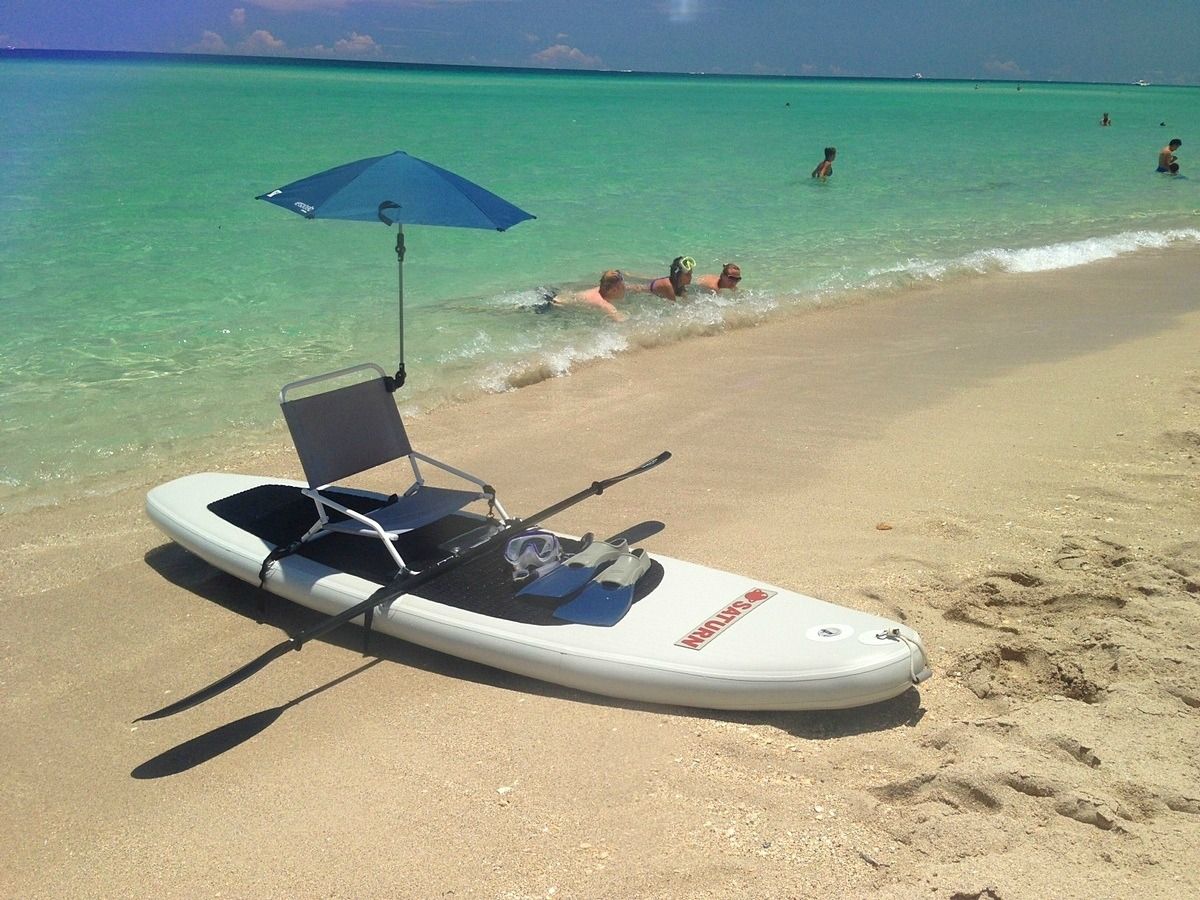 Some of the links in this post are affiliate links. This means if you click on the link and purchase the item, we will receive …