Some of the links in this post are affiliate links. This means if you click on the link and purchase the item, we will receive an affiliate commission at no extra cost to you. All opions remain our own.
Stand up paddle boarding is even more fun while listening to your favorite music. With a portable waterproof speaker, you can blast your favorite tunes without worry. These speakers are versatile; you can also bring them to the pool or the beach, or even use them in the shower. Here is a list of the top 5 waterproof speakers for stand up paddle boarding. 
Things to Consider When Choosing a Waterproof Speaker
There are several factors to consider that you're getting the best value for your money when buying a waterproof speaker. These include:
Waterproof rating of speakers: This may be the most important factor: can the speaker survive being splashed or briefly submerged in the water?
Battery life: When you're out on the water, you don't want to worry about running out of battery. How many hours does the battery last?
360 sound: The sound quality of the speaker is important in order to fully enjoy your favorite music. This is measured in Watts, and a higher number indicates a more powerful sound.
Floating ability: In case your speaker falls into the water, you want to make sure it won't just sink to the bottom. Does the speaker float?
Waterproof Rating - What is IP?
IP, or Ingress Protection, has to do with water and dust resistance in electronic gear. The rating consists of the letters IP followed by two digits. The first digit indicates the level of protection against solid objects, while the second digit indicates protection again liquids.
Most of the speakers listed here have an IPX7 rating, which means they can withstand being submerged up to 1 meter in water for 30 minutes. 
The Best Waterproof Speakers for Stand Up Paddleboarding
JBL Charge 4 Portable Bluetooth Waterproof Speaker
Summary: The JBL Charge 4 is a Bluetooth speaker with an IPX7 waterproof rating. It is about 9 inches long and weighs 2 lbs, making it larger than some other speakers, but it makes up for it with its specs.
Pros: Phenomenal deep bass and a battery life of 20 hours. The speaker will even charge your phone as you use it, and you can wirelessly connect up to 3 smartphones or tablets.
Cons: The speaker is larger and bulkier than some others. It's the most expensive speaker on this list.
AOMAIS Sport II Portable Wireless Bluetooth Waterproof Speaker
Summary: The Sport II speakers has IPX7 waterproof rating and 20W sound, with a rugged design. It is a black design with a choice of deep orange, green, or orange accenting.   
Pros: Two speakers can be connected at once to enjoy 40W sound. It's one of the most affordable choices on the list.
Cons: The battery life is shorter, advertised at 15 hours. The bass is not as powerful; reviewers state that buying 2 speakers is a must for more powerful sound.
Anker Soundcore 2 Portable Bluetooth Waterproof Speaker
Summary: The Soundcore 2 has 12W sound and enhanced bass, with an IPX7 waterproof rating. With a chic black design, it is less bulky than some of the other options on this list.
Pros: Two speakers can be connected together to intensify the sound. Extended Bluetooth range lets you move farther from the speaker. Long-lasting, 24 hour battery life. Affordable and great overall.
Cons: Some reviews mention that the speaker has a weak bass and automatic volume leveling that can't be disabled.
OontZ Angle 3 Bluetooth Portable Waterproof Speaker
Summary: The Oontz Angle 3 has an IPX5 water-resistant rating and 10W sound and a unique triangular design that enhances sound quality. You can keep the music playing while charging the speaker.
Pros: This speaker has a 100-foot Bluetooth range and a battery life of up to 14 hours. Its small size and lightweight make it easy to transport, and it is the most affordable speaker on this list.
Cons: With an IPX5 rating, this speaker can resist being sprayed or splashed with low pressure, as in a shower, but cannot withstand being partially or fully submerged, unlike the other speakers listed.
POWERADD Musicfly II Portable Bluetooth Waterproof Speaker
Summary: The Musicfly II is a Bluetooth speaker with 36W sound and IPX7 waterproof, shockproof, and sandproof rating. It can stay connected to phones up to 33 feet away.     
Pros: The battery lasts up to 24 hours on a single charge. The speaker can wirelessly connect with multiple phones and charges your phone as you play. It is a great mid-price waterproof speaker.
Cons: You cannot pair the speaker to use 2 at the same time.
Other Great Paddle Board Related Articles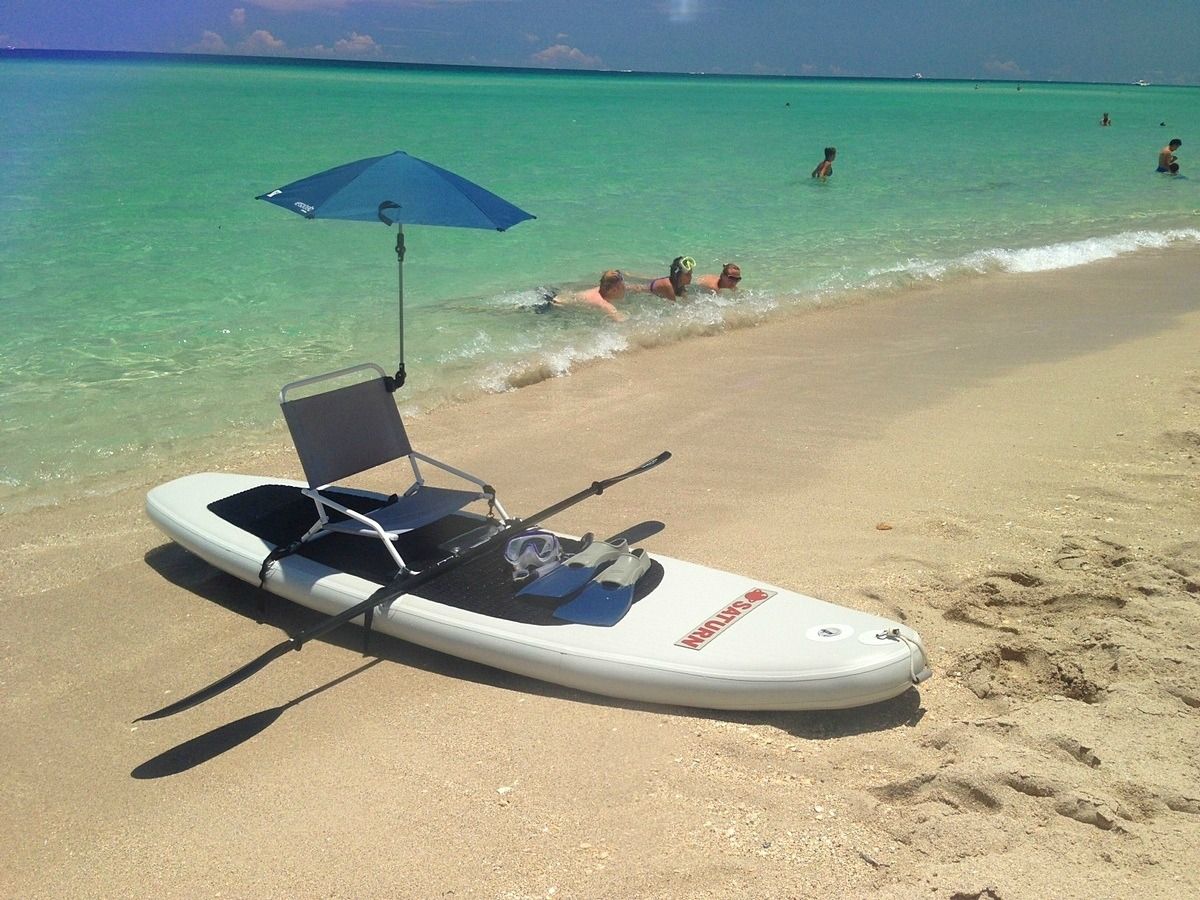 Some of the links in this post are affiliate links. This means if you click on the link and purchase the item, we will receive …