Some of the links in this post are affiliate links. This means if you click on the link and purchase the item, we will receive an affiliate commission at no extra cost to you. All opions remain our own.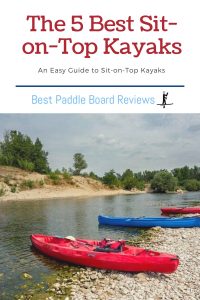 I am always on the hunt for two types of activities; those that allow me to spend time with my family and those that improve my overall health. I'm happy to say that I've found something that allows me to do both. Kayaking is an activity that offers fun for the whole family. Spending time in the fresh air, paddling around together, and seeing all that life on the water has to offer has really improved my family's quality time together. As an added bonus, kayaking is known to improve cardiovascular health, while also toning arm, back, and shoulder muscles, too. Whether you prefer freshwater lakes and rivers or the salty waters of the ocean, I'm sure you will find kayaking just as rewarding as my family and I do. 
What is a Recreational Sit-on-Top Kayak?
If you're ready to get out on the water, I'm sure you're looking for the perfect watercraft. The sit-on-top kayak is a great mix of surfboard, canoe, and traditional kayak. Unlike traditional sit-in kayaks, sit-on-top kayaks have a sealed hull with a seat molded in. It's easy to board a sit-on-top kayak and just as easy to bail off of one as needed. These kayaks are stable in the right conditions and make it really easy to learn kayaking basics. A sit-on-top kayak is ideal for calm water conditions found in slow-moving rivers, lakes, or the protected waters of the coast. They are also best suited for fair weather, as the open-seating doesn't offer a lot of protection. 
Sit-on-Top vs Sit-in Kayak?
There are two main types of kayaks to consider, and both have their appeal.
Sit-on-Top Kayak
Sit-on-top kayaks are very stable and offer ease of use and comfort that are unmatched in sit-in kayaks. They're easy to climb onto and slip off of, which makes them especially appealing to divers and anglers alike. Sit-on-top kayaks offer a more open-air experience. If you're like me and worry about tipping, a sit-on-top kayak may offer you some comfort. If I ever do tip over, I won't have to worry about being strapped in and stuck upside down. It definitely puts my mind at ease. While sit-on-top kayaks can be a bit easier for a beginner, sit-in kayaks do have some advantages. The deeper center of gravity gives them more stability and they offer more storage than sit-on-top kayaks.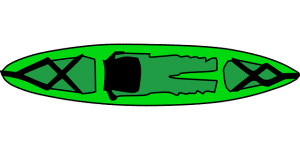 Sit-inside Kayak
Sit-in kayaks are also recommended for rougher or more open waters. It's not unusual for beginners to start with a sit-on-top kayak in calmer, protected waters before upgrading to a sit-in kayak for more challenging waterways or longer outings. 
What are the Different Types of Kayak Materials?
Kayaks are constructed using three main types of materials. Arguably the most durable and cost-efficient are those made from polyethylene.
Polyethylene
Polyethylene is a thermoplastic commonly used in making bottles and other packaging material. These kayaks can stand up to a lot of abuse, but they are on the heavier side. This type of kayak is popular with rental companies because of how tough the material is. However, if you plan on going on long trips that will require you to carry your kayak you should consider one of the other materials below. 
Composite
If you're looking for speed and ease of repair, a composite kayak may be the one for you. It's lighter than a polyethylene kayak, but not quite as tough. They also tend to be a little more expensive. 
Thermoform
A thermoform kayak made from a sheet of ABS is as light as a composite kayak and nearly as affordable as a polyethylene kayak. Keep in mind, that while these do have a protective UV layer, they can deteriorate from sun exposure over time if they are not properly cared for. 
Here is an excellent post from REI on the different parts of a Kayak.
How to Use a Sit-on-Top Kayak
What to Look for in a Sit-On-Top Kayak?
When choosing a sit-on-top kayak, there are several things to consider. 
Material: This will have the biggest impact on cost, weight, and durability. You'll need to find the material that offers the perfect balance in these categories to meet your needs. 
Size: You'll want to consider the length and width. The longer the kayak, the faster it will go. However, shorter kayaks are a little easier to maneuver. Wider kayaks are a bit slower but offer more stability. 
Seats and Footwells: Sit-on-top kayaks have seats and footwells molded in. Many kayaks come with a seat-back attachment, but you might need to add it on as an accessory. You'll definitely want to sit on a kayak before purchase to make sure the seat back and placement of the footwell are comfortable for you. 
Storage: Many kayaks come with built-in watertight compartments, but not all. You'll want to consider what type of storage makes sense for you. 
The Best Sit-On-Top Kayak for Kayaking Adventures
Perception Pescador Pro 12 Kayak
Summary: The Perception Pescador Pro is a 12-foot sit-on-top fishing kayak. It has large open storage in the front and rear, as well as accessory rails making it easy to customize with fish finders and rod holders. The lawn chair style mesh seat is adjustable and can be lowered to paddle or raised for optimum casting. It is leak-proof and the one-piece construction means built-in buoyancy for added safety. 
Pros: This kayak has plenty of storage, the seat is comfortable for long day trips, and it offers plenty of legroom for taller people. 
Cons: The rod holders are in an awkward place and make paddling a little tricky when in use. 
Perception Crank 10 Kayak
Summary:  The Perception Crank 10 is a ten-foot sit-on-top kayak. This kayak has a pedal drive system and rudder. It also has built-in grooves and bungees for paddle storage. It comes with a foldable, adjustable, and removable captain's chair. 
Pros: The pedal drive system allows you to move forward and go in reverse. The one-hand rudder control and 10-foot length make it easy to maneuver. The adjustable seat is comfortable and can be adjusted to make pedaling possible at different heights. A large rear tankwell offers storage for a large tackle box or small cooler. 
Cons: The weight of the kayak with the seat and pedal drive installed is around 74 lbs, making it a little on the heavy side. 
Wilderness Systems ATAK 120 Kayak
Summary: The Wilderness Systems ATAK is a twelve-foot sit-on-top kayak. It was designed with a wind shedding deck, as well as SlideTrax on the rear, front, and mid-section of the boat for optional accessories. It has large, padded, adjustable foot braces for added comfort. 
Pros: The accessory bars are perfectly placed, the seat is comfortable and adjustable, and the size makes it the perfect combo of stable and easy to handle. It has a wide fishing platform and ample storage. It is also compatible with the Helix motor system, which is sold separately. This kayak has the highest weight capacity on this list, at 400 lbs. 
Cons: It is on the wider side for this size kayak. It makes it perfect for fishing, but if that's not what you are planning to use it for it may not be the best option. It is also quite heavy, weighing in at 86 lbs. 
Perception Tribe 9.5 Kayak
Summary: Coming in at 9 ½ feet, the Perception Tribe 9.5 is the shortest kayak on this list. This makes it very easy to maneuver, and therefore an excellent choice for beginners. It has a built-in storage hatch for keys and other small items, as well as built-in scupper holes for drainage. The bow and stern toggles handles make it easy to carry, and the adjustable seat and integrated footrest make it comfortable for all. 
Pros: Weighing in at 46 lbs, it is the lightest kayak on this list. The size makes it very easy to maneuver, and despite the smaller size, it has a max capacity of 300 lbs. The seat and footrests make it very comfortable. 
Cons: There is not an integrated place to rest and secure paddles. The dry storage is a little small. 
Lifetime Tamarack Sit-On-Top Kayak
Summary: The Lifetime Tamarack Angler Sit-On-Top is a ten-foot polyethylene kayak. It has a padded and adjustable seat, and multiple integrated footrests to accommodate different heights. It has two flush-mounted rod holders, along with two 6" storage compartments in the rear and center.   
Pros: At 52 pounds, it's pretty lightweight. The rod holders can be removed when not in use. This kayak comes with a 5-year limited warranty. It's great for beginners and can be easily used for fishing. It has a weight limit of 275 lbs. 
Cons: The padding on the seat is a little thin.
Other Great Paddle Board Related Articles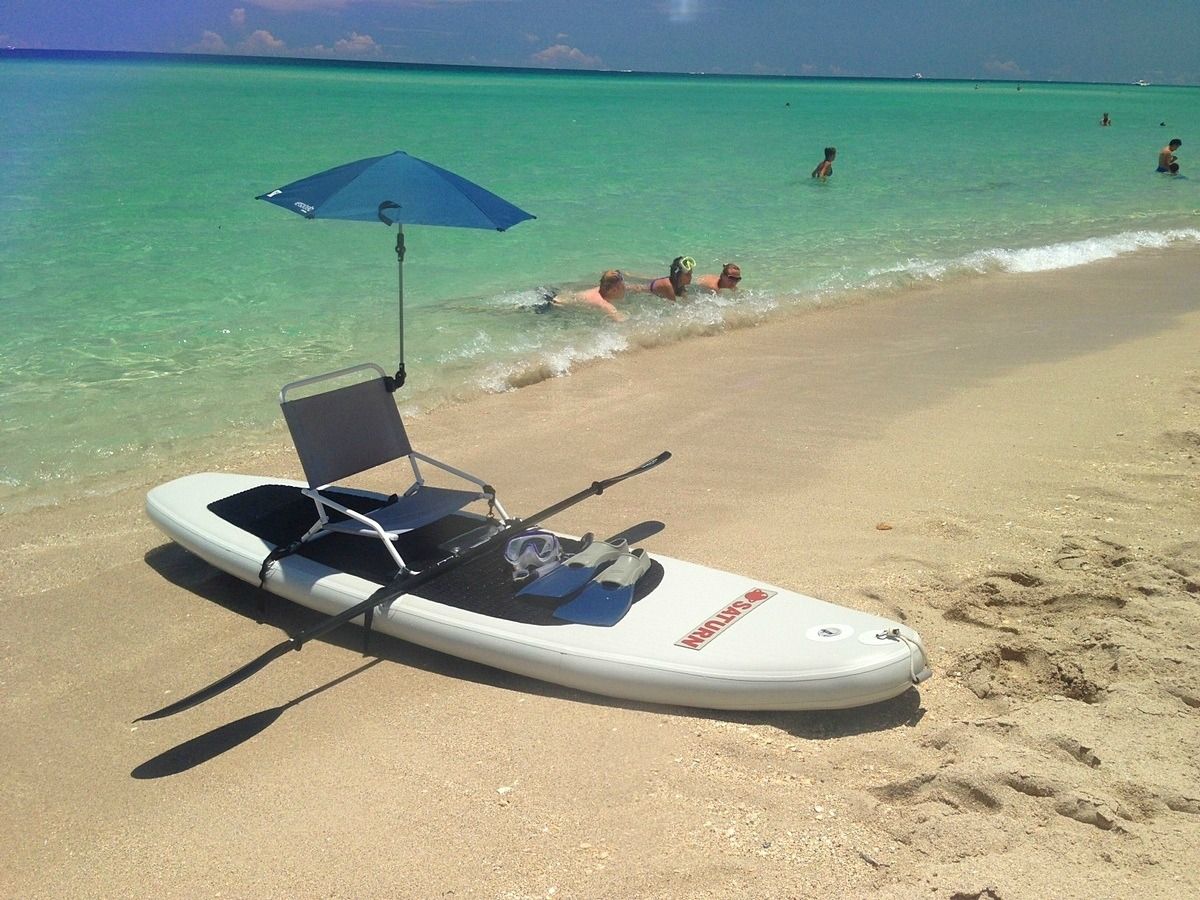 Some of the links in this post are affiliate links. This means if you click on the link and purchase the item, we will receive …