Some of the links in this post are affiliate links. This means if you click on the link and purchase the item, we will receive an affiliate commission at no extra cost to you. All opions remain our own.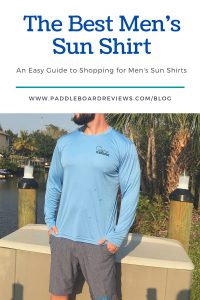 Whether you spend your summers lazing on the beach or tackling the ocean's waves on your paddleboard, you are exposed to the sun's harmful ultraviolet (UV) radiation. Prolonged exposure to UV radiation greatly increases your chances of developing skin cancer, though there is good news: you can still enjoy outdoor activities while limiting your risks of skin cancer by wearing a sun shirt! Sun protective clothing is the simplest way to stay safe during the summer and, unlike sunscreen, you never need to reapply. 
Sun shirts are designed specifically to protect you from the sun's harmful UV radiation while you enjoy your favorite summer activities—like paddleboarding. Sun shirts are different from your everyday clothing as each element of the shirt is chosen specifically to provide your skin the most protection possible. When choosing a sun shirt there are several factors to keep in mind.
Color of Sun Shirt
Dark and bright colors keep UV rays from reaching your skin by absorbing them rather than allowing them to penetrate through to your skin.
Construction
Not all fabrics provide equal protection! Densely woven clothing provides more protection than sheer, thin, or loose clothing.
Content
Unbleached cotton contains natural linings that act as UV absorbers. Shiny polyesters and even lightweight satiny silks can be highly protective because they reflect radiation. High-tech fabrics treated with chemical UV absorbers or dyes prevent some penetration from UV rays.
Fit
Loose-fitting apparel is preferable. Tight clothing can stretch and reduce the level of protection offered, as the fibers pull away from each other and allow more UV light to pass through.
UPF
Some clothing makers provide UPF labels, which indicate exactly how much of the sun's rays the garment can shield.
Coverage
The more skin your outfit covers, the better your protection. Whenever possible, choose long-sleeved shirts and long pants or skirts.
What SPF and UPF Rating and how to Use it With Clothing?
Sun Protection Factor (SPF)
SPF is based on the time it takes for UV exposed skin to redden. SPF as is used for sunscreen, only measures and protects the skin from UVB rays which are associated with sunburn. For example, sunscreen with an SPF of 15 would give your skin an additional 15 minutes in the sun before it begins to redden.
Ultraviolet Protection Factor (UPF)
UPF indicates how much UV radiation a fabric allows to reach your skin. It is the sun protection rating given to clothing and it measures BOTH UVA and UVB rays, associated with skin-aging and skin-burning, respectively. For example, a UPF 50 fabric  blocks 98 percent of the sun's rays and allows two percent (1/50th) to penetrate, reducing your exposure risk significantly.
What are the Benefits of using a Sun Shirt?
Unlike sunscreen, which only protects the skin from sunburn for a limited amount of time, sun shirts offer protection all day long. There are many benefits of wearing a sun shirt when paddleboarding:
Sun shirts significantly reduce the risk of skin cancer, skin aging, and sunburn.
Leaving the water to reapply your sunscreen over and over can be a pain—wearing a sun shirt saves you money and time by using less sunscreen.
Moisture-wicking technology used to design sun shirts helps you stay cool and dry all day long
How to Use Sun Protective Clothing
The Best Men's Sun Shirt for Stand Up Paddle Boarding
Simms Solarflex UPF 50+ Crewneck
Summary: This long-sleeved crewneck by Simms is 100% polyester. Weighing only 7 oz., this shirt is breathable and flexible. It's engineered with fabric that has a 50+ UPF sun protection rating. 
Pros: Has COR3 technology fabric to increase moisture-wicking performance. Finished with anti-odor tech that controls odor caused by mold, mildew, and BO. Designed with Raglan flexible sleeve construction to support a wide range of movement perfect for paddleboarding.
Cons: A bit on the expensive side for larger sizes. Limited color choices
Columbia Men's Terminal Tackle Long Sleeve Shirt
Summary: This 100% cotton crewneck was created specifically for the sports enthusiast. It has a UPF 50+ sun protection rating.
Pros: Designed with quick-drying, ultra-wicking fabrication to keep you cool and comfortable out on the water. Available in 20+ different color combinations.
Cons: Sizing may be irregular (reviews report shirt runs large).
Vapor Apparel Men's Sun Shirt Long Sleeve
Summary: This 100% microfiber jersey-like shirt was built for athletic activities like swimming, fishing, running, hiking, playing baseball, and paddleboarding! It has a UPF 50+ sun rating. 
Pros: Designed with PURE-tech moisture-wicking technology and is permanently infused with fabric designed to keep you dry. Holds the Skin Cancer Foundation's Seal of Recommendation. Available in 20+ color choices. 
Cons: Irregular sizing (reviews report shirt runs small).
Nike Men's UPF 40+ Long Sleeve Sun Shirt
Summary: This 100% polyester shirt is equipped with Dri-Fit tech to keep you cool and comfortable throughout the day. It has a UPF 40+ sun protection rating.  
Pros: Designed specifically with flat seems to prevent rash and reduce chafing.
Cons: Only 4 color choices available. Reviews report shirts may run small.
BALEAF Men's UPF 50+ Sun Shirt
Summary: This 100% polyester shirt has breathable, non-see-through fabric that wicks moisture away from your skin, and a UPF 50+ Rating that protects your skin from the sun's harmful UVA/UVB rays. 
Pros: Designed with no-chafe flatlock seams. Fitted with Raglan sleeves that provide a full range of motion. 
Cons: Reviews report shirt runs small and may stain easily.
Other Great Paddle Board Related Articles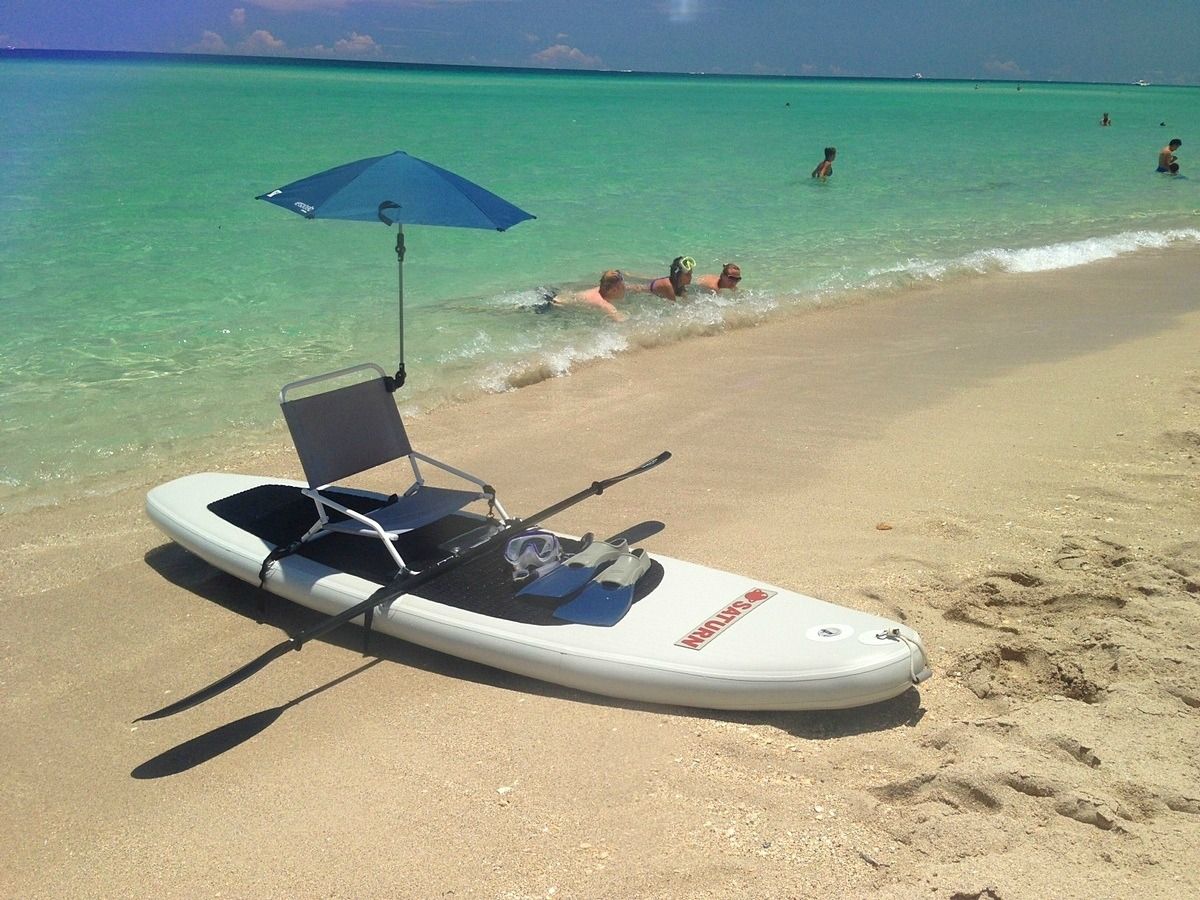 Some of the links in this post are affiliate links. This means if you click on the link and purchase the item, we will receive …