Some of the links in this post are affiliate links. This means if you click on the link and purchase the item, we will receive an affiliate commission at no extra cost to you. All opions remain our own.
Sharing your love for paddle boarding with your child can be exciting in theory, but daunting in practice. Luckily, there are steps you can take and safety guidelines to practice that can make your child's first paddle boarding experience enjoyable for everyone involved. Here are some of our tips for paddle boarding with kids. 
Before taking your children into the water, it is essential to discuss safety measures with them and any other adults that might be joining you. If your plan is to have them ride on your stand-up paddle board (SUP) with you, then here are some easy topics to start the conversation.
Discussion on how to get on the board, proper actions once in the water, and what to do if they fall off the board are all starting points for basic safety coverage. If your child is younger, then you can help them act through what to do at home before taking the board on the water.
Even if your child is quite a proficient swimmer, it is important that they wear a life-jacket or a personal flotation device (PFD). A life-jacket is still a must as they have the buoyancy to turn someone who is face-down in the water to face-up to breathe. Our favorite youth life jacket is the youth Superlite Life jacket. It is worth the extra precaution to ensure that your child will be safe in the water.
Confidence In Your Own Paddle Boarding
Before having a child join you on board, you should be confident in your own SUP skills. If you yourself are a beginner, then it will make the experience more difficult and stressful.
Having another person on board is going to shift the weight balance you are used to, so you want to make sure you are confident in your ability to balance the SUP before committing to inviting a child on board. 
Navigating will also be more difficult with the change in weight, so it is okay to be more shakey than you are used to at first. Even if you are an expert, just take things slow so you and your child can build up confidence together. Plus, that gives you the perfect time to bond over exploring new things together!
Confidence in your Child's Abilities
According to the Red Cross, skills of water competency include safely entering the water, breathing, staying afloat, changing position, and swimming a short distance to get out of the water.
Although these qualifications are essential to taking your children on the water, paddle boarding in nature is a lot different than swimming in a supervised pool. You know your child's abilities best, so use your best judgment to determine whether they are ready to practice their water knowledge in a higher-risk setting.
Use the Right Paddle Board for a Family
Some boards are easier to navigate than others when riding with an extra passenger. If you plan to have your child ride on your board with you – which is highly recommended for children under the age of 6 – the wider the board the better!
It is also important to recognize the weight that your SUP can support so that your board does not end up sinking and balance is not thrown off once on board. You to make sure that you have a board like the Peak Titan that is designed to have multiple people on it at once. It is also extra wide and extra thick making it more stable for paddle boarding with kids who might be moving around on the board more.
Paddle Board Location is Essential
Starting off in a calm, protected waters make it easier for you and your child to keep balance. Plus, there is less of a safety risk if someone falls off. Most lakes and reservoirs have calm and easy waters with easy on and off points away from people.
You also want to make sure that the distance from the car to the edge of the water is manageable so that the kids don't have to walk as far. You may need an SUP shoulder carrying strap to better manage the paddleboard and get you your family to the edge of the water.
Do not take your child into rough waters on your first paddleboard adventure together. This means avoiding waves, ripples, winds, rip currents, or rocky areas. You can see some of our favorite places to paddleboard to find the calmest and yet picturesque views. See the calmest waters in Idaho for a fun family trip.
Be Prepared For Anything with Kids
Children tend to be much more sensitive to temperature, so make sure to take into account the extra layering and supplies you might need to take for them. This includes the extra towels, sunscreen, PFD, and first aid supplies that you would normally go without.
Kids tend to hangry quicker so have plenty of snacks on hand. They also burn through energy faster so have an umbrella to block the sun and allow them to take a quick nap while you get some peace and quiet time. Finally, look into a chair that they can carry and be responsible for giving them practiced responsibilities.
Other Great Paddle Boarding Articles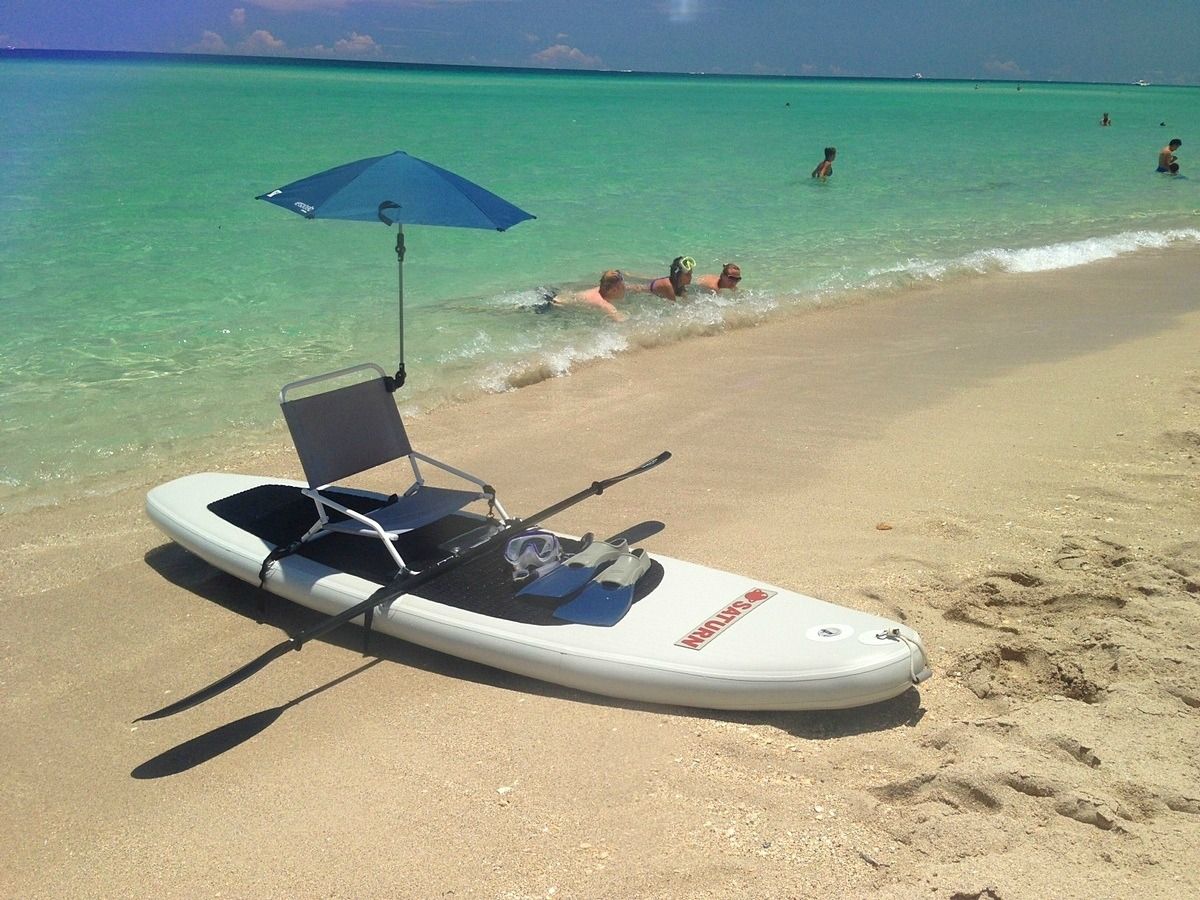 Some of the links in this post are affiliate links. This means if you click on the link and purchase the item, we will receive …