Some of the links in this post are affiliate links. This means if you click on the link and purchase the item, we will receive an affiliate commission at no extra cost to you. All opions remain our own.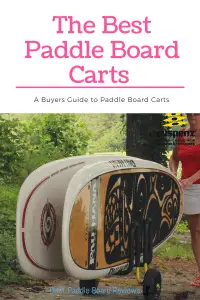 Paddle boarding, also known as stand up paddle surfing, used to be an activity that people would try out during their tropical vacations. More recently, paddle boarding has become the norm! The increased popularity of paddle boarding has people traveling to more places, but it can be such a hassle to trek long distances with all of your gear. Traveling with a heavy board and paddle can be especially hard on roads and beaches. Using a paddle board cart makes getting where you're going so much easier.
What is a Stand Up Paddle Board Cart?
Paddle board carts are a small two-wheeled cart that carries the weight of your board during transportation. You can think of the cart as being a tow dolly! Paddle board trailers come as single carts or multi-board carts. They make it easier to get your paddle board from the car to the best places to SUP on the beach, rocky shore, or down the road.
How To Use a Paddle Board Cart
To use a paddle board cart, you lay the back half of your board down on the cart, and hold the front end of your board in your hands or under your arm. Typically, an under the armpit hold is a much more comfortable way to transport your board while it is on the cart due to the fact that the board is placed in the cart on its side. 
What are the Benefits of Using a Paddle Board Cart?
Owning a paddle board cart is guaranteed to make your life easier. Similarly to surf boards, paddle boards are bulky and awkward to hold. You don't have to stop to reposition your board on the way to the water if you're using a cart. Forget throwing out your back with the weight of your board. Your cart holds the weight, and you direct the board!
Things to Consider when Buying a Paddle Board Trailer
I know that you are convinced that buying a paddle board cart is the best idea, so there are a number of things to consider when doing so. 
Carrying Capacity – What is the weight limit on the trailer? If you need to buy a larger board in the future, would you be able to use the same trailer? How many boards do you need to transport on the cart?
How to strap boards in – Are their straps on the trailer to hold your board in place? If so, would the material of the straps scratch your board? If the trailer is strap free, will you need to add straps yourself?
How heavy is the cart – If the trailer is extremely heavy, it will be just as much of a burden as transporting your dense board. A lighter trailer will be more useful when transporting your paddleboard across the beach. 
Durability – What material is the cart made of? If the cart is metal, is it made from a rust-free source? If the cart is not metal, will it hold up with continued use? 
Portability – Can the cart be stowed away easily in your vehicle? Does the cart have the option to be a trailer on your vehicle? What material are the wheels made of? Will you need to worry with making sure the tires have air in them?
The Best Paddle Board Wheeled Carts
COR Surf Adjustable Stand Up Paddleboard Cart
Summary: The COR brand paddle board trailer is a highly rated trailer that is under one hundred dollars. This 6 pound trailer has a rust-free aluminum frame, and airless tires. One of the most incredible factors of the COR trailer is its ability to carry any size board. Unfortunately, some customers report this dolly as collecting sand within the axel that then causes it to stop working. 
Suspenz Double SUP Airless Cart
Summary: The Suspenz double cart is a twelve pound aluminum trailer that holds two paddle boards that are up to seven inches thick. The price range for this double cart is around one hundred and fifty dollars. Foam pads conveniently cover the aluminum frame to keep your boards scratch free. One con of the trailer is that it lacks a handle, so it can be tricky to maneuver the cart.
SUP Wheels® Paddle Board Cart
Summary: The SUP Wheels cart may have paddle board cart in its name, but it can carry a number of carts with ease. This seven pound cart can be used as a single or double trailer. It has very large airless wheels that are perfect for any terrain. One unique factor of this trailer is the fact that your boards lie in the trailer horizontally instead of vertically, so you never have to fight against the wind. Unfortunately, this system does not provide a secure strap to hold the board(s) in place.
Apex APX-DLY-1 Stand-Up Paddleboard Dolly
Summary: The Apex paddle board trailer is a very affordable, rust-resistant eight pound system.There is no need to buy a separate bungee system to hold your board in place because this cart conveniently comes with one! The flaw to this trailer is that it is unsteady on rough terrain. 
Onefeng Sports Adjustable Stand Up Paddle Board Cart
Summary: Onefeng offers an extremely affordable, seven pound paddle board trailer. The tires on the trailer are airless, and covered by a rubber sheath to allow transportation across any terrain. This cart is to be used as a single board cart only, but offers an extremely easy transportation to make up for that shortcoming. 
Conclusion:
There is no need to hurt your back carrying a ton of gear to the beach when there are a ton of paddle board trailers on the market to choose from. Use a paddle board cart to make your travel a breeze, and save your energy for the water!
Works Referenced:
Other Great Paddle Board Related Articles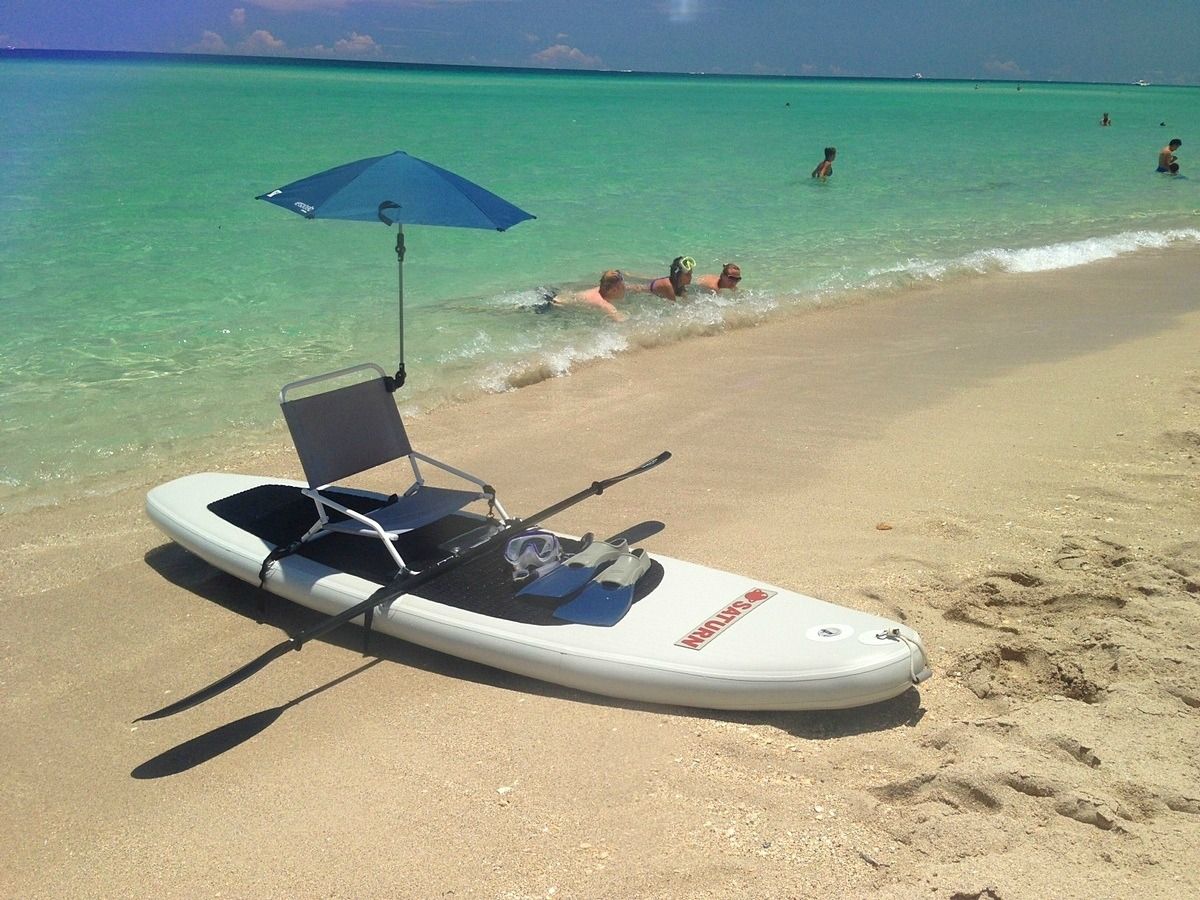 Some of the links in this post are affiliate links. This means if you click on the link and purchase the item, we will receive …