Some of the links in this post are affiliate links. This means if you click on the link and purchase the item, we will receive an affiliate commission at no extra cost to you. All opions remain our own.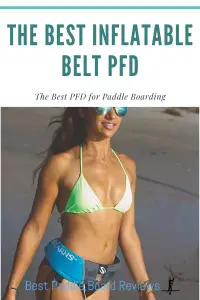 You've been venturing further from shore, experiencing the freedom of exploring beautiful remote places on your paddle board.
You're not alone. With this recent boom in the number of SUPers traveling further from shore, the Coast Guard established some safety regulations. When outside a surfing, swimming, or bathing area, a paddle board is considered a vessel. What does that mean for you? 
You have to wear a Personal Flotation Device (PFD). Not only does it keep you in line with regulations, but it's also the wisest choice for those unexpected moments when you find yourself alone in turbulent waters. 
There are a variety of different types of PFDs that have been approved by the USCG. The most common for paddle boarders are Type III and Type V. 
But do you have to sacrifice your ease and comfort just to be safe? Not at all. Some of the least restrictive and most lightweight PFD options are inflatable belt life jackets. For all those reasons you avoided big, bulky, hot traditional life jackets as a kid you'll appreciate the sleek, simple, breathable belt jackets.
What is an Inflatable PFD?
First off, there are two kinds of inflatable PFDs: vests and belts. Of the two, belts offer the greatest range of movement and comfort for the rider. If you're SUPing for extreme sport, or you're a beginner swimmer, a vest can provide you with more safety. 
How does it work? All PFDs have an inflator mechanism that triggers a carbon dioxide cylinder to fill it with air. You can choose between a manual style (you pull the cord to inflate) or automatic (inflates when submerged in water). 
Automatic belts can be advantageous if you get knocked unconscious in the water. The cons are this vest can inflate if you're hit by ocean waves or boarding in the morning mist. Manual belts don't have that same perk of helping you float if you're incapacitated, but they allow you greater control for choosing when to inflate.
Belt PFDs offer you the greatest comfort, adjustability, and breathability all while staying in line with USCG approval.
How to use a Belt Inflatable PFD?
The belt pack is designed to be worn on the hips, facing the front of your body.
When you pull the cord (manual), a jacket inflates that you can easily pull over your head.

Once over the head, you'll secure the vest with ties at the chest.

Getting the jacket out is the easy part. 

After you've inflated your jacket, it's a bit of a process to rearm the system. Not to worry, there are plenty of instructions at your fingertips.

To rearm, you'll need to purchase a kit from the supplier. Follow the instructions on your vest to deflate the jacket, discharge the CO2 cylinder, reset the system, and install a new CO2 cylinder. 

Then, roll the jacket back up into the belt and voila you're ready for another day of SUPing.
Key Features of the Best Inflatable PFD
Quick Deployment: How fast will it take your belt to deploy? The range is 3-9 seconds.
Buoyancy – How many pounds of buoyancy does your belt give you?
Adjustability – Will it fit your body type?
Attachments –  Does your belt come with a safety whistle or a D-ring attachment for accessories?
Size and portability – How low-profile is your belt? What are your size preferences for pouches?
The Best Belt Inflatable Life Jackets
Onyx M-16 Belt Manual Inflatable Life Jacket
Summary:
The Onyx M-16 PFD is known for having quick, easy deployment. The deployable life jacket is a USCG approved Type V and the PFD gives a Type III performance. With a 200 denier nylon oxford protective cover, you can be sure this belt holds up against the daily wear and tear of use. It comes in two different patterns- gridded web or camo and is priced very fairly for the quality. 
Pros: A relatively small, lightweight belt that is very reasonably priced. The vest rests comfortably on the body. There's an extra velcro strap that can help pull some of the slack for a smaller person. 
Cons:  For some, the velcro strap gives minor irritations on skin or bathing suit. It doesn't have a visual window to the pressure gauge system.
Stearns 16 Gram Manual Belt PFD
Summary:
The Stearns belt PFD is a Type III belt that features a convenient small plastic window to view the pressure gauge system. This is one of the lighter belts on the market and many say they barely notice its presence when worn. It comes in three different bright colors -red, blue, or yellow- all of which are easily visible from afar. A minimal belt that's designed to be light and easy on the hip. 
Pros: Highly compact, low profile belt that is barely noticeable on the body. The belt is adjustable for a wide range of sizes. 
Cons: Insufficient pockets for those who want to bring along larger items. 
MTI Adventurewear Fluid 2.0 Inflatable Belt PFD Life Jacket
Summary:
MTI's Adventurewear PFD is a type III belt that also boasts the smart design of visual access to the status indicators through the small plastic window. This is a high-grade polyester and nylon belt and comes in the color black or an ocean-mist blue.  It features one of the larger zippered storage pouches that can fit your sunscreen or keys. MTI's Adventurewear was designed with the bareback in mind: a sleek mesh back panel reduces skin irritation. This belt also comes with an attached safety whistle and guiding lines for refolding the life jacket. 
Pros: High-quality material that you'll barely notice is there. Fits comfortably and has a larger bucket flap pocket to store larger items. It also comes with a whistle. 
Cons: Not as adjustable for larger sizes and some say it can be a bit stiff or bulky.
Eyson Inflatable PFD Life Jacket
Summary:
The Eyson Inflatable life jacket is a durable, lightweight belt that gives you a wide range of color options- five to choose from. Another very affordable option on this list, the Eryson PFD comes with two zippered side pockets. It features reflectors on the airbag for extra visibility in darkness. Made of heavy-duty nylon, this belt is light and soft while maintaining its durability. This belt has CE certification and will work for any PFD regulations but is not USCG approved. 
Pros: Another very affordable belt that is both durable and lightweight. The pull cord can get tucked away and out of sight. Great reflectors for visibility at night.
Cons: The belt is not as adjustable for smaller sizes. It does not have a window for visual access to the reactivation system.
Stearns Suspenders Manually Inflatable Belt-Pack Life Jacket
Summary:
One of the slimmest fits on this list, the Stearns inflatable PFD belt is a Type III belt that also features a small window for checking the activation system. This is an excellent choice if you tend to sit while SUPing as it's much thinner than other belts and sits snug on your hips. The Stearns Suspenders has small pouches instead of pockets, which keeps the design sleek. 
Pros: The sleek and slender design makes this a very low profile belt. If you tend to enjoy lounging on your deck or SUP kayaking this belt is very minimal and fits comfortably while sitting. 
Cons: The pouches can only fit small items like keys. The plastic tab that protects the inflator mechanism can pop off a little too easily; you have to buy a reactivation kit if this happens.
Other Great Paddle Board Related Articles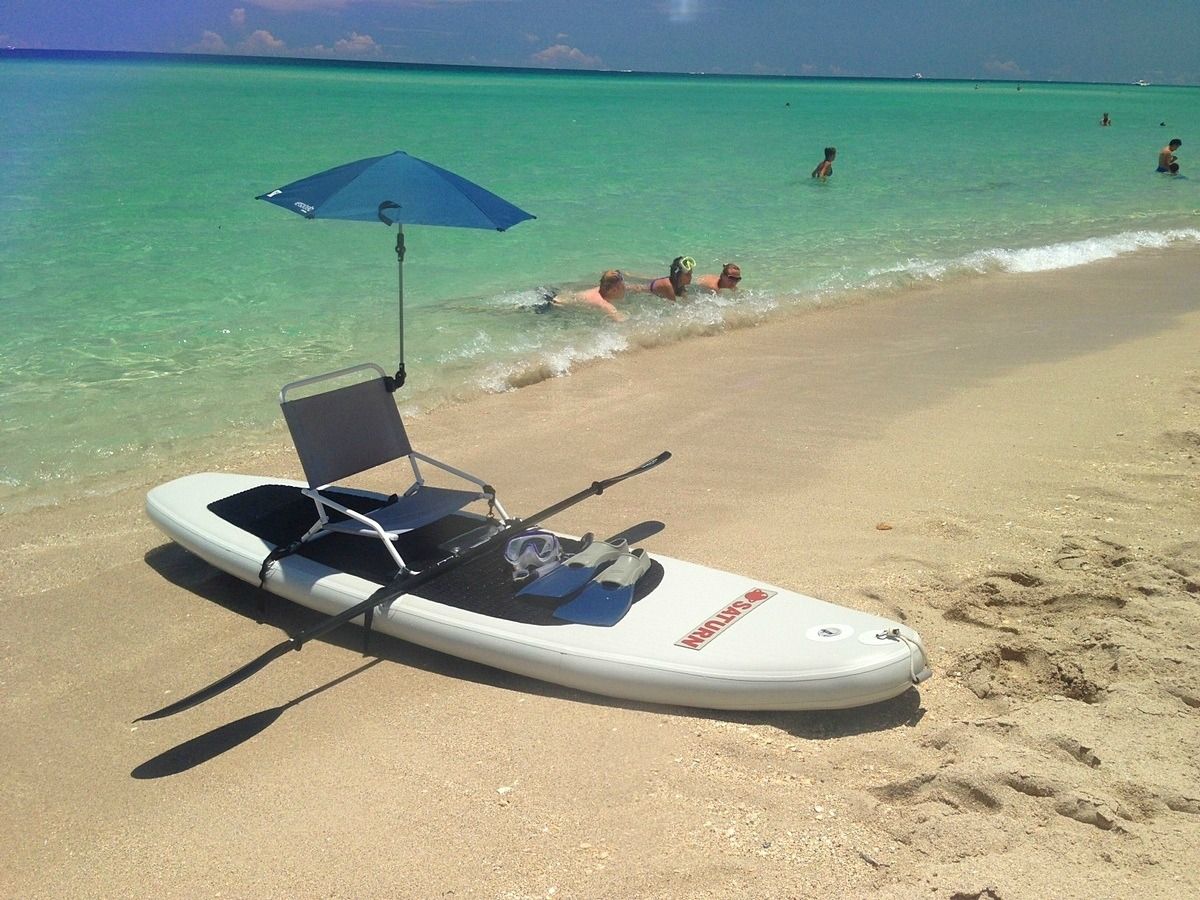 Some of the links in this post are affiliate links. This means if you click on the link and purchase the item, we will receive …