Some of the links in this post are affiliate links. This means if you click on the link and purchase the item, we will receive an affiliate commission at no extra cost to you. All opions remain our own.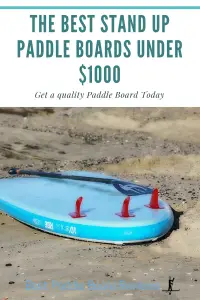 With stand up paddle boarding on the rise in these last few years, there are some incredible new designs coming onto the market. 
It all began with the hard fiberglass or epoxy paddle board. While we love these hard boards for SUP surfing, speed, and agility, inflatable boards offer greater flexibility in travel, extreme durability, and versatility of use. 
These days, the easiest entryway into the world of SUPing is through the inflatable board. The key advantages of these boards offer greater use for families, yogis, and recreationists.
As the demand for these boards keeps increasing, newer designs keep improving the functionality and adaptability. What's more, inflatable boards are a fraction of the cost of a hard SUP board. 
To save you time and energy, we researched the best inflatable paddle boards under $1,000 and wrote this guide to help in your selection.
Why Choose An Inflatable SUP?
Inflatable boards have a few important design features that bring you, the rider, greater ease, and enjoyment. 
We'll start with the obvious: they're inflatable. Which means they are so much easier to travel with. If you want to take your board across borders, now you can. There is a wider surface area on these boards, giving you more room for movement and greater storage space. Inflatable boards are made with extremely durable materials. It would take a major accident to cause any major damage, which is something you can't say about the hard SUP boards. Another reason why this board is the best to get you started? It's a very reasonably-priced alternative to the epoxy/fiberglass boards.
Getting to Know the Inflatable SUP
Inflatable SUPs are made with a drop-stitch core and military-grade PVC. (Say what?) Drop-stitch technology weaves together thousands upon thousands of tough polyester threads. This is what allows your board to inflate and retain rock-hard rigidity. Inflatable boards are known for better storage, with two sets of bungees on the front and back of the deck. 
The shape of your board will vary based on your desired use. The most popular boards fall in the range between 10'6" – 10'7" in length, but be sure to take into account your size and weight. 32" inches width balances stability with responsiveness. 5-6" depth is standard for inflatable boards. Also, take into account the shape of the board- not too narrow at the nose and not too wide at the tail. 
Depending on the quality of the pump, your inflatable board will take anywhere from 4-10 minutes to inflate. Not bad at all, right? Before you deflate, remember to rinse and dry your board completely. When deflating, there's a small valve pin to push down that'll release the air. Then you can roll it up (from the nose to the tail) and tuck away in your backpack for travel.
Benefits of a Higher Quality Paddle Board
Remember the common sayings, 'You are what you eat' or 'You get what you pay for'. Well, it's true for anything and everything. Inflatable SUPs are no exception. 
So what does a more expensive board offer?
Durability and Quality of Materials- 
Your board will be made with a high-density drop-stitch core. But different boards feature extra layers of military-grade PVC and different levels of bonding/sealing. More expensive boards will give higher quality materials for greater stability and durability. 
The inflatable material of the board is only one piece of the pie. An excellent board also gives you access to higher grade paddles, handles, deck surfaces, fins, and rigging.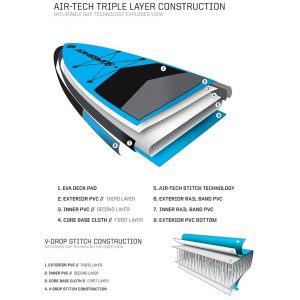 Construction – 
All inflatable boards usually rise above the water by 6", but some are lighter than others. There's a wide variety of shapes for different boarding purposes. Higher quality boards feature extra layers of military-grade PVC and special bonding layers for enhanced stability.
More Versatility on the Water – 
Even though you're inflatable board is slower than a hardboard (hardboards are generally 5% faster), you don't have to sacrifice agility on the water. High-quality boards give you a design that makes it easier to turn quickly and greater speed in gliding. Lighter boards generally give you a bit more speed.
Comes with Better Accessories –
Generally, the more you're willing to invest, the greater your return on quality and quantity of accessories. Some boards go beyond the shoulder strap, extra fins, paddle, and backpack and also throw in a kayak seat, already installed D-rings, a cooler, even a waterproof fanny pack. Also, be on the lookout for better warranty deals.

How to Use an Inflatable Paddle Board
The Best Inflatable Paddle Boards Under $1000
ISLE Explorer Inflatable Stand Up Paddle Board
Summary:
The Isle Explorer SUP utilizes Airtech fusion light for a special seal and bonding layer over the drop-stitch with a higher density PVC layer. Impeccable design and quality of the material. It features a grooved traction pad giving extra traction for canine friends but doesn't bother you when knee paddling or relaxing on deck. Smooth neoprene cushioning on the center handle makes it easy to transport without your hand slipping. 
Pros:
Deck surface ideal for pets, fishing, long-distance paddling. D-rings give you the freedom to attach a kayak seat. It comes with an adjustable carbon shaft, nylon blade paddle, backpack, high-pressure pump, coil leash, manual, and snap-in travel fin. It also features a 60-day guarantee and a 1-year warranty. 
Cons:
This is an all-around good board but doesn't specialize in any one thing. Known as a slower board. The center handle might get in the way for a yogi.
Hala Rival Asana Inflatable Stand-Up Paddleboard
Summary:
The Hala Rival Asana SUP was designed specifically with yogis in mind. Hence the name Asana, or posture. The nose and tail are symmetrical, giving greater stability for yoga and makes for long, drawn-out speedy turns for SUP surfing. Diamond Groove 4mm foam deck traction pad gives excellent grip when wet without being too coarse on the hands in postures. The designers made it easy to step flat in the middle of the board by removing a sliver of the deck pad below the handle.  
*At the time of this post, the sale price is under $1,000*
Pros:
A wider platform that gives greater stability for bigger boarders and yogis alike. This board comes with a rival b-line inclusion paddle which is known as the best on the market as far as affordable paddles go. A killer deal for yogis with a 3-year warranty and 1-year paddle warranty.
Cons:
The wider deck might slow you down and the symmetrical design isn't ideal for all types of paddle boarding. Not as many additional accessories as other boards.
South Bay Boards Inflatable Stand Up Paddle Board Package
Summary:
The South Bay Boards SUP is one of the better boards for fishing and kayaking, it even comes with a kayak seat and ISUP cooler. Talk about traveling in style. This SUP has a 'Fingerprint' texture deck which is ideal for longer paddle sessions. Known as the all-around versatile board, this is another great board for beginners. Thick handles help to carry the heavier weight. 
Pros:
Definitely one of the best quality boards at the most reasonable price. Comes with 2+1 paddle board fin set, coiled leash, kayak paddle, backpack with wheels, pre-installed d-rings, kayak seat, cooler, and waterproof fanny pack. 30-day guarantee, 1-year warranty. 
Cons:
Might not have the highest quality pump and paddle, which will be important if you're a committed paddle boarder.
NIXY Venice Inflatable Stand Up Paddle Board
Summary:
Another ideal board for yoga and cruising, the NIXY Venice SUP weighs 23 pounds inflated, one of the lightest boards on the market. It may be the most lightweight, but it can still hold up to 400 lbs. You can inflate up to 20 PSI (which is higher than some of the other boards) for a sturdier ride in varying weather conditions. Made of very durable material, this is one of the best fitness boards.
Pros:
This board comes with one a dual-chambered triple action hand pump which is one of the better pumps on the market. Super stable for fitness and bringing along a furry friend. Comes with adjustable fiberglass paddle, detachable fins, hybrid coiled leash, dual-chamber hand pump, repair kit, shoulder strap, and backpack. It comes with a 2-year warranty.
Cons:
The handle may get in your way during a workout. The bungees are closer to the board's center, which might inconvenience some.
JLF Inflatable Stand Up Paddle Board Se
Summary:
The JFL tri-fin SUP design is unique in that the fins are placed further from the tail of the board, allowing for even greater stability. This is an 11' board at 23 pounds which is well suited to cruising and yoga. Another key feature added to this model is an 87" adjustable fiberglass paddle- and it floats, too. A diamond groove traction pad is easy on the hands and there are 11 D-rings for attaching kayak seats or adding extra bungees. 
Pros:
Matches speed with stability so you can keep up with faster kayakers and still be able to do a full workout on board. Another excellent board for animals or young children. Includes adjustable fiberglass paddle, dual-action hand pump, backpack, shoulder carry strap, 10' leash, user manual, and repair kit. It comes with a 1-year warranty. 
Cons:
A longer board may be harder to maneuver. It doesn't come with as many accessories as other boards. 
Other Great Paddle Board Related Articles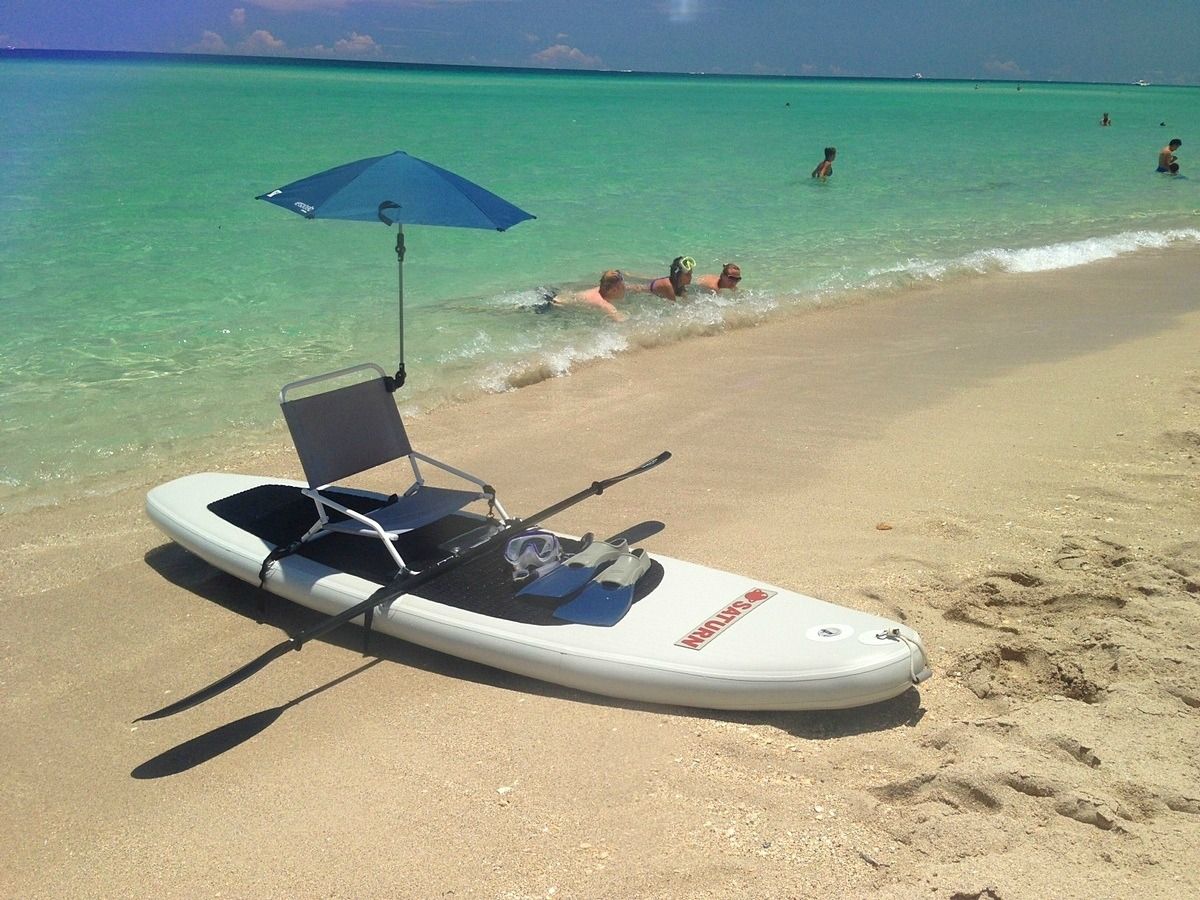 Some of the links in this post are affiliate links. This means if you click on the link and purchase the item, we will receive …