Some of the links in this post are affiliate links. This means if you click on the link and purchase the item, we will receive an affiliate commission at no extra cost to you. All opions remain our own.
Stand Up Paddle Boarding (SUP) is a popular summer pastime that provides a low-impact, full-body workout while reducing stress and improving cardiovascular health. Choosing the right life jacket or person floatation device (PFD) is essential to enjoying this sport safely. Whether you are required to have a PFD on your watercraft or are looking for the safest option we have you covered. Here are the best SUP life jackets and PFDs on the market. 
Why you need a Life Jacket when you Paddle Board
There are several reasons why you need a life jacket or PFD when you SUP: 
Current Life Jacket Regulations
The USCG classifies SUP boards as a vessel when it operating outside of swimming, bathing, or surfing areas. Therefore, adults are required to have a Type III (in calm waters) or Type V (in special conditions or rough waters) flotation device while using a SUP board in such areas. Children must wear a PFD at all times while paddleboarding. Life jackets and PFDs must have a sound-producing device, such as a whistle. 
When in doubt you should have a life jacket on your board or on yourself.
SUP Life Jackets versus SUP inflatable PFD
A life jacket's flotation material is near the front, making it more buoyant than PFDs. However, a PFD is slightly more comfortable due to the fact that it is worn as a belt pack. When inflated, a PFD's flotation material is situated on the back of the device. PFDs are a suitable choice for strong swimmers who intend to paddleboard in calm conditions, while life jackets are better for children or boarders navigating rough waters.
The Best Stand Up Paddle Board Life Jackets and Belt Person Floatation Devices
Onyx M Series Belt PFD Inflatable Life Jacket
Summary: The Onyx M Series is a low profile, Type V belt pack for boarders over the age of 16 or who weigh over 80 pounds. Its CO2 charge provides 17 pounds of flotation.
Pros: This flotation device is extremely lightweight and comfortable. It is perfect for those who participate in SUP yoga activities. Its pull-string flotation makes it easy to activate. 
Cons: It is not recommended that children wear this life jacket. Also, the warning label suggests that this product may expose you to TRI, a harmful chemical that may cause cancer, birth defects, and/or reproductive issues.
Summary: The NRS Ninja is a low profile, Type III PFD. It has both side and shoulder adjustments and provides 16.5 pounds of buoyancy. 
Pros: This PFD is recommended for boarders who have shorter torsos since its side and shoulder adjustments allow for a more custom fit. It has a large front zipper pocket that can accommodate phones, wallets, and other personal items. The NRS Ninja is comfortable, allowing for a full range of upper body movement. 
Cons: The NRS Ninja is a minimum PFD and is not recommended for use in deep water. It may expose you to harmful chemicals outlined in the State of California's Proposition 65. 
Onyx MoveVent Dynamic Paddle Sports Life Jacket
Summary: The Onyx MoveVent Dynamic Paddle Sports Life Jacket is a Type III life vest. It has both shoulder and side belt adjustments in addition to strong zipper closures. 
Pros: The back of the Onyx MoveVent vest is mesh, making it extremely breathable. Many users claim that they hardly notice that they're wearing it! Though it is a sturdy device that stays in place, it offers freedom of movement while paddling. 
Cons: The jacket's dense front panel makes it uncomfortable for some people, especially those who have larger bust measurements.
Astral YTV Life Jacket Personal Flotation Device
Summary: The Astral YTV Life Jacket PFD is a lightweight, adjustable, Type V vest. Its buoyancy rating is 16 pounds. 
Pros: This PFD is made of materials that are free of toxic PVC. It has two zipper pockets in the front to store your keys and phone. Like the NRS Ninja, the adjustable features on the Astral YTV make this an ideal option for users with shorter torsos. 
Cons: You must pull this device over your head in order to use it since it does not have any zippers or buckles. 
Stearns 16 Gram Manual Belt PFD
Summary: The Stearns 16 Gram Manual Belt Pack is a compact Type V belt for adults weighing over 80 lbs. Like most belt packs, this one has a manual pull-string activation.

Pros: The Stearns 16 is extremely lightweight and comfortable. It includes an attachment point for a water bottle, making it a perfect choice for those enjoying SUP sports in hotter climates.

Cons: The flotation device is a bit difficult to pack up once you have pulled it out.
Other Great Paddle Board Related Articles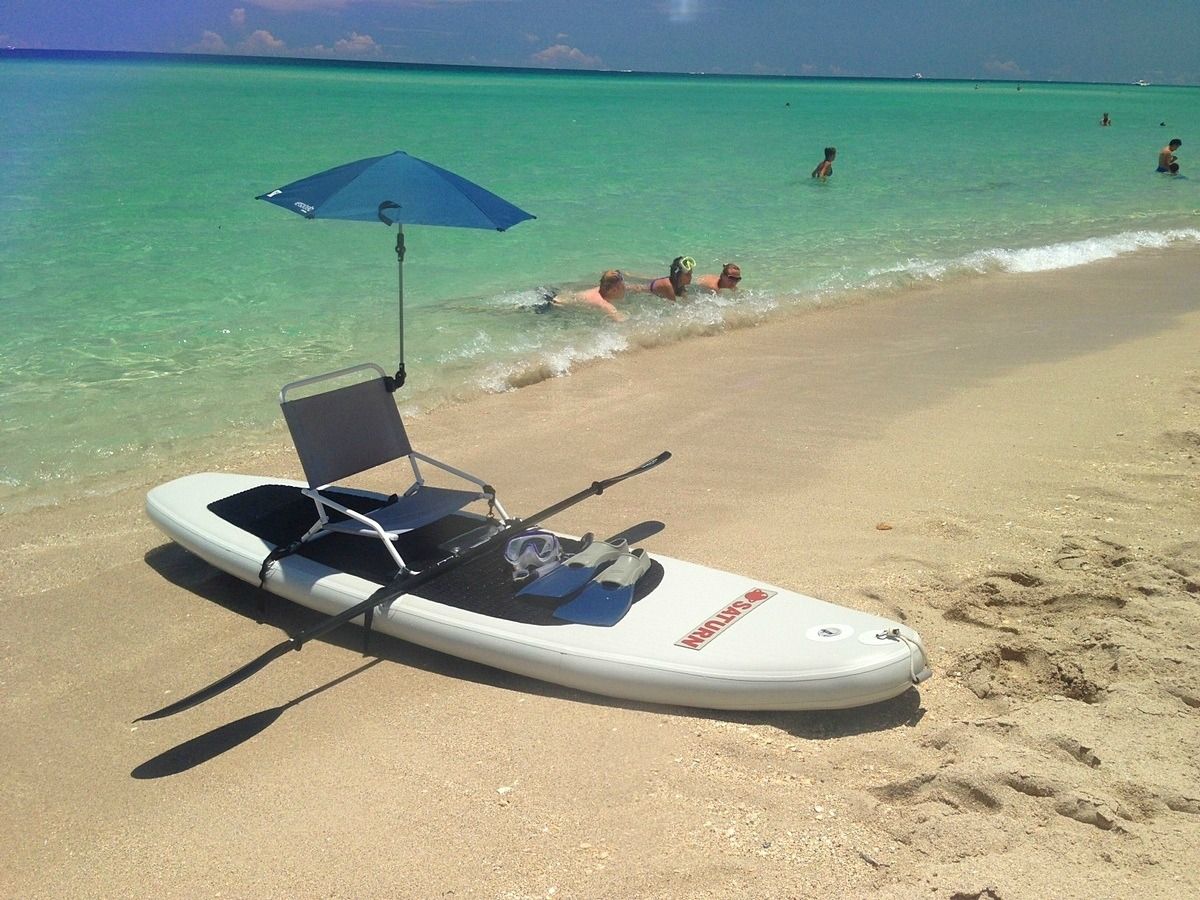 Some of the links in this post are affiliate links. This means if you click on the link and purchase the item, we will receive …