Some of the links in this post are affiliate links. This means if you click on the link and purchase the item, we will receive an affiliate commission at no extra cost to you. All opions remain our own.
Why Stand Up Paddleboarding in Oregon?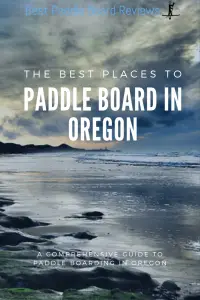 Stand up Paddleboarding (or SUP) has been increasing in popularity over the past several years, and it's not just for young, athletic individuals either. SUP, when done with proper form and during calm weather and water conditions, serves as a low-impact, whole-body exercise that helps with balance, targets your core muscles and strengthens stabilizer muscles. Paddle Boarding also does not need to be expensive. For boards that cost less than 500$, it is a great way to enjoy outside year-round. It's no surprise that one of the best places to SUP is also one of the most beautiful states in the country. Oregon offers amazing scenery and some of the best places to Stand Up Paddle Board.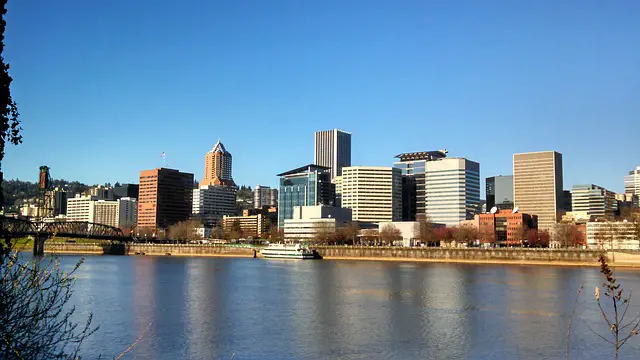 Clackamette Cove, located on the Willamette River, is conveniently located in Oregon City and accessed through Clackamette Park. With close proximity to Portland, it's an easy day drive from the city. With such easy access to town, this is a great place to stand up paddle board when you're short on time. Other than SUP, Clackamette Park also offers a one-mile trail as well as picnic areas and beaches. 
Deschutes River - Bend, OR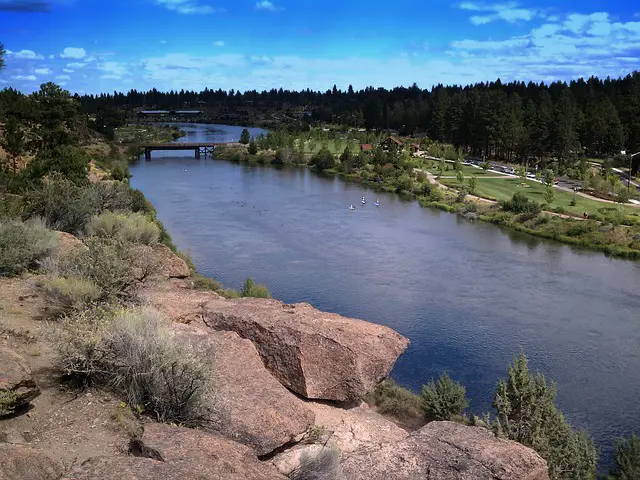 Deschutes River, near Bend, Oregon, and roughly 2 ½ hours directly east of Eugene, runs adjacent to and through the Deschutes National Forest. With the forest and Mt.Bachelor nearby, you are sure to have breathtaking views while paddleboarding. You can also find plenty of other outdoor activities close at hand, such as horseback riding, swimming, and white water rafting for the truly adventurous. Bend is a must-see for SUP in Oregon. For more information on Bend click here.
Hood River, OR is a water enthusiast dream. Hood River itself is a tributary of the larger Columbia River, is located on the east side of the similarly named town of Hood River, Oregon. With a town population of around 7,000 and views of Mounts Adam, Hood, and St.Helens, your paddling trip is sure to be peaceful. You can also enjoy the Columbia River Gorge National Scenic Area, which is just across the state line in Washington, as well as the Mt.Hood Scenic Byway if you're looking for some more laid back leisure.
If you're looking to take a relaxing, but fun vacation centered around gorgeous views and water sports, such as SUP and kayaking, Elk Lake is your place. Located in the Deschutes National Forest in the Cascade Range, Elk Lake offers 405 acres of lake to explore at your leisure. If you're longing for even more seclusion for your next paddling adventure, be sure to check out the Waucoma Lakes Loop Hike.
Combine hiking and SUP for an extra vigorous workout on the Waucoma Lakes Loop Hike. Also located near Hood River, this extensive trail offers several lakes to choose from for paddleboarding. Though you probably wouldn't want to carry your paddle board for the over 16 miles this trail traverses, this area also offers backpacking opportunities. With the paddle board back you will have the lake to yourself for paddling.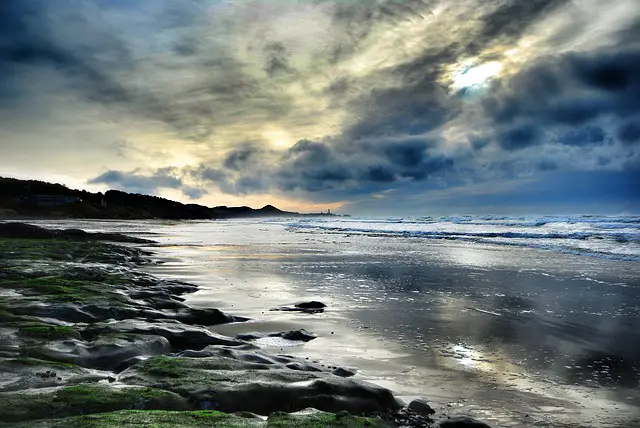 You won't know where to begin with all of the outdoor activities located in and near Otter Rock. Located less than 2 hours northwest of Eugene and named after an area just offshore where otters formerly lived, Otter Rock offers to stand up paddleboard opportunities, whale watching, tide pool exploration, and surfing, to name a few. The Devil's Punch Bowl State Natural Area is also located nearby.
Find Your Place 
If you are thinking about getting into SUP or even finding new places to explore while paddleboarding, you will find no shortage of areas to Stand Up Paddle Board in Oregon. From cities to national forests to the great Pacific, you are sure to find the perfect place for you.
Works Cited: