Some of the links in this post are affiliate links. This means if you click on the link and purchase the item, we will receive an affiliate commission at no extra cost to you. All opions remain our own.
Finding the "right" paddle board can take time, patience, and usually quite the financial investment. But, once you find "the one," it is important to take care and make storage of your board a priority. Proper storage and care for paddle boards are essential to the longevity of your board, but there are many options that provide different benefits for every storage situation. Here is a quick guide to help you know what to look for when choosing a wall rack that will make it easier and overall better for your paddle boarding needs.
Benefits of Storing on a Wall Rack Vs. No Wall Rack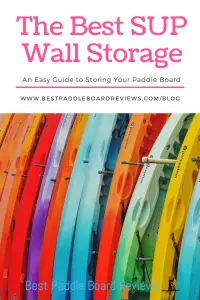 Storing your SUP board on a wall or ceiling rack is essential to avoiding damage to your board. Racks are made with the intention of board safety and are a better option than leaning it on a wall where it is susceptible to damage, or laying it down unprotected. Wall racks are a worthy investment to ensure the best care of your SUP board.
What to Look for In a SUP Wall Storage Rack
With as many choices as the internet provides for SUP storage, some of the most important things to look for when weighing out your options are the size of the rack, how many boards it carries, where you plan to store it, the type of set up it requires, and how easy it is to remove the board when you need to use it.
Style of storage
There are two main types of SUP racks: wall racks and ceiling racks. Wall racks are usually nailed or screwed into walls and hold boards at an angle, as this is the safest position for them. Ceiling racks are ideal for garage spaces or storage units where ceiling storage is more feasible. Choose whichever space allows you the most room and will fit your board and rack safely.
Size of rack
Racks come is a vast variety of sizes, often sticking off a wall from six to sixteen inches or hanging off a ceiling up to about five feet. Once you have found a place where you can store your boards, measure out how much space you can allow and make sure your rack fits within those parameters. Luckily, different rack styles provide a range of size options.
Board Capacity
If you have multiple paddle boards, or even if you also have a kayak or surfboard in need of storage, racks that can hold more boards are the most affordable and the sturdiest option. Most higher capacity racks hold up to four boards, and some are adjustable to accommodate various board sizes.
Location
While most racks are built for indoor use, there are also options for outdoor storage as well. Make sure when buying an outdoor SUP wall rack that the proper materials were used, such as foam padding and aluminum arms, in order to prevent rusting. There are also sturdier racks that are made specifically to withstand harsh outdoor environments. Keep in mind that if you store your SUP outside that shade and protection from harsh rain or snow is recommended for keeping your board in prime shape.
Set up
When self-installing your SUP rack, it can be best to ensure an easy setup process. Racks that come in two disconnected arms are usually more difficult to install, as they require accurate measurements to keep your board displayed safely. However, racks that are a single unit are easier to install, as they are all one piece. 
Accessibility
The easier it is to dismantle your paddle board when you are ready for the water, the more convenient the rack. 
When choosing between racks that hang from the ceiling, hang vertically on the wall, or hang horizontally on the wall, space is not the only factor to consider.
Ceiling racks are most commonly used in garage or storage spaces, however, they are also convenient choices to gain easy access to your board. They also avoid taking up too much wall space. Another practical reason to choose the ceiling over the wall is the safe position that boards are held at.
Both styles of wall racks are known for being more visually pleasing if you want to display you want to incorporate your boards into your decor. Vertical hanging racks take up less space and are more visually balanced.
However, hanging your boards on a horizontal angle is the best for the safety of your board because it uses 
Ultimately, you should choose whichever style fits best for your space and how you need your board storage to function. Choosing a quality rack that has proper cushioning and durable metals is the most important factor in taking care of your board.
Benefits of Storing on a Wall Rack Vs. No Wall Rack
Storing your SUP board on a wall or ceiling rack is essential to avoiding damage to your board. Racks are made with the intention of board safety and are a better option than leaning it on a wall where it is susceptible to damage, or laying it down unprotected. Wall racks are a worthy investment to ensure the best care of your SUP board.
You Don't Want a Damaged Board from Not Storing it Properly!
How to Use Wall Storage for a Paddle Board
The Best Wall Rack for Stand Up Paddle Board Storage
Best Marine Paddle Board Storage Wall Mount
Summary: The Best Marine Storage Wall Mount rack makes proper care for your board easy and accessible with its functional design and simple assembly. The foam padding and secure strap ensures the safety and support your paddle board needs whenever you are out of the water. It is also multifunctional and can be used with most paddle boards, kayaks, and surfboards.
Pros: Simple installation with no assembly required. High-quality materials that allow for higher durability. Rated #3 on Amazon for Indoor Stand-up Paddleboard Storage.
Cons: The rack sticks out from the wall about two feet, which might be a problem if you have limited storage space.
StoreYourBoard Naked SUP Wall Rack
Summary: The StoreYourBoard Naked rack minimalist option keeps it simple, with two cushioned metal arms that support the board without compromising style. This is a more affordable option that keeps your boards looking sleek on your wall.
Pros: Design looks great for displaying as decoration when you are not using your board. Aluminum material that won't rust. Soft padding that avoids scratching.
Cons: Little instructions for assembly, and there is a chance you might need to replace the screws it comes with. No safety strap to hold the board in place.
StoreYourBoard 2 SUP Wall Storage Rack
Summary: Although a higher price, the StoreYourBoard double wall rack can hold multiple boards and can be a more practical option for those who have limited wall space. It can hold up to 150lbs and the height is adjustable, making it functional for any storage space. This rack is also multifunctional and can also be used for virtually any size or style of a paddleboard, kayaks, and surfboards.
Pros: Higher capacity ultimately saves money. Double or triple storage capacity depending on board size. Easy installation.  
Cons: Might want to invest in stronger screws to ensure safety.
Suspenz Big EZ Kayak Canoe and SUP Rack
Summary: On the pricey side, the Suspenz Big Ez rack suspends your board at an angle against the wall, using its strongest point for support. Foam padded arms ensure that your board will not be scratched or dented while it is being stored. Safety strap provides secure support to hold the board in a proper position. This rack is built to withstand harsh environments and can withstand saltwater and outdoor wear. 
Pros: Built for indoor or outdoor use. Lightweight and quick installation. Holds up to 150lbs, making it more compatible larger, heavier boards.
Cons: Yellow coloring might take away from the subtle display. The expensive choice for smaller boards.
Krypt Towers Ultimate Paddle Board Wall Mount
Summary: The Krypt Tower style rack is ideal for those who have multiple boards, as it holds and displays four boards at a time and is easily adjustable to board size. The rack is universal, so you can store different types of boards or rafts all together.
Pros: High capacity and large weight capability. It looks slick and is ideal for safety and decor. Easy installation and adjustable design allow for customization. 100% satisfaction or money back policy.
Cons: Pricey for those who only have one or two boards to display. Might need a strap to reinforce thinner boards.
Pro Board Paddle Board Racks
Summary: The Pro Board Rack has a four board capacity rack that can hold up to 100lbs and has cushioned angled arms that hold boards in a safe position for proper storage. The arms are 16 inches, making it safely compatible for most sized boards. 
Pros: Affordable option for multiple board storage. Lifetime warranty.
Cons: Pegs are non-removable, making it ideal for four board usage only. Only ideal for lightweight boards.
Other Great Paddle Board Related Articles
Some of the links in this post are affiliate links. This means if you click on the link and purchase the item, we will receive …